Lofoten Island Cruise Package
Lofoten Island Cruise lets you embark on an unforgettable journey through the enchanting Lofoten Islands, where rugged mountains meet the vast sea. This exclusive 6-day cruise invites you to indulge in the perfect blend of sailing, hiking, fishing, and exploration, as you discover charming fishing villages, remote arctic fjords, captivating islands, secluded coves, and picturesque beaches. Immerse yourself in the wonders of this Arctic paradise, while encountering wildlife and reveling in the sheer beauty of these coastal gems.
With a maximum of 8 guests aboard our spacious yacht, you'll be whisked away from the busy everyday life to the tranquil ambience of the Norwegian Arctic. Immerse yourself in luxury as you soak in a hot tub and indulge in mouthwatering homemade Northern Norwegian cuisine. Explore secluded islands and listen to captivating stories shared by the friendly locals. This extraordinary adventure promises to leave you with cherished memories and a deep appreciation for the wonders of Lofoten islands.
Lofoten Island Cruise​ Itinerary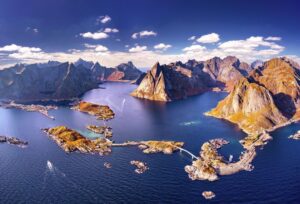 Welcome to Svolvær, a picturesque town located in the Lofoten archipelago of Norway, known for its stunning natural surroundings and vibrant fishing heritage. On your arrival at Svolvær airport a driver will wait for you in the arrivals hall holding a sign with your name on it and will drive you to your accommodation. The journey takes about 10 minutes. 
If you arrive early and wish to do another activity on your arrival day, before starting your Lofoten sailing trip, please let us know. Multiple options from food tasting tours to hiking is available.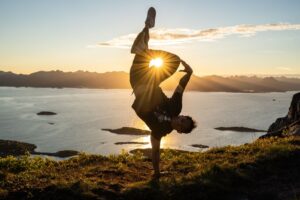 It's time to start your Lofoten Island Cruise from Svolvær, the bustling fishing and transportation hub of the Lofoten Islands. One of the first stops on this extraordinary journey is the island of Skrova, a picturesque Norwegian fishing village renowned for its stunning hikes and idyllic white sand beaches. Explore the island's well-marked trails, offering breathtaking views of the surrounding mountains and sparkling sea. Indulge in the serene beauty of Skrova's pristine beaches, where you can unwind, stroll along the soft sands, and immerse yourself in the tranquillity of this coastal paradise. Photo credit: Ismaele Tortella – Visit Norway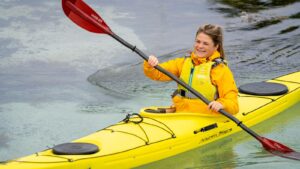 On your second day of Lofoten Island Cruise you venture from Skrova to its neighbouring island, Litlmolla, for a day filled with exhilarating activities and awe-inspiring natural wonders. Immerse yourself in a day of thrilling kayaking and paddleboarding, while also taking time to explore the stunning beaches adorned with delicate sea shells. Don't forget to keep your eyes peeled for the majestic white-tailed eagles soaring overhead, adding a touch of natural beauty to this unforgettable island experience. Litlmolla beckons you to embrace adventure, connect with nature, and create memories that will last a lifetime. Photo credit: Fredrik Ahlsen/Maverix Media – Visit Norway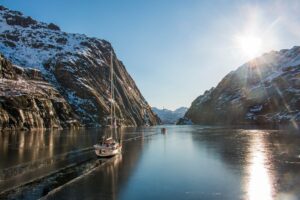 Today continue through the captivating beauty of Trollfjord on a breathtaking fjord cruise, where you'll be treated to a mesmerizing display of steep-sided mountains, cascading waterfalls, and meandering rivers. As evening descends, prepare for a truly unforgettable experience as you find yourself on a remote uninhabited island beach, surrounded by the ethereal glow of the midnight sun. Gather around a crackling beach bonfire, immersing yourself in the warmth and tranquility of this magical setting, as you create cherished memories under the enchanting radiance of the everlasting daylight. This day could be the highlights of your Lofoten islands cruise. Photo credit: SeilNorge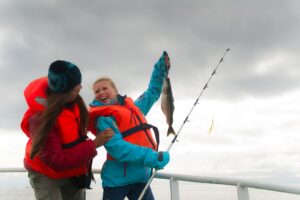 Continue the Lofoten Island Cruise towards Gimsøy where a world of adventure awaits. Brace yourself for an exhilarating deep-sea fishing expedition as you try your hand at catching cod and haddock in the pristine waters off Gimsøy. Experience the thrill of reeling in your fresh catch and have it expertly prepared onboard for a delectable meal. While sailing through the picturesque nature preserve, keep your eyes peeled for sightings of majestic whales and playful dolphins. After a day of angling adventures, unwind in the outdoor hot tub, take a refreshing polar plunge, or capture stunning photographs of the breathtaking scenery. Photo credit: CH – VisitNorway.com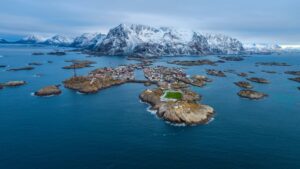 Immerse yourself in the charm of Henningsvær, a captivating fishing village that offers a delightful blend of history, culture, and natural wonders. Stroll through the narrow streets lined with vibrant art galleries, cozy cafes, and boutique shops, where you can immerse yourself in the local arts and crafts scene. Delve into the town's intriguing past as you discover Northern Europe's oldest rocks, an astonishing testament to the geological heritage of over 3 billion years. With its rich history and picturesque surroundings, Henningsvær promises an enchanting experience that will leave you captivated by its timeless beauty. Photo credit: Berge/Knoff/Natural Light – VisitNorway.com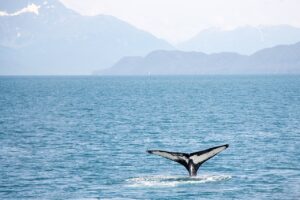 On the final day of your extraordinary Lofoten sailing cruise, savour every moment as you navigate the open fjord, feeling the gentle breeze on your face and watching the waves dance beneath the bow. Keep your eyes peeled for one last encounter with the majestic whales that call these waters home, cherishing the opportunity to witness their awe-inspiring presence up close. As you sail back to Svolvær, reflect on the incredible journey you've experienced, filled with stunning landscapes, charming fishing villages, and unforgettable encounters with wildlife. Take a moment to appreciate the profound connection you've forged with the sea and the beauty of Lofoten. 
Today is your last day of the Lofoten Island Cruise. Your driver will pick you up from the accommodation and take you to the airport for your departing flight. 
Safe flight! 
Interested in a private Lofoten Island Cruise instead? Contact us for more information and a personalised offer.
Hotel accommodation on arrival & departure
Accommodation on a yacht
Airport transfers

Full board on the yacht

6 days of fjord cruising
Deep sea fishing experience
Kayaking, paddle boarding
Visit Trollfjord
Visiting fishing villages of Henningsvær & Skrova
Whale watching
Hot tub on board
Exceptional guide
Former Norwegian Coast Guard sea captain
International flights

Tips for services and experiences

Visas

Additional sightseeing, activities and experiences outside of your itinerary




Travel insurance
Sunday 4 June 2023
Sunday 20 August 2023
Sunday 2 June 2024
Sunday 30 June 2024
Sunday 4 August 2024
Your Yacht During The Lofoten Island Cruise
Experience the utmost comfort and exclusivity aboard our certified passenger yacht, equipped with an impressive ice classification of 1c, enabling it to navigate through ice up to 50 cm thick. This sleek and sturdy vessel ensures stable, unhurried, and smooth sailing, allowing you to venture into remote Arctic islands and fjords that are inaccessible to larger ships of similar size. With only 8 guests on a 100 ft yacht, you'll have ample space to relax and unwind, never feeling cramped.
Featuring two exterior decks and a spacious interior saloon with high ceilings and large windows, our yacht offers a variety of inviting spaces to enjoy. The main exterior deck provides ample room for walking, lounging, or even practicing yoga, while the top deck boasts a lounge area complete with a large table and outdoor kitchen. Inside, the saloon welcomes you with three dining tables, Wi-Fi, a charging station, a coffee bar, and two comfortable lounges.
The vessel comprises three guest cabins, including two cabins with two single bunks each and one cabin with four single bunks, providing a total of eight berths. All cabins are thoughtfully designed with spacious closets, adjustable heating, windows, cozy duvets, linens, and towels.
During the cruise you get to indulge in an ever-changing menu inspired by Northern Norwegian traditions, showcasing local, ethical, fresh, and organic ingredients. All meals, snacks, hot beverages, and refreshing Arctic water are included, ensuring a delightful culinary experience throughout your journey. We gladly accommodate most dietary restrictions or allergies, ensuring that every guest's needs are met with care and attention to detail.