Tromso Northern Lights Tour
Tromso Northern Lights Tour Package
Tromsø Northern Lights Tour package lets you embark on a captivating adventure to the Arctic wilderness. Immerse yourself in the magic of the Arctic wilderness as you witness the vibrant colours of the Northern Lights. With comfortable accommodations, unique activities and transportation provided, our Tromsø Aurora tour promises an unforgettable journey into the heart of this natural phenomenon.
This Tromso Northern Lights Tour package was created  by local experts to give you the best chances to see the Northern Lights.  It is ready to be customised to suit your budget, interests and tastes so you can make the most out of your trip on your own terms and departing whenever you choose. This trip aims to have a positive impact on the local nature, economy, ecology and is beneficial for the locals, making it a true regenerative travel experience. 
Tromso Northern Lights Tour Itinerary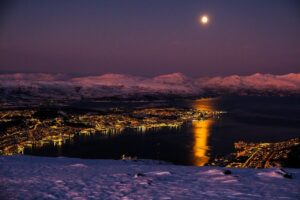 Welcome to Tromsø, a captivating destination that will leave you spellbound with its natural wonders and charming atmosphere. On your arrival at Tromsø airport a driver will wait for you in the arrivals hall holding a sign with your name on it and will drive you to your accommodation. The journey takes about 15 minutes.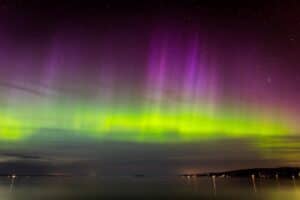 In the evening it's time for your first Northern Lights Tour in Tromsø. Embark on a 4-hour hot tub and dinner cruise designed for an unforgettable Northern Lights experience. Indulge in the comfort and intimacy of our luxurious setting as you search for the aurora borealis amidst the stunning Arctic scenery. Our personalized service ensures a relaxed atmosphere, complemented by a traditional local dinner featuring reindeer soup. Stay cozy in the hot tub on the exterior deck, soaking in warmth while keeping an eye out for the magical lights. This safe and luxurious sailing yacht tour is ideal for small groups or couples seeking an exclusive Northern Lights encounter.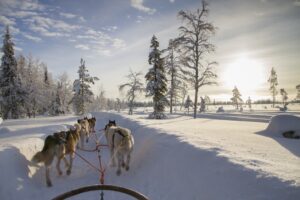 Today you will get to visit a small dogyard, meet enthusiastic dogs, relax in a lavvo, and join huskies for an exhilarating dogsledding adventure. As you journey through breathtaking landscapes of trees, creeks, and towering mountains, keep your eyes peeled for reindeer, moose, foxes, snow grouse, eagles, and more. Depending on snow conditions and trail suitability, you may have the chance to be your own musher, with each sled accommodating two people. If conditions don't permit self-driving, our professional mushers will guide you.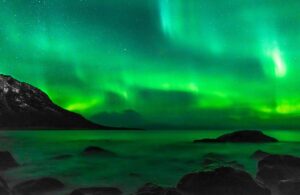 Seeing the Northern Lights is magical experience and must do when travelling to Tromso. During this small group Northern Lights Tour your guides will the extra mile, even driving to Finland if needed, to ensure you witness this elusive phenomenon. The tour lasts 6-9 hours and includes gear rental, comfortable transportation, and complimentary Aurora portrait photos delivered to your email within 24 hours. Join us and let us capture your dream story under the dancing Northern Lights!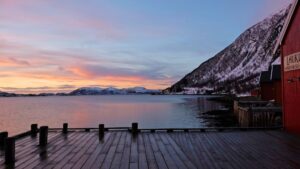 Embark on a unique road trip through Norway's stunning fjords, where mountains meet the sea. Capture breathtaking scenery, participate in our science projects, and collect vital data from pristine beaches. Help preserve the tundra and inform policy-making while enjoying homemade meals and exploring the extraordinary nature of Northern Norway. Immerse yourself in peaceful atmospheres, snap memorable photos, and experience the beauty of fjords, mountains, lakes, forests, and charming villages. Return to Tromso with cherished memories and a deeper appreciation for the untouched wonders of this remarkable landscape.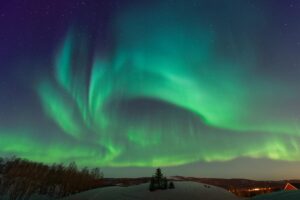 Escape the usual paths and embrace the enchanting embrace of the polar night. As you venture into the Arctic winter, you may be rewarded with the mesmerizing sight of the Northern Lights. This winter activity invites adventurous travelers to embark on a snowshoeing or hiking adventure under a sky adorned with billions of stars, possibly even witnessing the Northern Lights. During this nighttime excursion, you'll be provided served a delicious homemade meal, accompanied by the opportunity for your guide to capture photos of your experience, which will be shared with you after the tour. Conclude the adventure with a delightful cup of homemade hot chocolate before being safely transported back to your hotel in Tromsø.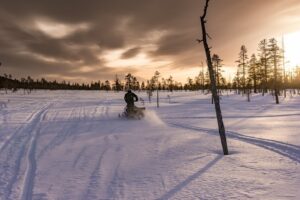 Embark on an exhilarating snowmobile adventure just outside Tromsø and explore the majestic Lyngen Alps. During daylight hours, witness the awe-inspiring view of steep alpine mountains against the backdrop of the magical Arctic light. Traverse along fjords and mountains, immersing yourself in breathtaking scenery. Keep an eye out for the rich wildlife, as eagles, foxes, and even moose may grace your path. Our trails are longer than others, allowing us to ascend up to 300 meters above sea level. Pause at a scenic viewpoint to capture memorable photos and savor the moment. Learn about local history and visit a charming fishing village along the way. To ensure an intimate experience, we keep our groups small, with a maximum of 12 people per tour. After the snowmobile safari, indulge in a delicious homemade meal at our panorama restaurant, situated on the edge of the wharf. Our snowmobiles accommodate two people, taking turns to drive while following the guide's instructions. Participants must be at least 18 years old and hold a valid driver's license for snowmobiling.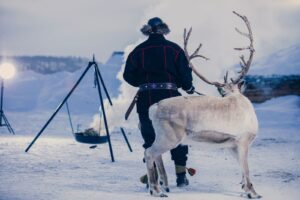 Experience the oldest form of transportation in the north with a reindeer sledding adventure guided by authentic Sami guides from Tromsø Lapland. Extend your stay and immerse yourself in the beauty of north Norwegian nature by spending the night in a traditional Saami tent. This location boasts minimal artificial light, providing optimal conditions for Northern Lights viewing. Instead of returning to the city center and potentially missing the mesmerizing dance of Lady Aurora, stay at this prime spot in a lavvo (traditional Sami tent), sleeping on cozy reindeer hides inside winter-insulated sleeping bags. The remote location ensures an uninterrupted view of the splendid night sky, allowing you to fully embrace its wonders. This cultural adventure includes approximately 30 minutes of reindeer sledding, followed by a hot meal served in the lavvo, accompanied by captivating stories about Sami culture and history. Let yourself reconnect with nature and rejuvenate your mind and soul during this overnight excursion. 
Photo: Tom Gustavsen – Rørosrein
The next day, after enjoying breakfast, you'll be transferred back to the city center by bus, with departures from the camp starting around 10am. You can expect to arrive back in Tromsø at approximately 11am. If your flight departs earlier you can book another night in Tromso before flying out.
Interested in a private Tromso Northern Lights Tour  package instead? Contact us for more information and a personalised offer.
Accommodation
Airport transfers
Breakfast each morning at your hotel, plus any meals indicated in the itinerary
English Speaking local guides
Northern Lights Sailing
Husky Safari
Snowmobile Safari
Fjord Sightseeing Tour
Northern Lights Hunting by Car
Northern Lights Snowshoeing Adventure
Overnight Sami Experience
Highly personalised itinerary planning
24/7 support from local staff
International flights

Tips for services and experiences

Visas

Personal charges such as laundry, phone calls, SIM cards or room service

Additional sightseeing, activities and experiences outside of your itinerary

Meals (other than breakfast if included in room rate and other meals listed as included in the itinerary).

Travel insurance

Winter overalls and boots
* EUR per person, based on double occupancy. Prices are subject to change.
The final price will vary and is based on the exact dates and availability.