Tromso Whale Watching Tour
Tromso Whale Watching Tour​ Package
Tromsø Whale Watching Tour lets you embark on a premium journey that combines the thrill of whale watching, the exhilaration of dog sledding, the magic of chasing the Northern Lights, and the serenity of a fjord cruise. Our exclusive Tromsø Whale Watching tour brings together all of these incredible activities in one convenient package.
With a maximum of 8 guests aboard our spacious yacht, you'll be whisked away from the bustling town to the tranquil winter ambiance of the Norwegian Arctic. Immerse yourself in luxury as you soak in a hot tub and indulge in mouthwatering homemade Northern Norwegian cuisine. Explore secluded islands and listen to captivating stories shared by the friendly locals. This extraordinary adventure promises to leave you with cherished memories and a deep appreciation for the wonders of Tromsø.
Tromso Whale Watching Tour​ Itinerary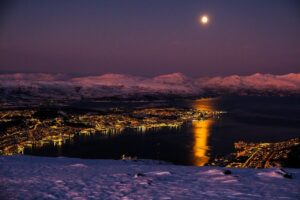 Welcome to Tromsø, a captivating destination that will leave you spellbound with its natural wonders and charming atmosphere. On your arrival at Tromsø airport a driver will wait for you in the arrivals hall holding a sign with your name on it and will drive you to your accommodation. The journey takes about 15 minutes. 
If you arrive early and wish to do another activity on your arrival day, please let us know. Multiple options from Northern Lights hunting to snowmobile safaris and hiking is available.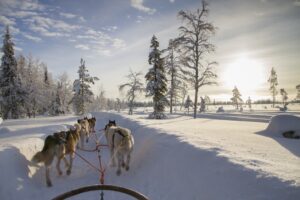 Today you will start your whale watching cruise but before we start you will get to try your hand in husky sledding. During the 90 minute self-drive tour in the mountains you can admire the breathtaking landscapes. At the end of the sledding you will enjoy hot drinks and homemade cake before heading back to your yacht for the Northern Lights cruise. During the night the yacht will dock near an area where you have chances to spot some whales and if lucky northern lights dancing above your head.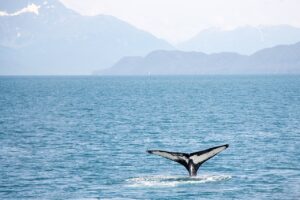 During the next 4-day journey in the Norwegian Arctic, you get to immerse yourself in the captivating world of killer whales, humpback whales, and other remarkable wildlife. Each night, the yacht will dock at secluded harbours in remote islands, granting you the opportunity to venture ashore and discover the charming coastal villages at your own pace. As part of this unforgettable experience, you'll also visit the enchanting island of Reinøya for a cultural tour of Finnkroken. Gather around an open campfire beneath a Lavvo, a traditional Sami tipi, in a serene forest setting, as you eagerly await the appearance of the mesmerising northern lights, while the locals share captivating stories and insights.
Today is your last day of the Whale Watching Tour and the yacht will return back to Tromso. Admire the last views of polar fjords and whales. If your flight departs before the evening you can book another night in Tromso before flying out.
Interested in a private Tromso Whale Watching Tour instead? Contact us for more information and a personalised offer.
Hotel accommodation on arrival
Accommodation on a yacht
Airport transfers

Full board on the yacht

4 days of whale watching
Husky safari
Polar fjord cruise
Self exploration of coastal villages
Cultural tour of Finnkroken in Reinøya
Evening with the locals in a lavvo
Thermal suites
Hot tub on board
Exceptional guide
Former Norwegian Coast Guard sea captain
International flights

Tips for services and experiences

Visas

Additional sightseeing, activities and experiences outside of your itinerary




Travel insurance
Monday 20 November 2023
Thursday 21 December 2023
Thursday 21 December 2023
Monday 25 November 2024
Monday 23 December 2024
Monday 30 December 2024
Monday 24 November 2025
Monday 22 December 2025
Monday 29 December 2025
Your Yacht During The Tromso Whale Watching Tour
Experience the utmost comfort and exclusivity aboard our certified passenger yacht, equipped with an impressive ice classification of 1c, enabling it to navigate through ice up to 50 cm thick. This sleek and sturdy vessel ensures stable, unhurried, and smooth sailing, allowing you to venture into remote Arctic islands and fjords that are inaccessible to larger ships of similar size. With only 8 guests on a 100 ft yacht, you'll have ample space to relax and unwind, never feeling cramped.
Featuring two exterior decks and a spacious interior saloon with high ceilings and large windows, our yacht offers a variety of inviting spaces to enjoy. The main exterior deck provides ample room for walking, lounging, or even practicing yoga, while the top deck boasts a lounge area complete with a large table and outdoor kitchen. Inside, the saloon welcomes you with three dining tables, Wi-Fi, a charging station, a coffee bar, and two comfortable lounges.
The vessel comprises three guest cabins, including two cabins with two single bunks each and one cabin with four single bunks, providing a total of eight berths. All cabins are thoughtfully designed with spacious closets, adjustable heating, windows, cozy duvets, linens, and towels.
During the cruise you get to indulge in an ever-changing menu inspired by Northern Norwegian traditions, showcasing local, ethical, fresh, and organic ingredients. All meals, snacks, hot beverages, and refreshing Arctic water are included, ensuring a delightful culinary experience throughout your journey. We gladly accommodate most dietary restrictions or allergies, ensuring that every guest's needs are met with care and attention to detail.