I'm sure Baltic countries aren't the first places that come to your mind when you think about a beach holiday. Well don't be fooled, there are plenty of nice secluded beaches in all three countries worth a visit. Endless golden sand beaches lined with pine forest, hidden bays, relaxing spa resorts, laid back fishing villages and not to mention tranquil islands off the mainland, all dotted along the Baltic coastline.
Narva-Joesuu, Estonia: This longest stretching beach in Estonia, reaching over 7.5 km, has fine sandy beach lined with pine forest. It's located in the eastern side of Estonia, bordering Russia, so it is quite popular amongst Russian vacationers. It has multiple spa hotels for you to relax and enjoy treatments at. When summer hits, the town awakens and many outside bars, restaurants open up and live music is being played. 
Parnu, Estonia: The most famous beach in Estonia is definitely Parnu beach. This is where all the locals go for the weekend to relax on the beach, party and enjoy the atmosphere of this buzzing city. No wonder Parnu is called the summer capital of Estonia. Prices are high and ques to different establishments are long, but it's all worth it. The beach is perfect for families as the water is shallow and warms up quickly. Different children's attractions, surf clubs, mini golf, volleyball courts, and romantic beach promenade all await you. Rent an electric scooter or stroll around on foot to explore the beach promenade or wander into the city which is full of colourful wooden houses, each worth a photo stop.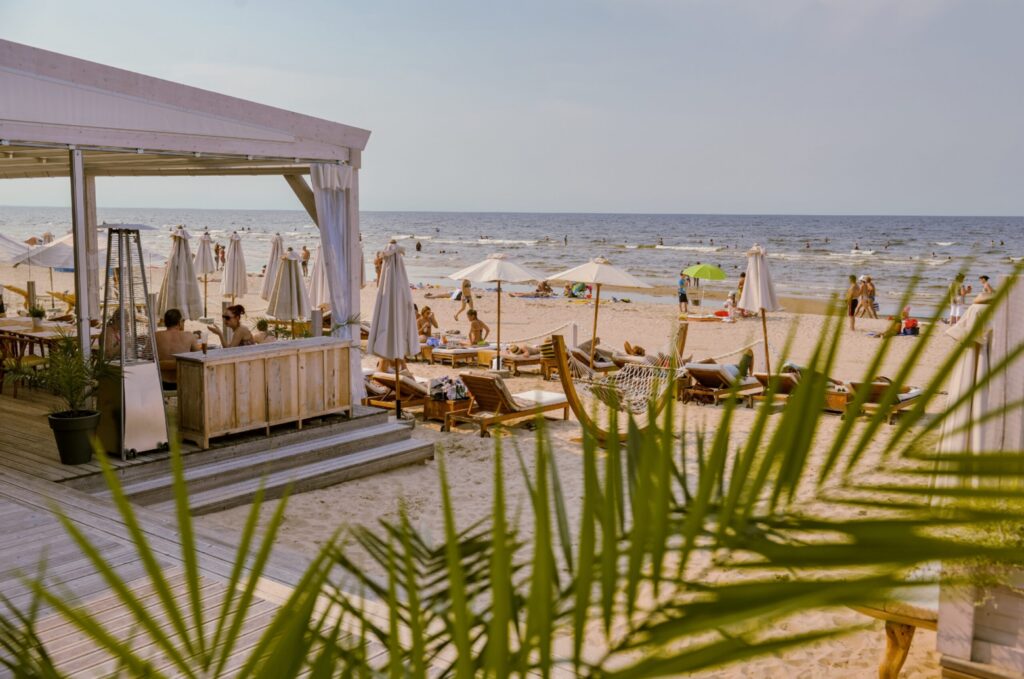 Jurmala, Latvia – Just a 30 minute drive from Riga, this resort town offers sandy beaches, pine tree forests, different spa-hotels and picturesque wooden villas. Majori beach is the most popular beach in Jurmala, full of people enjoying the hot summer days. If you want to get away from the beach for a bit then Jomas street is the main pedestrian street to go for a little walk and get some food. If architecture is your thing, head to Jūras street, where some of the most beautiful houses are located.
Liepaja, Latvia – Heading town south, towards Lithuania, you will find another perfect beach town for some relaxing time. This beach is particularly popular amongst kite boarders and windsurfers. Along the beach there's a nice city park, where you can find different attractions from cafes and restaurants to playgrounds. One special thing about the beach is that it takes great care of its disabled and visually impaired visitors. There are special audio buoys set up in the water to aid visually impaired people and for visitors with movement disability, a special wheelchair designed for swimming is available. This all can be found near the central life-guard station, in a designated complex.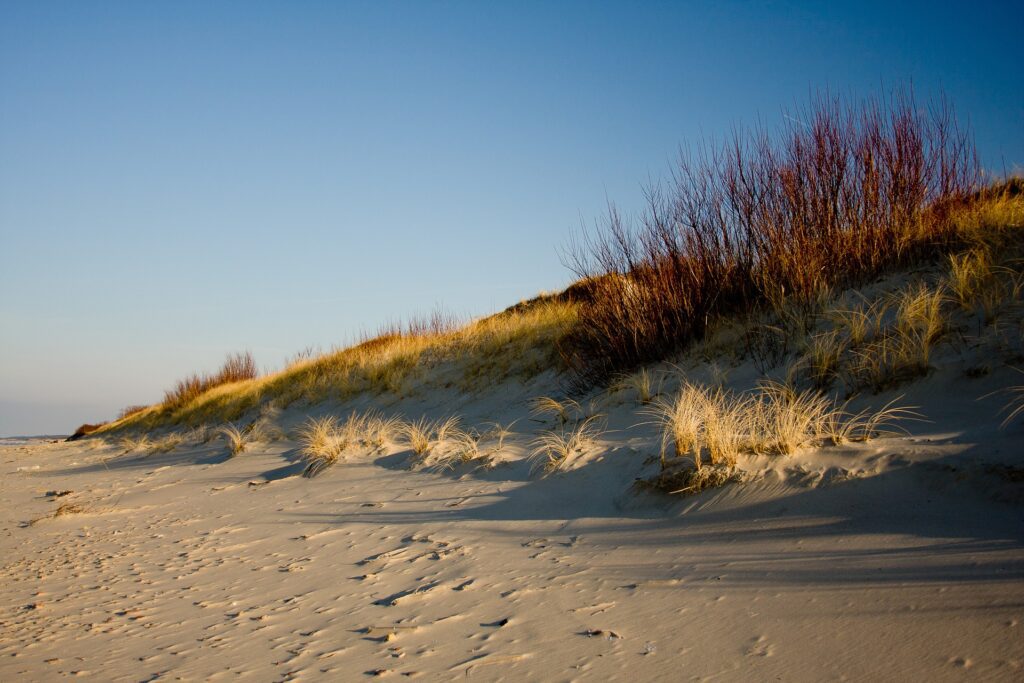 Best beaches in Lithuania
Palanga, Lithuania – The largest resort town in Lithuania gets busy during summer months. Full of visitors from faraway countries to local Lithuanians, all trying to have a good time under the sun. The centre of the beach is the pier which is also the best place to admire the sunset. Needless to say this is also the busiest spot so if you'd like some peace and quiet, choose a spot further from the pier. One of the main attractions in Palanga is the Amber Museum, so if you're tired of sitting in the sun, head there for some downtime.  
Curonian Spit, Lithuania – This UNESCO World Heritage Site is shared by two countries – Lithuania and Russia. Favourite amongst locals, the Spit offers white sand beaches, steep sand dunes, pine forests and plenty to see and do. You can rent a bike and ride around the Spit visiting different beaches, sand dunes and fishing villages. Play football or volleyball on the beach or just sunbathe and swim, walk around the main city Nida, full of traditional and colourful houses. Curonian Spit is also a great place to go for amber hunting as quite often small pieces of amber wash up on the shore. 
Book our Complete Baltic Holiday to visit some of these lovely beaches of the Baltic States. Alternatively, email us at info@monmontravel.com to discuss details of your personalised tour.