Lapland Northern Lights Tour
Lapland Northern Lights Tour Package
This Lapland Northern Lights Tour lets you experience the magical northern lights (also called Aurora Borealis) during 6 different evenings. Aurora tour is probably on everyone's bucket list and a definite must do during your Lapland trip. This northern lights trip is available from December to April. The best time to see the Northern Lights and do all the winter activities is in March or February.
This itinerary was created  by local experts to give you the best possible option to see the northern lights. It is ready to be customised to suit your budget, interests and tastes so you can make the most out of your trip on your own terms and departing whenever you choose. Interested in other destinations in Lapland? Not a problem, we can suggest more remote and magical regions in Lapland.
All our tours are sustainable and let you enjoy Finland in a more authentic and respectful way. 
Northern Lights Trip Itinerary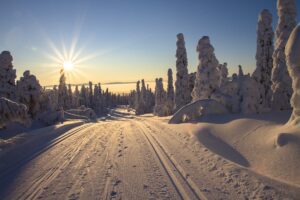 On your arrival at Rovaniemi airport a driver will wait for you in the arrivals hall holding a sign with your name on it and will drive you to your accommodation. The journey takes about 10 minutes. 
If you arrive earlier in the day and want to do some additional activities or find information on where to eat and what to do and see, check out our destinations page. If you'd like to add any additional tours or activities to your northern lights tour package, please let us know.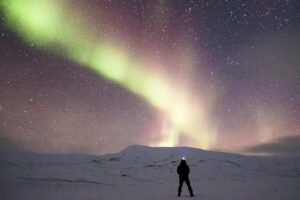 A lot of people travel to Finland to see northern lights and in the evening it's time for the best Rovaniemi northern lights tour. Remember that the Northern Lights are wily and unpredictable, but this tour will give you the best possible chance to see them. Your professional guide will determine where the highest possible chance for aurora sightings is. You will visit a few different locations unless your guide knows for sure that northern lights will appear on a certain location, then you'll go there. All you have to do is sit back and enjoy the show. Duration of the northern lights tour is about 4,5 hours. For an additional fee you can upgrade to a tour with a professional photographer.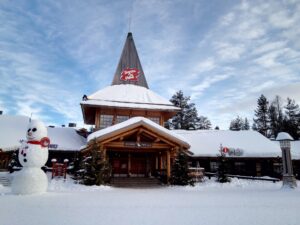 Free time: We know that one of the highlights of Rovaniemi is visiting Santa Claus in his village office. Today you will have a chance to travel to the official village of Santa Claus on your own. There you'll finally get to meet Santa Claus and visit the Official Santa's Post Office where you can write and send letters to friends and family. You can also receive your certificate of crossing the arctic circle there and of course you will have plenty of options for souvenir shopping, there are a lot of shops there. As visiting Santa's village is free and it's very crowded there during winter months we don't offer this as a tour but we suggest you visit this on your own.  That way you can stay there as long as you want and spend your time on whatever you like to do the most.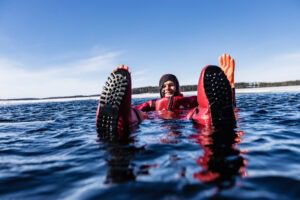 In the evening you will take part of this once-in-a-lifetime experience and feel the lightness of your body while floating on an Arctic lake. During this Aurora tour you will be in a high-quality rescue suit that covers your whole body and keeps you dry, so no need to worry about the cold. After you arrive at the lake, you are given safety instructions and once suited up, you can take a dip in the icy lake and admire the sky above you. Please do remember that northern lights are a natural phenomenon and we can't guarantee that you will see them. 


Credits: Mikko Nikkinen/Visit Finland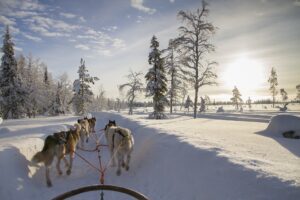 Today you will drive to the Husky park where you get to meet the photogenic dogs. Huskies are born to run, and they are happy to take you on safari. After a safety briefing, you can glide through the snowfields of Lapland on a husky-pulled sleigh! Just sit back and snap some excellent photos. After the safari, you can spend some time with the dogs: they love cuddles and photos! This is a premium experience with a visit to an authentic family-sized place, not crowded touristic place.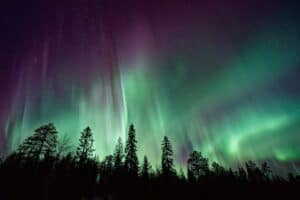 In the evening it's time for another northern lights tour, this time on a snow train. This unique experience lets you ride through the winter wonderland in a warm carriage. You will head out in the Arctic nature, far from all the light pollution, looking for the northern lights. Crossing the beautiful snowy landscape will take you to a traditional Lappish Kota, a hut deep in the wilderness. Gathering around the cosy fire, it's time to enjoy some light snacks and hot drinks. If you need any help with the camera settings our guide is there to help.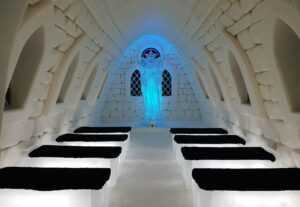 Today you have a free day to do your own thing. We suggest you visit the SnowHotel. This is a once-in-a-lifetime experience where you can admire a hotel constructed from snow and ice. You can explore different ice and snow structures and sculptures, beautiful rooms all designed differently and of course an ice restaurant, chapel and even a snow sauna. It's possible to visit the SnowHotel on your own by buying the tickets at the reception or by a guided tour. It's also possible to dine in the ice restaurant. Please let us know if you wish to add this to your northern lights holiday.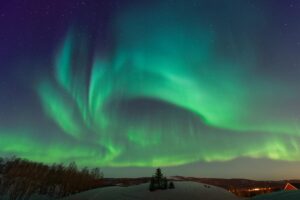 In the evening it's time for northern lights tour by snowmobiles. You will have a chance to ride an eSled to the top of a hill, far from the city light pollution. A perfect spot for watching the northern lights. Your guide is happy to help you with camera settings if you wish to take pictures. During the stop you can warm yourself by the fire in a private hunting cabin and enjoy Finnish style barbecue. This tour takes place with electric snowmobiles so your visit would be more sustainable and less harmful for the Arctic nature.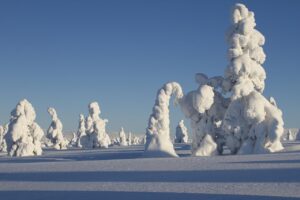 It's time to leave Rovaniemi behind and head deeper into the Arctic nature. Your driver will pick you up from your accommodation and take you directly to Pyhä-Luosto National Park. This beautiful national park is only 1.5h drive from Rovaniemi and offers multiple activities to do from hiking to ice climbing. It also has slopes for skiing and snowboarding.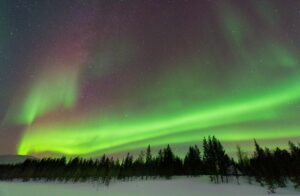 The national park is also an excellent place for some aurora hunting and in the evening it's time to do it by a reindeer safari. You will visit an authentic reindeer farm where you will be introduced to your reindeer and start your peaceful sleigh trip where Arctic nature shows all its silent beauty. If you're lucky, you will soon be able to spot and enjoy the magical Northern Lights dancing over your head. Just sit back and enjoy your northern lights holiday.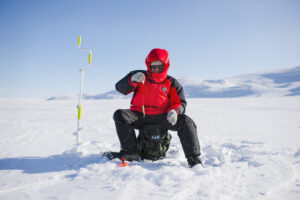 Today you have free time to relax or if you wish to do another activity we could suggest ice fishing. Enjoy quality time in peaceful and beautiful Arctic nature. Your guide will teach you how to drill a hole in the ice and learn all the secrets of ice-fishing. Hot drinks will be provided and if needed, you could also rent winter overalls to keep you warm.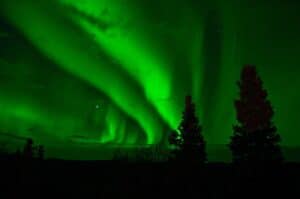 In the evening it's time for your last northern lights tour, this time on snowshoes. During the excursion, you will explore Lappish wilderness by night, walking on deep snow to reach some beautiful nature area. You may even spot or hear some animals such as reindeer or arctic hares. Snowshoeing is a great way because it allows going off the beaten path and get to places that you cannot reach with cars or on foot. Keep your eyes up in the sky as you will also get a chance to observe the northern lights and capture them! 
Time to say goodbye and end your Northern Lights Tour. Your driver will pick you up from your hotel and take you to Rovaniemi airport for your departing flight. The duration of the journey is 1.5 hours. 
Interested in a private Northern Lights Holiday instead? Contact us for more information and a personalised offer.
Accommodation
Airport transfers
Breakfast each morning at your hotel, plus any meals indicated in the itinerary
English Speaking local guides
Northern Lights Photography Tour (Small Group)
Husky Safari (Small Group)
Northern Lights Tour on Snowshoes (Small Group)
Northern Lights Tour by Reindeer Safari (Small Group)
Northern Lights Tour by Snow Train (Group)
Ice Floating Under the Northern Lights (Group)
Northern Lights Tour by Electric Snowmobiles (Small group)
Highly personalised itinerary planning
24/7 support from local staff
International flights

Tips for services and experiences

Visas

Personal charges such as laundry, phone calls, SIM cards or room service

Additional sightseeing, activities and experiences outside of your itinerary

Meals (other than breakfast if included in room rate and other meals listed as included in the itinerary). 

Travel Insurance

Winter overalls and boots (can be rented for an additional fee)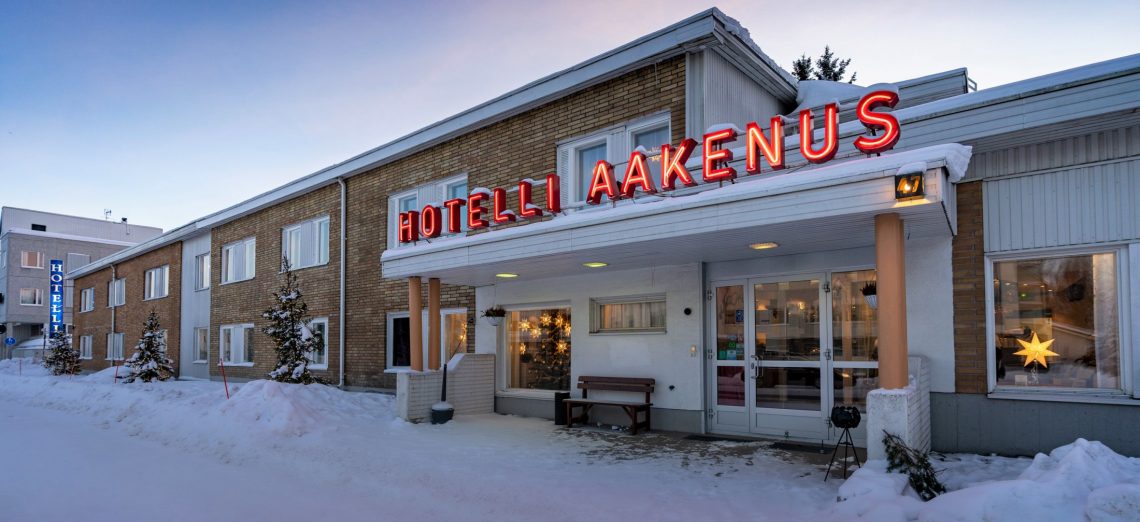 Accommodation in 3 star hotels
FROM €1975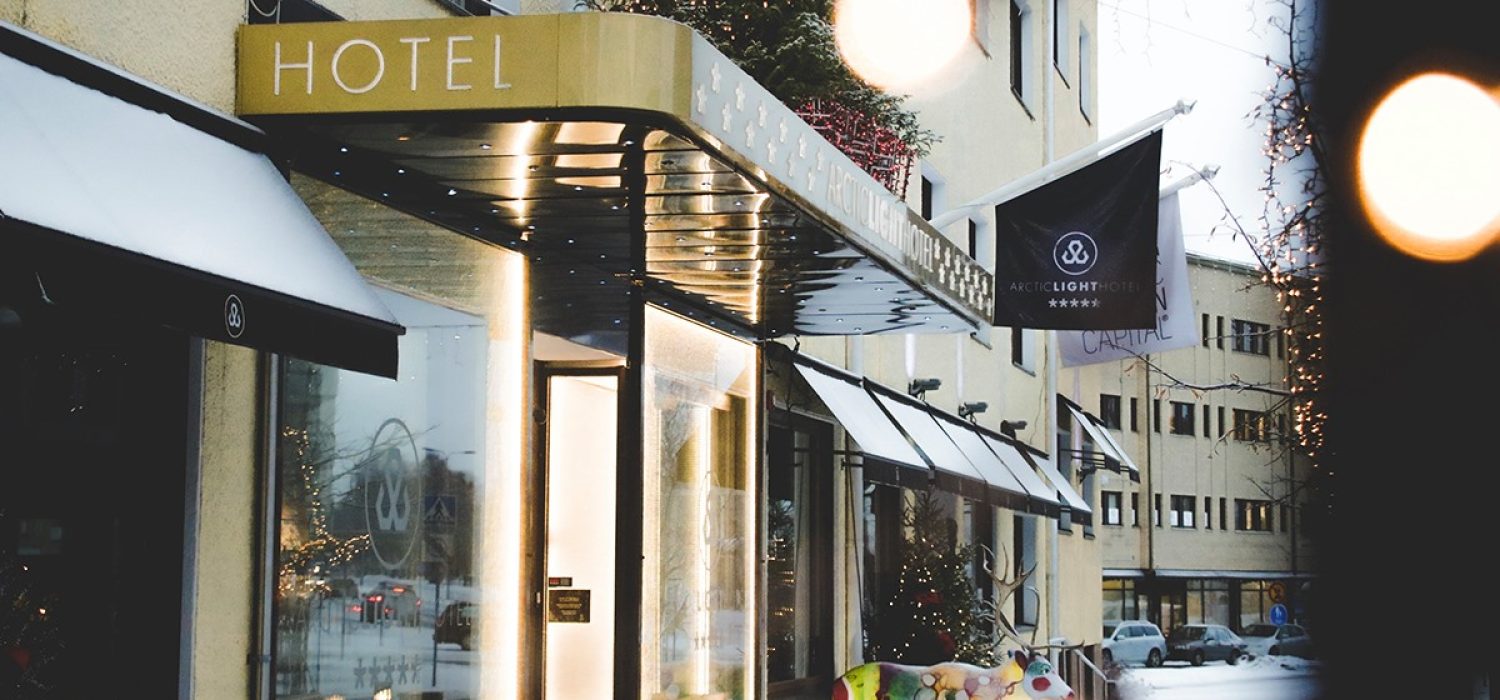 Accommodation in 4 star hotel
FROM €2400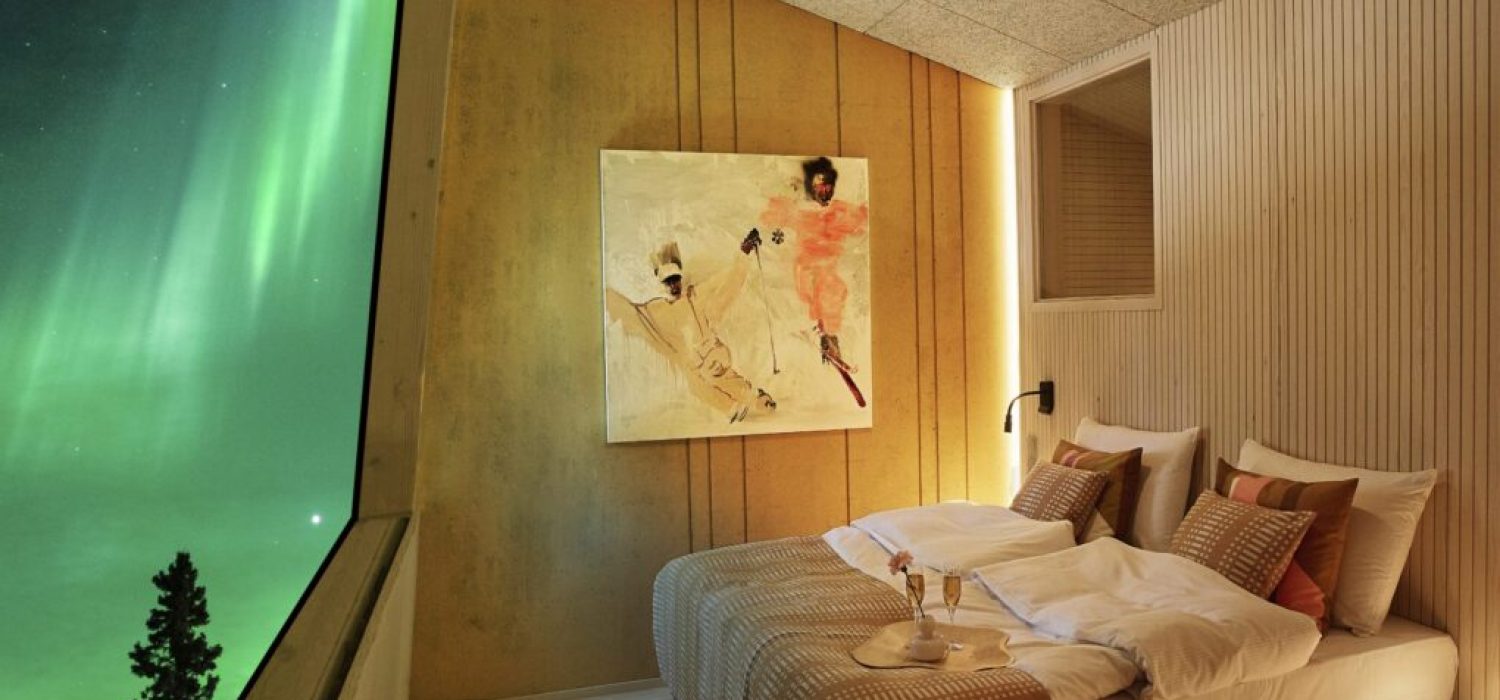 Accommodation in 5 star hotel
FROM €2950
* EUR per person, based on double occupancy. Prices are subject to change.
The final price will vary and is based on the month of travel.
Other Finland Holiday Packages You Might Be Interested In
Blog Posts About Northern Lights