When planning a vacation to Finland I'm sure one of the questions that comes to your mind is what accommodations to book. Why not consider splurging for a couple of nights and stay in an igloo hotel. There's just something magical about sleeping under the stars and admiring the northern lights right from your bed. Below you can find a list of some of the best igloo hotels in Finland. We have concentrated on the Finnish Lapland part but of course you can find Aurora cabins all around the country. 
Rovaniemi, the capital of Lapland, is one of the most popular places to visit and there are multiple igloo hotels to choose from. If you don't have much vacation time but still want to experience the beautiful Lappish wilderness and have a once-in-a-lifetime experience, you can stay in one of the nearby aurora accommodations. There are plenty of igloo hotels to choose from but we have listed some of our favourites below (in no particular order).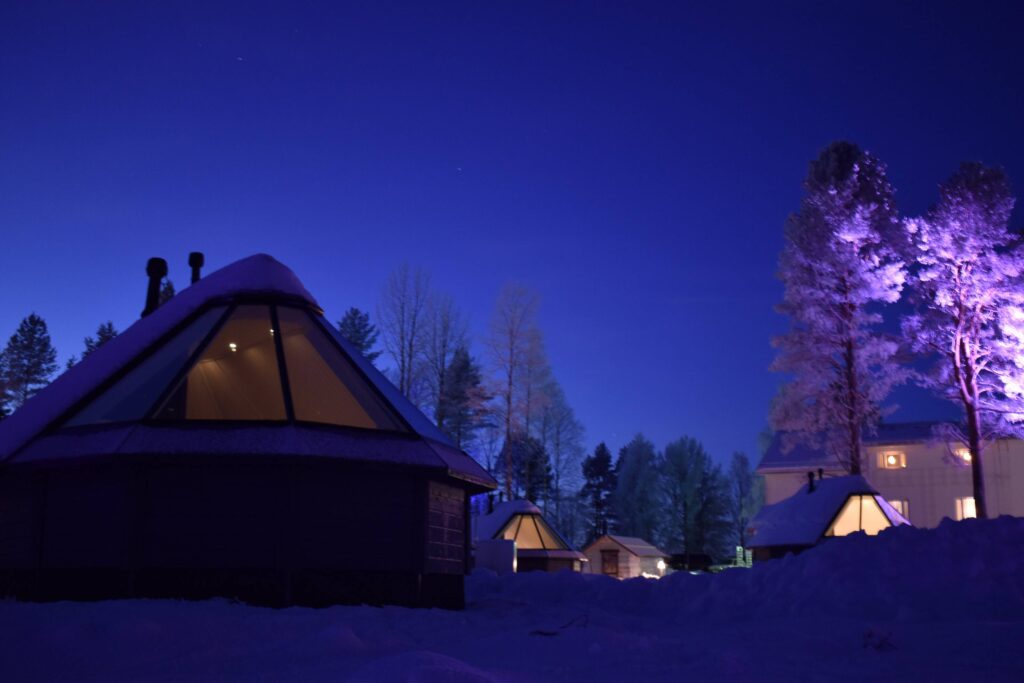 Apukka Resort, just a 10 minute drive from Rovaniemi Airport, is a beautiful resort right in the middle of unspoiled nature. Staying in the resort really makes you feel like you're in the middle of the Arctic nature, but at the same time, it only takes about 15 minutes to get to Rovaniemi city centre. 
They offer a variety of Northern Lights cabins from simple glass igloos to beautiful glass-roofed suites. You can spend a romantic holiday there with a loved one or even go with a whole family and stay in the luxury Kammi Family suite, located next to the Olkkajärvi lake. For the brave ones they also have an ice hotel experience in their own design. 
The resort is set between two lakes and beautiful nature and offers multiple activities to do, right on their own private land and routes. The resort's guides can take you to snowmobiling, northern lights hunting, ice fishing, husky safaris and much more.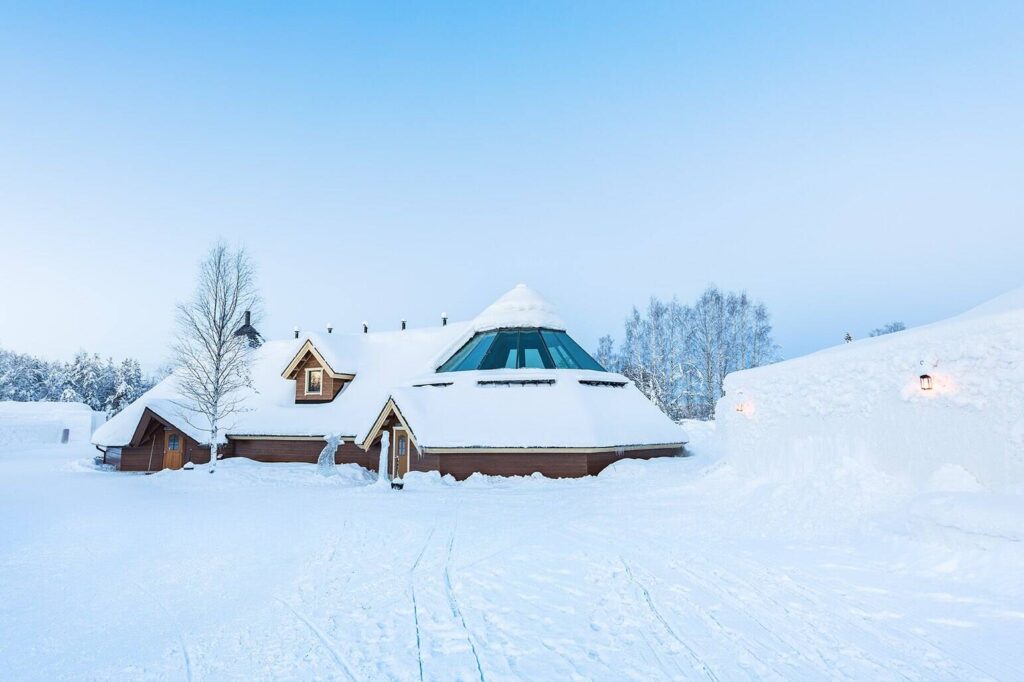 Arctic SnowHotel, located about a 30 minute drive from Rovaniemi city, is truly a unique place to stay. They build a new hotel every year so it's always a little bit different. Each room there is designed in a unique theme and decorated with ice art and illuminated artwork. You can also find a chapel, bar, sauna and restaurant there, all made out of snow and ice. 
It's only recommended to stay in the ice hotel for 1 night but don't worry, they also have glass igloos there which give 360-degree views of the heavenly magic of the skies. If you're lucky you might see the Northern Lights dancing above your head.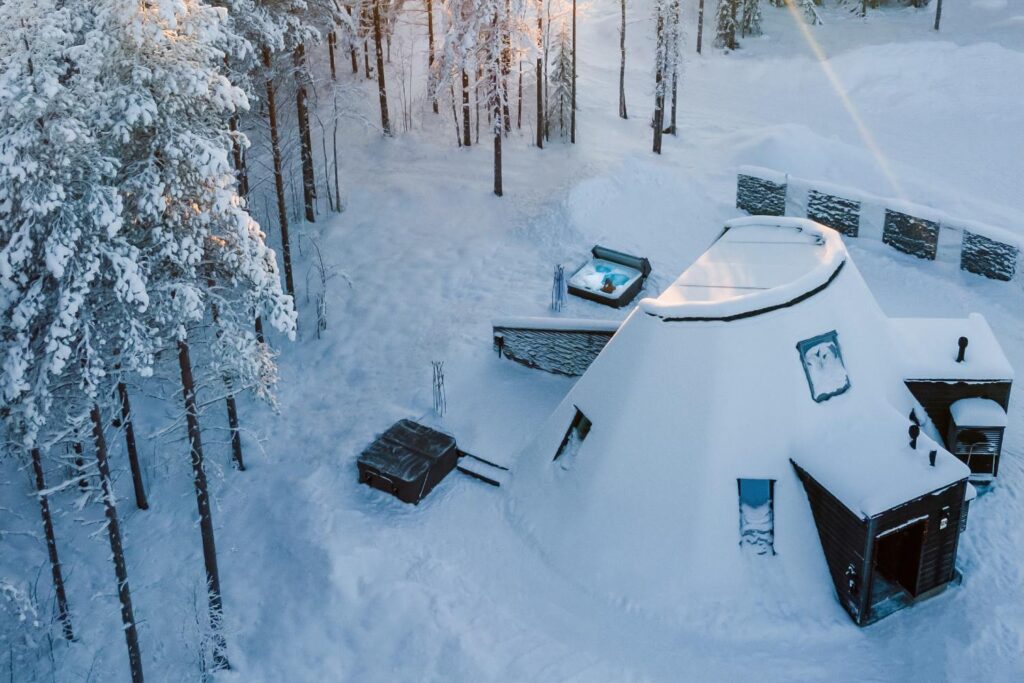 Glass Resort, located right in the Santa Claus Village, is a premium glass apartment hotel. The glass resort is designed to combine Lappish traditions with modern comfort and pure Arctic nature. The unique design of the apartments is inspired by a teepee-shaped hut that's used by the indigenous Sámi people of Lapland. 
Each glass apartment comes with an outdoors hot tub and a private sauna, perfect for a romantic evening with a loved one, admiring the northern lights and surrounding nature. You can also find a glass restaurant there that serves authentic food in an unforgettable setting. The large glass windows provide an unrestricted view of the surroundings, creating a magical atmosphere. 
It's not the cheapest aurora accommodations but they pride themselves on a warm and cosy atmosphere and personal service.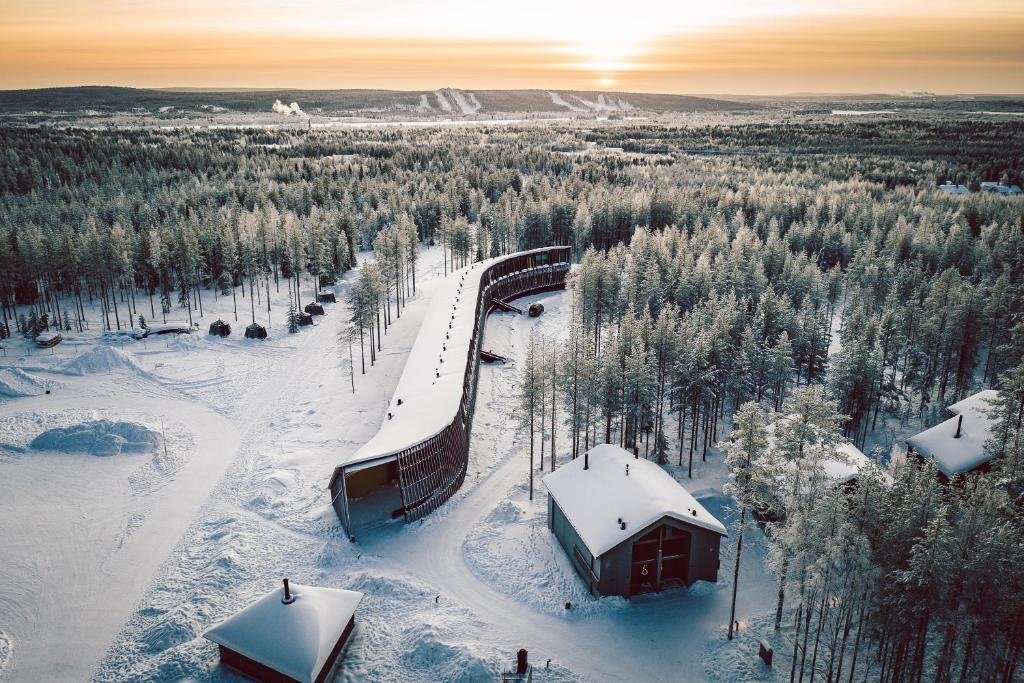 Nova Skyland, another great Aurora cabin, located near Santa Claus village, offers memories to last a lifetime. All the units are designed in Scandinavian style and offer magical views to the surrounding nature and if lucky, to the Northern Lights. 
The units are situated in semi-detached houses and come with a sauna, floor to ceiling windows and plenty of space. There are four types of apartments that are perfect for couples looking for a more romantic holiday and for a group of friends or families. 
While there, be sure to go to their restaurant. Restaurant Nova Skyland serves modern Lappish meals prepared with local ingredients. Traditional Nordic ingredients such as salmon, reindeer meat and king crab can be found in the menu.
Arctic TreeHouse Hotel (Rovaniemi)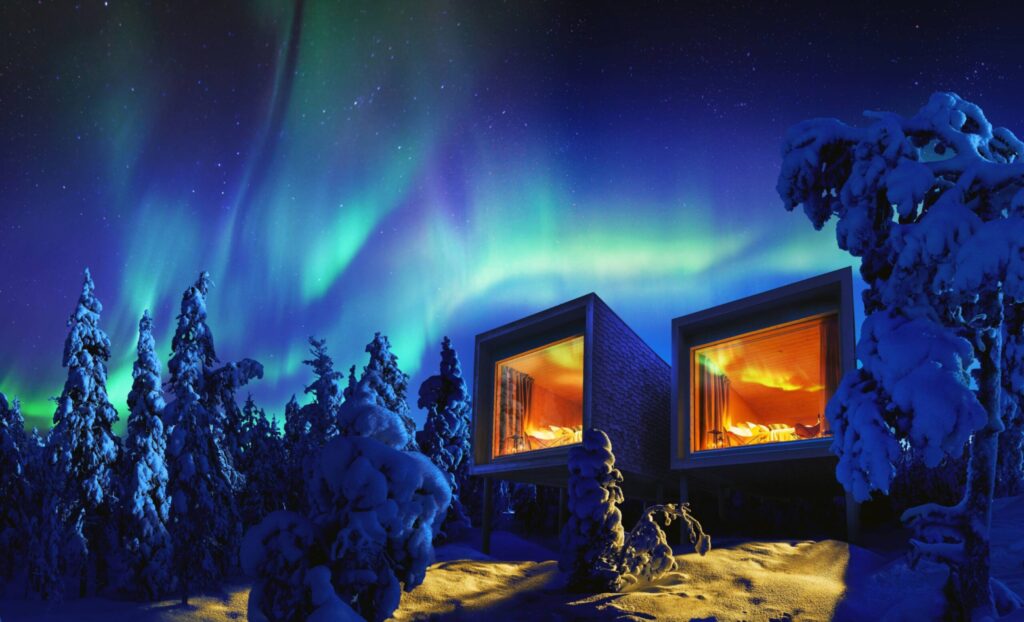 Arctic TreeHouse Hotel, located next to SantaPark, offers a unique blend of luxury comfort, modern Scandinavian design and Lappish traditions. Located in the middle of Arctic nature but still in close proximity to Rovaniemi city and Santa Claus Village.   
The three types of Aurora accommodations that you can find there are all beautiful and offer breathtaking views through the panoramic windows. The suites are designed using gentle, warm natural materials combined with light shades. The two-bedroom Arctic GlassHouses can accommodate up to six people and come with their own fireplace and sauna. The luxurious ArcticScene Executive Suites all have a separate living room and bedroom, and a special wellness area for a spa-like atmosphere.
This family-owned hotel has also been awarded the Green Key Eco-label which is granted for companies that fulfil the comprehensive environmental criteria that cover matters such as energy efficiency, recycling and the raising of environmental awareness. 
If you have more time and want to venture deeper in the Finnish Lapland we could suggest a few areas that also offer excellent igloo hotels. Not far from Rovaniemi, both Levi and Ylläs offer excellent Aurora cabins and activities to do. Pyhä-Luosto National Park also has multiple options to choose from but for now, we didn't include these in this blog post. If you want to travel more up north and learn about the Sami people, the Inari-Saariselkä region is a great option. If you're also planning to travel to Tromsø, Norway, we suggest making a stop at Kilpisjärvi.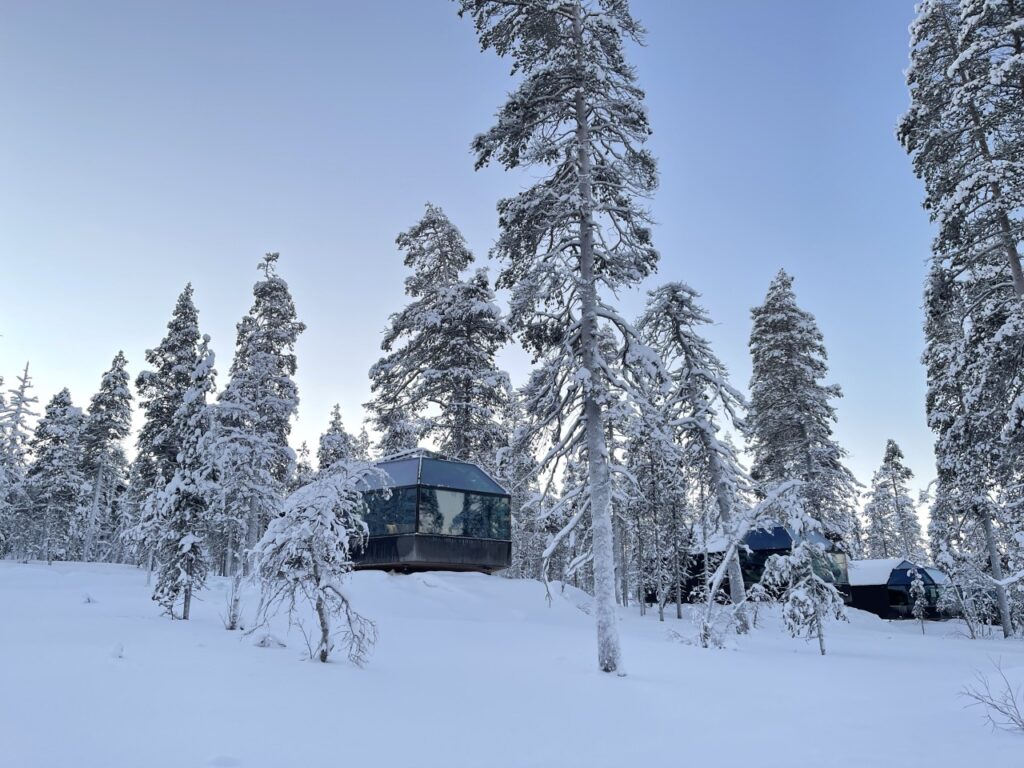 Photo: Aurora Queen Resort
Aurora Queen Resort opened its doors in December 2021. This family-owned resort, located in Saariselkä,offers once-in-a-lifetime experiences. Beautiful glass igloos and panorama suites invite you for a magical stay. 
Perfect for admiring the Arctic sky and impressive landscapes. Away from all the noise and light pollution, these Aurora cabins are perfect for romantic getaways in the harmony and silence of Arctic nature. If you're looking for an action-packed winter vacation, they also have multiple experiences to offer from husky safaris to snowmobiling. 
The glass igloos are located in a remote area, about 2km from Kakslauttanen and 14km from Saariselkä town centre, but they have a restaurant on site so you don't need to worry about getting hungry.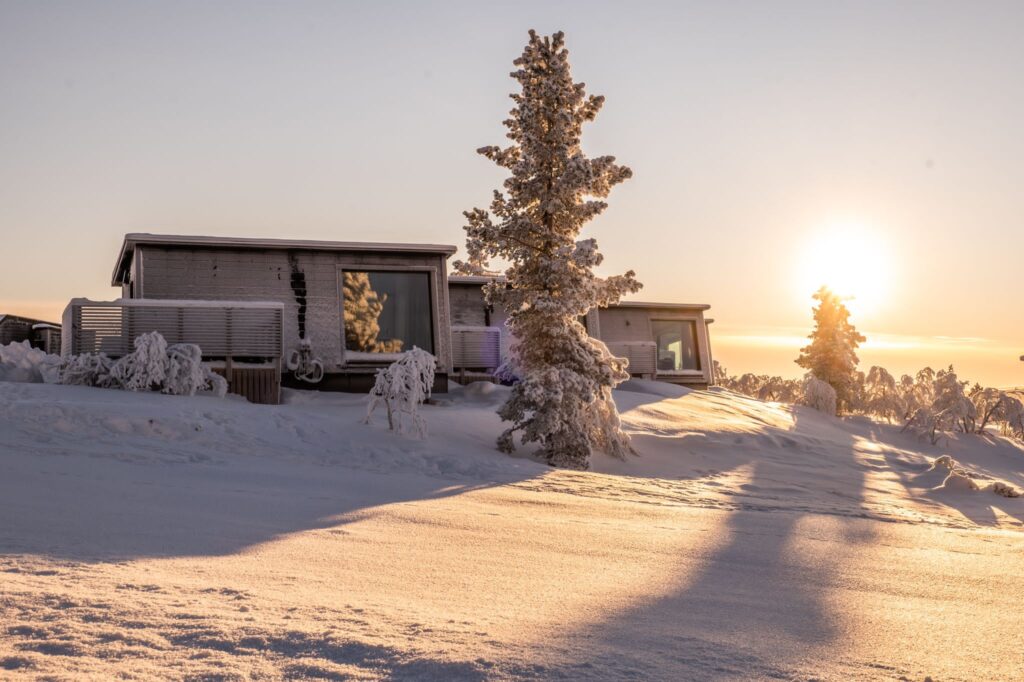 Aurora Collection, located in Saariselkä, creates experiences which will give you a lifetime of memories. The resort opened in 2021 and offers personal experiences and high quality service. 
When you book your stay there, you will have your own host at the resort who will make sure that everything will go as smoothly as possible. As there is no restaurant in the aurora cabins, your host will help you arrange dinner reservations in town and arrange transfers there and back. They also offer a range of activities and massages. 
They have two types of suites there- Sky View Suite and Arctic Spa Suite. Both suites have Scandinavian design and floor to ceiling windows where you can admire the beautiful Arctic nature from. All suites also have a private outdoor Jacuzzi.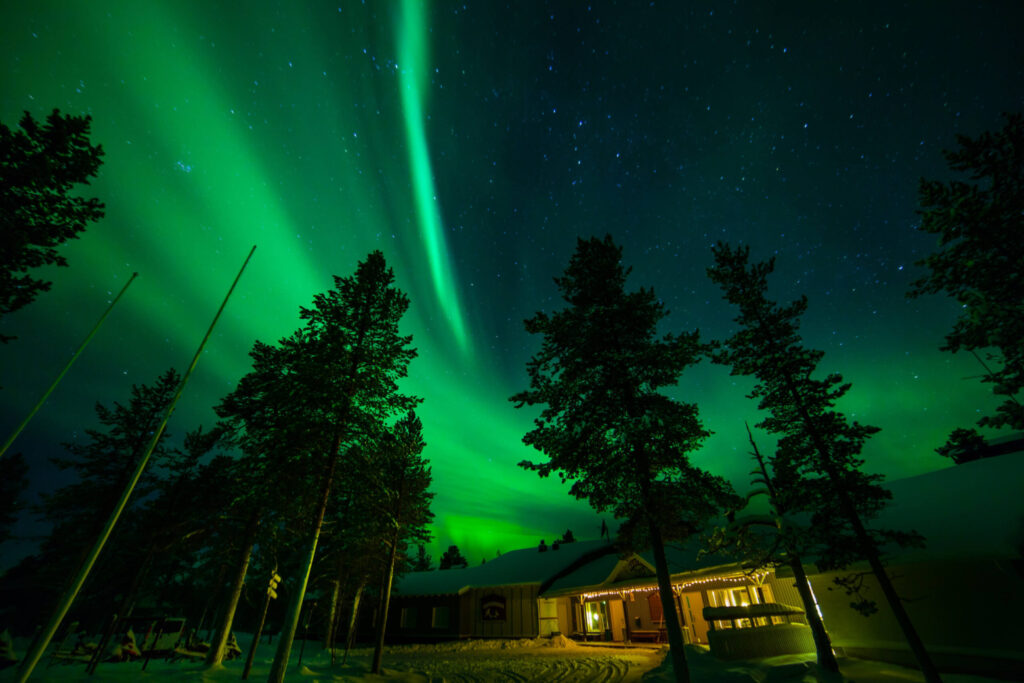 Muotka Wilderness Hotel, located close to Urho Kekkonen National Park and Kakslauttanen, offers a wide range of accommodations in a unique Arctic environment. You can choose from wilderness rooms to Aurora cabins, all offering a cosy and relaxing atmosphere. 
The hotel also has a beautiful restaurant, where the menu is inspired by Lappish cuisine. For the adventurous ones, the hotel also offers many kinds of outdoor activities. This is a perfect alternative for the famous Kakslauttanen Arctic Resort.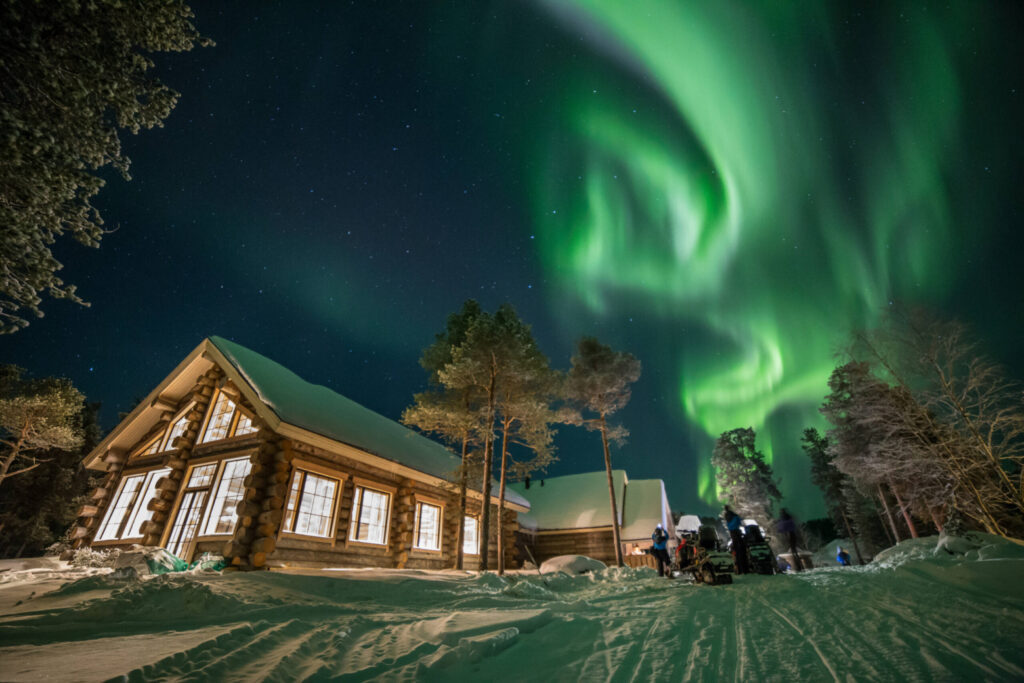 Located right by Lake Inar, Wilderness Hotel Nangu & Igloos offers beautiful lake views and accommodation in idyllic log cabins. They have different accommodation options to choose from. Whether you want to stay in wilderness rooms, panoramic cabins or aurora cabins and huts, they got you covered. The resort is also located in a remote area but they have a lovely log restaurant on site where you can dine.
During winter, Wilderness Hotel Nangu is an adult only destination and is therefore perfect for couples looking for a romantic holiday.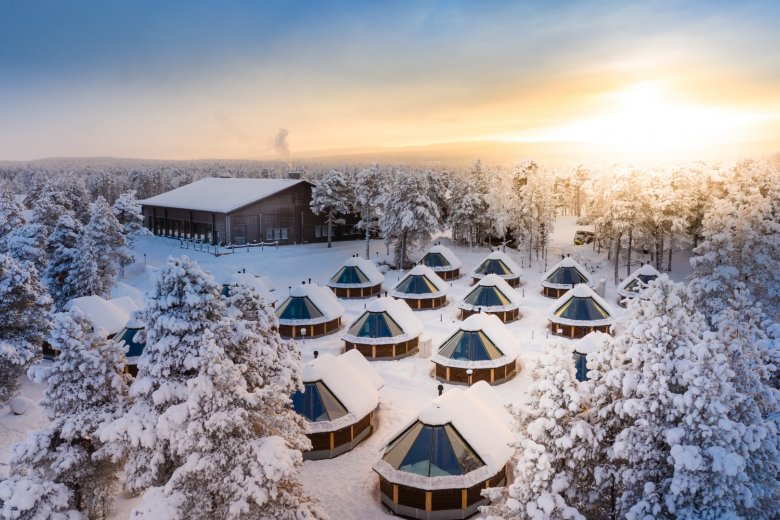 Photo: Wilderness Hotel Inari 
Wilderness Hotel Inari, located by the shores of Lake Inari and just a few minutes from the Sámi village Inari, is a perfect starting point to immerse yourself in Sámi culture. You can find a range of rooms there from wilderness rooms to aurora cabins and panoramic chalets. 
The panoramic restaurant offers delicious Lappish cuisine and beautiful views over Lake Inari. The hotel also offers a wide range of activities from skiing to northern lights hunting.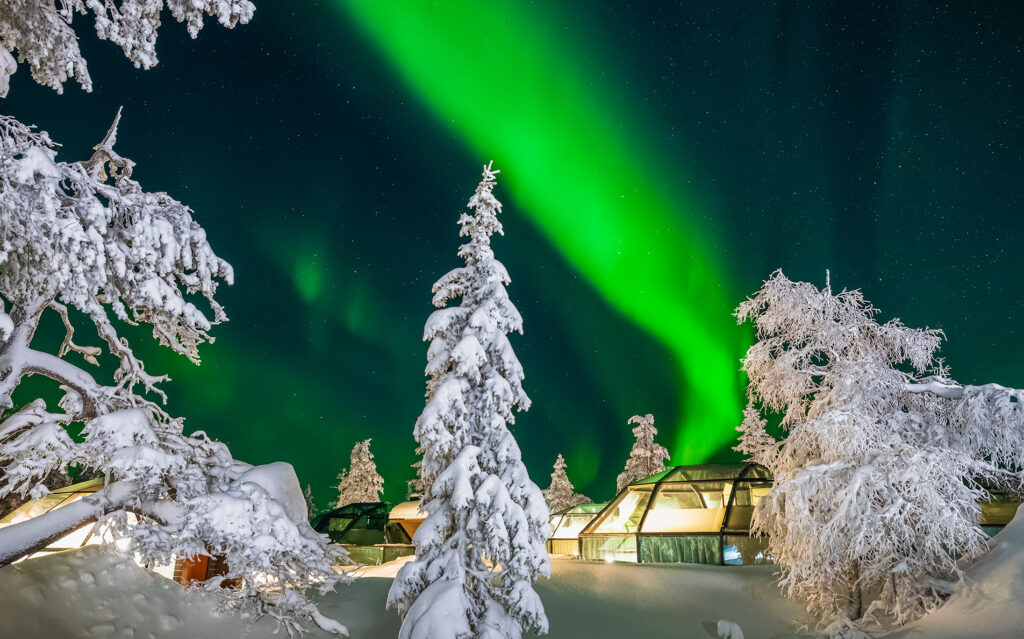 Photo: Golden Crown – Levin Iglut
Levin Iglut, located on the slope of a fell at a height of 340 metres, offers high-quality glass igloos and personalised service. The aurora igloos are perfect for admiring the northern sky, and of course if lucky, the northern lights. 
You can find two types of northern lights cabins there – the glass igloos and Northern Lights House that features its own sauna and a private terrace with a hot tub. 
You can also find a modern Scandinavian style restaurant there and traditional Sami Kota where you can barbecue sausages and warm up around a cosy fire. Alternatively it's possible to arrange a romantic dinner in the Kota, with a private chef at your service. 
In 2021, the igloo hotel received the prestigious Green Key award, a leading standard of excellence in the field of environmental responsibility and sustainable operation within the tourism industry.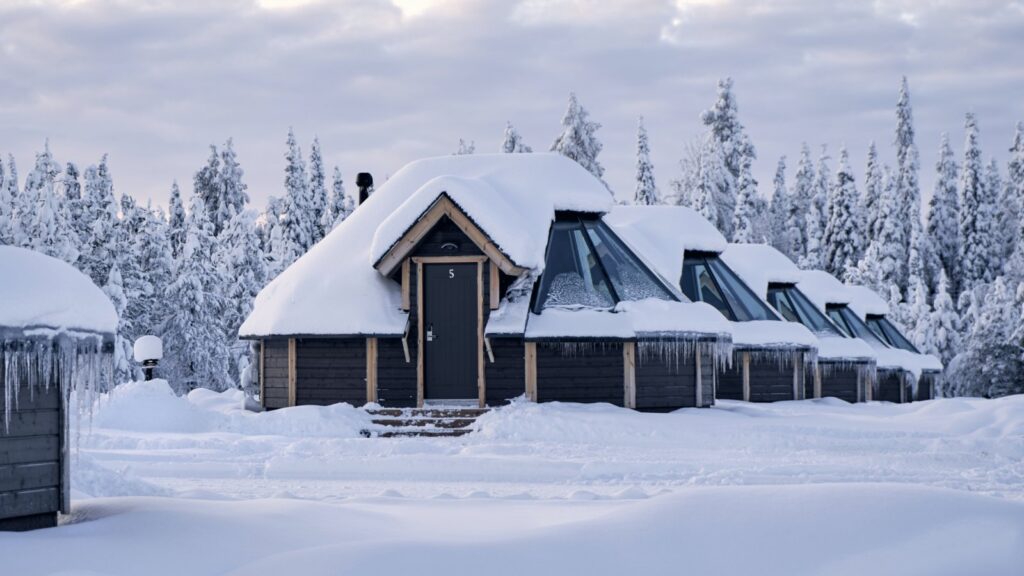 Photo: Northern Lights Village Levi
Northern Lights Village, located 16km outside the centre of Levi, offers beautiful glass igloos and multiple activities for you to do. The aurora cabins are perfect for admiring the wintry star-filled sky and the Northern Lights. There is a daily shuttle to Levi, if you wish to go into town for some shopping and dining or even to visit the ski slopes. 
They have two types of aurora accommodations to choose from. Aurora Cabins and Aurora Suites that can accommodate up to 5 people and include a sauna. There's also a restaurant on the premises that offers international and Lappish delicacies. 
The Northern Lights Village is also committed to sustainable tourism. They are reducing their water and energy consumption, they use local products where possible, they operate  in accordance with the Sámi Tourism Code of Ethics and much more.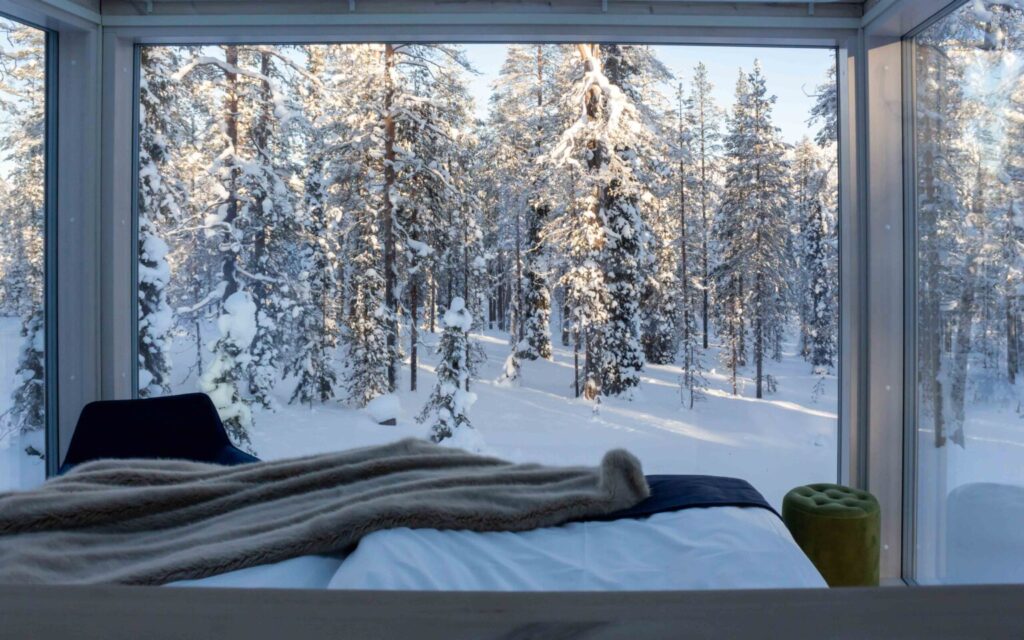 Photo: Arctic Skylight Lodge
Arctic Skylight Lodge, opened in 2020, is tucked away in a picturesque river valley, just a few kilometers outside of Äkäslompolo, a village surrounded by seven fells on the north side of Ylläs. 
They offer 10 luxurious aurora cabins with beautiful views of the river valley and the surrounding nature. Discover the clean, unspoilt nature and peaceful and serene surroundings in this eco-friendly, yet luxurious accommodation. You can also find a glass walled restaurant on top of the hill and a sauna building with an outdoor jacuzzi at the bottom of the valley there. 
This calm and quiet haven away from all the hustle and bustle lets you reconnect with nature and with yourself. Treat yourself, and stay a night or two in this beautiful unspoiled corner of Lapland.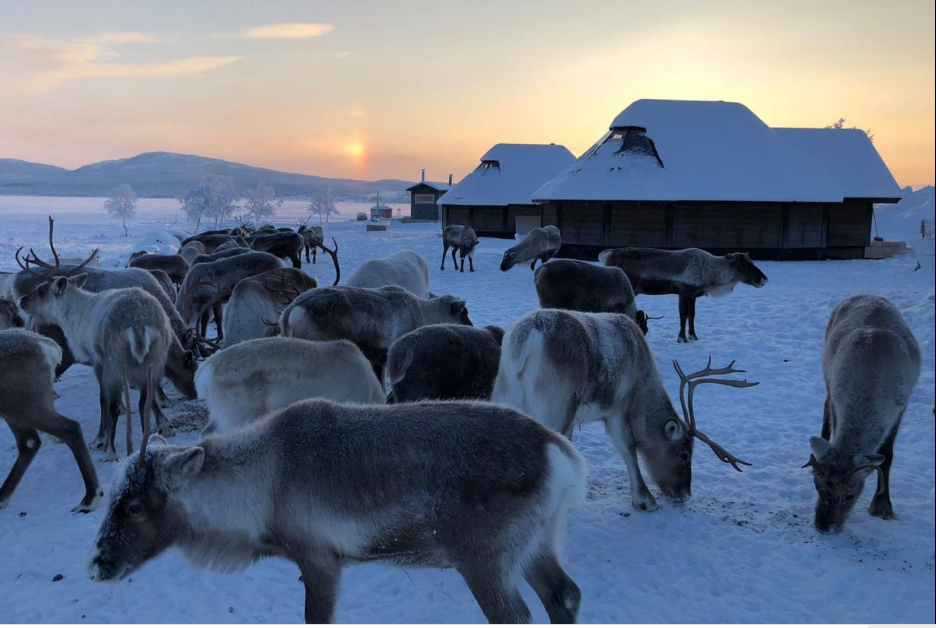 Photo: Arctic Land Adventure Galss Igloos
Arctic Land Adventure Glass Igloos, located in Kilpisjärvi next to the Vasara Reindeer ranch, offers guests an unforgettable combination of nature, silence and luxury. The glass igloos are part of an original Sámi reindeer farm and the socio-cultural sustainability and the preservation of traditions are a built-in feature for them. Fostering and respecting Sámi traditions is at the core of everything they do.
The four high quality glass igloos offer a combination of "live like a local" Reindeer Ranch visit and traditional Lappish food experience. This combination gives you a glimpse to the reindeer herder's life and to be part of the nature and wildlife. 
They also provide a wide range of equipment rental from Altai skis to ice fishing gear. Sauna and outdoor hot tub are available for an extra fee.
There are many igloo hotels all around Finland and above we listed only a handful of them. If you'd like to stay in one of the beautiful Aurora cabins and experience beautiful Arctic nature, let us know. You can contact us at info@monmontravel.com for a personalised offer or check out some sample trip plans to get an idea what else to do and see in Finnish Lapland.