Are you wondering where is the best place to see the Northern Lights and what are some of the best northern lights tours available? You don't need to look any further. Just book your trip to see the Northern Lights with MonMon Travel and discover the magical Finnish Lapland. 
Starting Point for Your Finland Northern Lights Tour
The best place to start your Aurora tour is the capital of Lapland, Rovaniemi. It's well connected with the capital of Finland, Helsinki, and also with other European cities. If you'd also like to spend some time in Helsinki, there are overnight trains between the two cities. The overnight train is also the most sustainable way of travelling, so something to consider. Alternatively there are other smaller airports in Lapland which you could consider flying in to or out of. For example Kittilä International Airport if you'd like to go skiing either in Levi or Ylläs or Ivalo Airport if you want to travel more up north and discover Sami culture.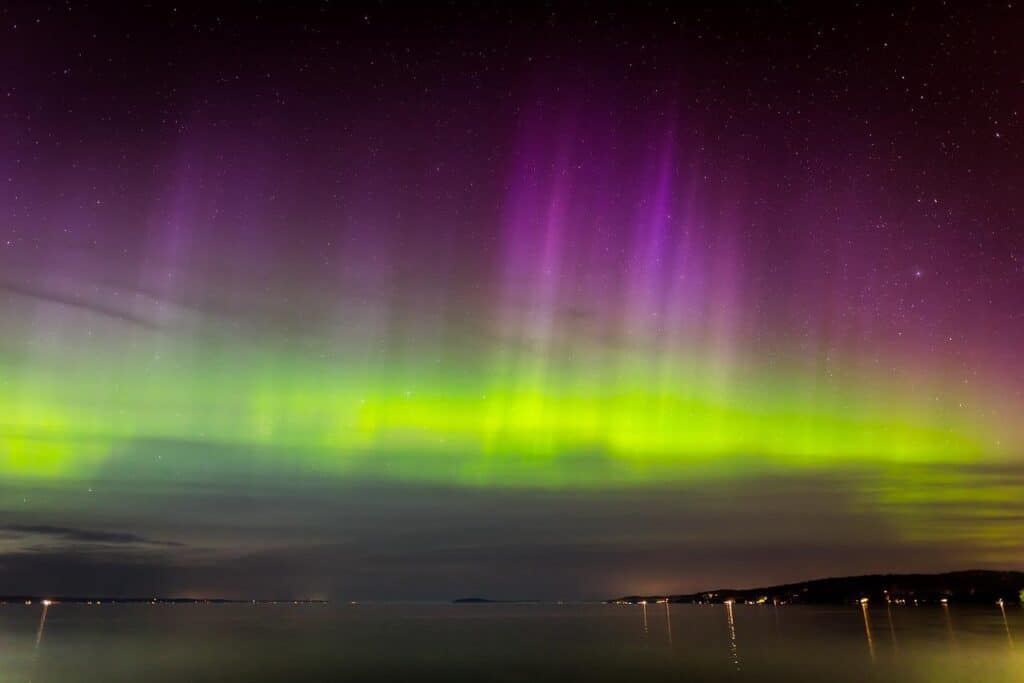 Our suggested Northern Lights itinerary has you spend the 7-days in Rovaniemi and Pyhä-Luosto National Park. The latter one being just 1,5 hours from Rovaniemi so it's easy to go to the airport from there without having to backtrack to Rovaniemi for the last night. If you have less time, we'd suggest staying the whole time in Rovaniemi and doing all the Aurora tours from there. If you have more time, you could consider adding Ivalo or Levi/Ylläs to your trip plan. 
Welcome to Rovaniemi - Northern Lights Photography Tour
Rovaniemi, the capital of Lapland, is perfect for some winter activities and hunting for the Auroras. Depending on your arrival time, we'd suggest starting with all the activities from day one. One of the best ways to see the Northern Lights is by a hunting tour. As the Auroras are an unpredictable natural phenomenon, it's not guaranteed that you will see them but this tour will give you the best possible chance.

Your guides will check before the tour to determine where the highest possible chance to see the Northern Lights is and based on the information, they will adjust the tour accordingly. Sometimes it's cloudy in the nearby areas and our guides are willing to drive as far as Sweden to hunt for the lights if it turns out that the sky is clear there. The tours can sometimes also go longer than predicted so it's important to be flexible and open to any kind of adventure. But if your aim is to see the Auroras, then this is your best chance. 
Visit Santa Claus Village, Ice floating under the Northern Lights
On your second day we suggest exploring Rovaniemi on your own. We know that one of the highlights is visiting Santa Claus in his village office. As it's free to go there, we suggest doing this on your own, not as part of a tour. That way you can spend as much time there as you wish and don't need to stick to a strict tour schedule. 
In the evening you will try out Ice Floating. This is a very unique experience and even if you don't see the Auroras during the tour, it will still be a memorable thing to do. You will be given a high-quality rescue suit that helps you float in the Arctic lake while keeping you warm at the same time. 
Husky Safari, Aurora Tour on the Snow Train
Your Lapland winter holiday and trip to Rovaniemi wouldn't be complete if you didn't musher husky dogs. In the morning you will visit a husky farm and meet the dogs in person. After a short introduction and safety briefing, you get to take the dogs out on a fun safari through the snow covered Lappish nature. Our husky safaris are premium experiences in small groups where you get to visit an authentic family-sized place, not a big touristy place. This is also a more sustainable and regenerative way of travelling. 
In the evening you can enjoy another Northern Lights activity, this time on a snow train. This unique experience is especially perfect for guests who have difficulty moving, small children or people who are afraid of the cold. A warm carriage will take you to a traditional Lappish Kota where you can warm up around a cosy fire. If you're lucky then you can also admire the Northern Lights dancing above your head.
Explore Lapland, Northern Lights Safari b Electric Snowmobiles
Today we suggest you take it easy and rest up from all the Aurora tours. You can explore Rovaniemi in more depth. There are many interesting museums to be explored or if shopping is your thing, then there are plenty of shops around as well. If you wish to do another activity you could visit the SnowHotel. You can visit the place on your own by buying the tickets at the reception or by a tour. Alternatively there are plenty of other activities you could do in your free time. You can find some options on our destinations page. 
In the evening it's time for another Northern Lights tour. During the tour you will have a chance to ride an eSled to the top of a hill, far from the city light pollution. Electric snowmobiles are a more sustainable and silent way to experience the Arctic nature. As only little sound comes from the snowmobiles, you can enjoy the silence and peace of wintry nature around you. If you're lucky, you can also see the Northern Lights during the tour. 
Travelling to Pyhä-Luosto National Park, Aurora Hunt by Reindeer Safari
Today it's time to travel deeper into the Arctic nature, Pyhä-Luosto National Park is waiting. Just 1.5 hours drive away, this beautiful national park is perfect for winter fun. You can find wide, quiet runs and a good ski school with English-speaking instructors there. Even if you're a beginner, this is a great place to learn. Besides that, you can do a lot of other winter activities there and visit the Amethyst mine. 
It's also an excellent place for some aurora hunting and in the evening you can do it by a reindeer safari. In the authentic reindeer farm you will be introduced to your reindeer before you start the magical sleigh ride through Arctic nature. All you have to do is sit back and enjoy the ride and if you're lucky, admire the Auroras dancing over your head.
Discover Pyhä-Luosto National Park, Northern Lights Tour on Snowshoes
Today is your last full day in Lapland and what better way to spend it than relaxing in your accommodation, enjoying a hot sauna or doing another activity. If you want to try your hand in ice fishing then this is your chance. Your guide will teach you how to drill a hole and catch fish. 
In the evening it's time for your last northern lights tour. You will walk in deep snow with snowshoes which let you reach places that you cannot reach by car or on foot. Walking at night in nature is an experience on its own but if you're lucky, the northern lights will lead the way. You may even spot or hear some animals such as reindeer or arctic hares. This would be a perfect end to your Northern Lights vacation.
Check out our Northern Lights Vacation Package and contact us for more information and customised trip plan.