If you're looking for a magical winter wonderland experience, look no further than Santa Claus Village in Rovaniemi, Finland. Located just a few kilometres outside of the Arctic Circle, this village is the official home of Santa Claus and offers a variety of activities and attractions that are sure to make your visit unforgettable.
How to Get to Santa Claus Village from Rovaniemi?
Santa Claus Village is located just a few kilometres outside of Rovaniemi, Finland, and is easily accessible by several transportation options.
The easiest way to get to Santa Claus Village from Rovaniemi is by bus number 8. The journey takes around 15-20 minutes and tickets can be purchased on board. You can check the bus timetable

here

. 

Taxis are also available from Rovaniemi to Santa Claus Village. Taxis can be hailed on the street, booked in advance through a taxi company. The journey takes around 10-15 minutes, depending on traffic.

If you have a car, you can drive to Santa Claus Village from Rovaniemi city center. The journey takes around 10-15 minutes, and there is plenty of parking available at the village.

For the more adventurous traveler, bicycles are available to rent in Rovaniemi. The journey to Santa Claus Village takes around 30-45 minutes, depending on your cycling speed and the weather conditions. The bike path is well-maintained and takes you through scenic forests and along the beautiful Ounasjoki River.
Overall, getting to Santa Claus Village from Rovaniemi is easy and convenient, and visitors can choose from a range of transportation options to suit their needs and preferences. Whether you prefer to take a bus, taxi, car, or bicycle, there's a way to get to this magical winter wonderland.
What to do in Santa Claus Village?
During your visit to Santa Claus Village, you can meet Santa himself, send letters from the official Santa Claus post office, buy some souvenirs and even cross the Arctic Circle. It's an unforgettable experience that will leave you feeling the festive magic.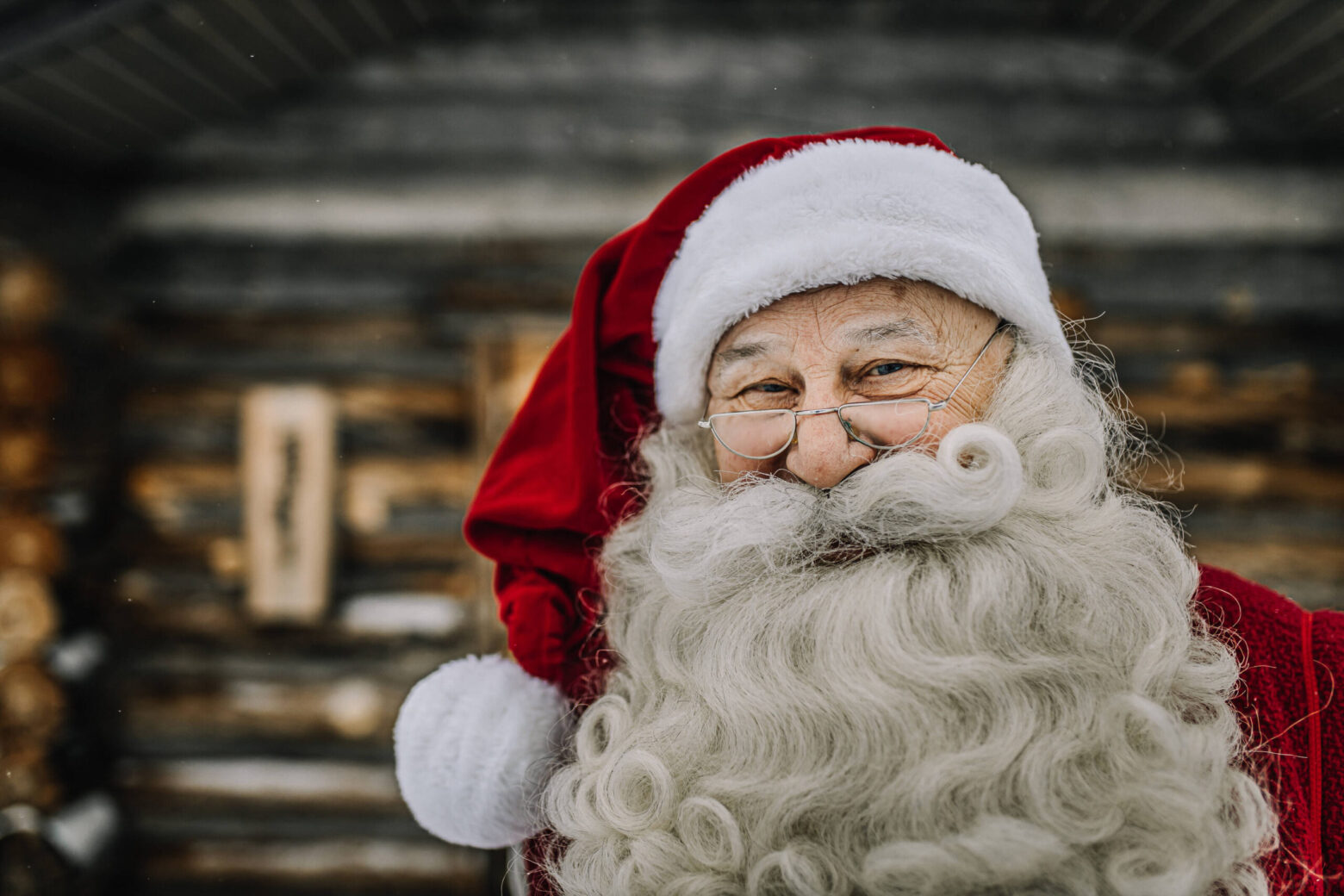 Photo: Santa Claus Foundation
One of the main draws of Santa Claus Village is, of course, meeting Santa Claus himself. The Santa Claus Office is open every day of the year, and visitors can visit Santa in his office and take a photo with him. It's a unique opportunity to meet the jolly old man and make some special memories.
Unfortunately it's not possible to take your own photos with Santa Claus but there's a professional photographer elf, who will take a photo and video of every guest. After the visit you can buy the photos and videos but there's no obligation so if you just want to see the man himself and have a quick chat, you can do it without having to pay for it. 
Another popular attraction in Santa Claus Village Rovaniemi is the Arctic Circle, which runs right through the village. Visitors can cross the Arctic Circle and receive a certificate as proof of their Arctic Circle crossing. It's a fun and unique way to commemorate your trip to this special part of the world.
Crossing the Arctic Circle is a unique and memorable experience that visitors to Santa Claus Village in Rovaniemi, Finland, can enjoy. The Arctic Circle is an imaginary line that circles the Earth at approximately 66.5 degrees north of the Equator and runs directly through Santa Claus Village. Visitors can cross the line and officially enter the Arctic region.
To make the experience even more special, you can also purchase a special "Arctic Circle Certificate". The certificate is a unique and personalised way to remember the experience, and includes the visitor's name, the date and time of the crossing, and the official Arctic Circle latitude and longitude coordinates.
The Santa Claus Main Post Office is one of the most popular attractions at Santa Claus Village in Rovaniemi, Finland. The post office is open year-round and offers visitors a chance to send letters and postcards from the Arctic Circle.
The post office has a festive and cosy atmosphere, with warm wood panelling, traditional Finnish textiles, and, of course, lots of holiday decorations. Visitors can send letters or postcards to friends and family around the world, and each piece of mail can receive a special Arctic Circle postmark, making it a unique and memorable souvenir.
One unique service offered by the post office is the Letters to Santa program. Children can write a letter to Santa and receive a response in the mail, complete with a special postmark from the Arctic Circle. It's a fun and magical way for kids to connect with Santa Claus and keep the magic of the holiday season alive.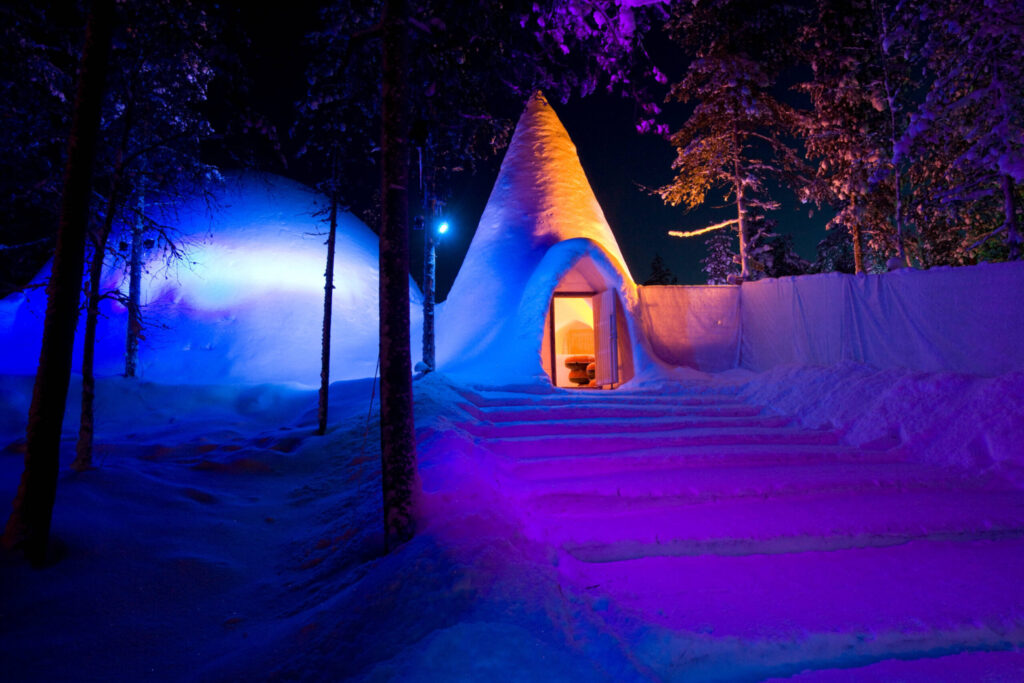 Snowman World is another attraction located in Santa Claus Village that's definitely worth checking out. It's a winter wonderland that's filled with ice and snow sculptures, ice slides, and various other winter activities.
One of the main attractions at Snowman World is the ice bar. The bar is made entirely out of ice and is a unique spot to enjoy a cold drink while surrounded by beautiful ice sculptures. They even host an Ice Disco for adults there occasionally. 
Another highlight of Snowman World is the ice restaurant. The restaurant is made entirely out of snow and ice and offers a unique dining experience. The menu features local Finnish cuisine, and the restaurant's design, including ice tables and chairs, creates a one-of-a-kind ambience that is both beautiful and cosy.
Other fun activities at Snowman World are the ice and snow slides and ice skating rink. The rink is made out of natural ice and is a great way to enjoy the winter landscape. Visitors can rent ice skates and take to the ice for a spin while enjoying the beautiful snow-covered scenery. If you like slides, then it's your chance to enjoy the icy hills at the Snowman World.You can slide down with a sledge, rubber tube or a slider. 
Overall, Snowman World is a fun attraction for anyone visiting Santa Claus Village. The ice and snow sculptures are beautiful, and the various winter activities are sure to keep visitors of all ages entertained. Plus, the unique ice bar and restaurant are definitely worth experiencing for a one-of-a-kind winter dining and drinking experience.
Please note that this is a relatively expensive experience and might be more fun for smaller kids. It's not on our list of top things to do in Lapland but if you have time and don't mind spending some money, it could be an option.  
Shopping at Santa Claus Village
If you're looking for unique and authentic souvenirs from your trip to Finland, Santa Claus Village is the perfect place to shop. The village has a wide variety of stores and shops that offer a range of Finnish gifts and souvenirs, from traditional Lappish handicrafts to modern design items.
One popular store in Santa Claus Village is the Christmas House, which sells a wide variety of Christmas decorations, ornaments, and gifts. The store is open all year round, and visitors can find everything from traditional Finnish ornaments and decorations to modern and contemporary designs.
For those looking for more traditional Lappish handicrafts, there are several stores in the village that specialise in Sámi handicrafts, such as handcrafted jewellery, knives, and traditional clothing. These items are made by local artisans and are a great way to bring a piece of Finnish culture and tradition home with you.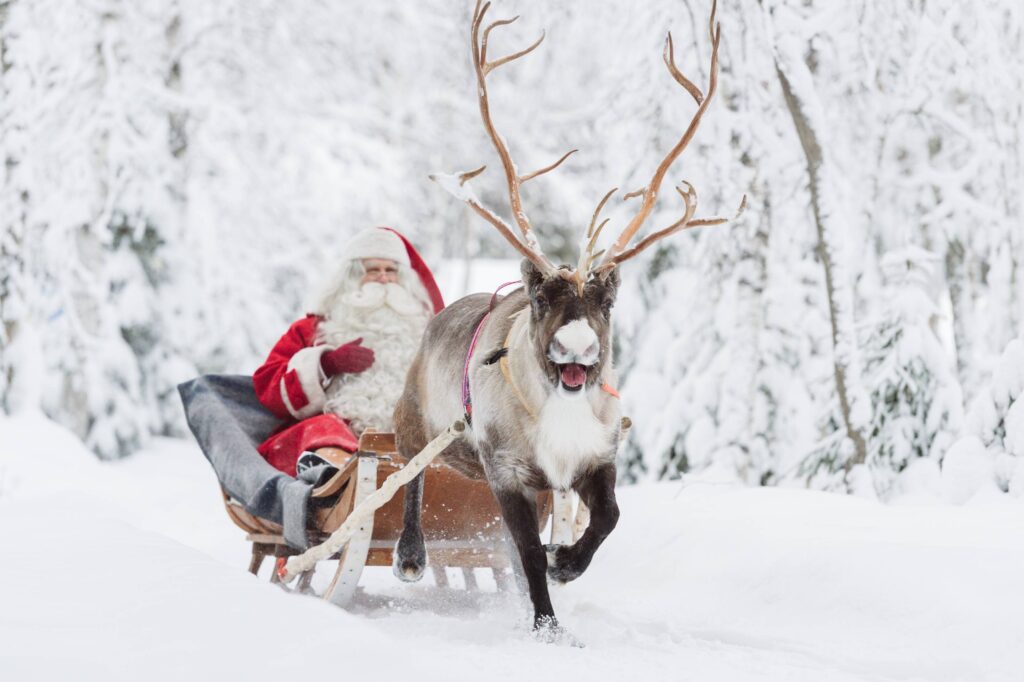 Overall, a visit to Santa Claus Village is a unique and unforgettable experience that's sure to delight visitors of all ages. Whether you're coming to meet Santa, cross the Arctic Circle, or enjoy the many other activities and attractions the village has to offer, you're sure to have a wonderful time in this magical winter wonderland.
Interested in Lapland Christmas Holiday? Contact us for more information and customised trip plan or check out some of the sample trip plans below: