Lapland Christmas Holiday
Lapland Christmas Holiday Package
Lapland Christmas Holiday is perfect for families and everyone who is looking for a true Christmas spirit and magic. Whether it's meeting Santa Claus in his village office, hunting the Northern Lights, or enjoying a peaceful sleigh ride, we've got you covered. 
This itinerary was created  by local experts to give you the best chance to feel the magic of Christmas.  It is ready to be customised to suit your budget, interests and tastes so you can make the most out of your trip on your own terms and departing whenever you choose. This Lapland Christmas Holiday is available only in December. If you'd like to travel outside of December, some adjustments to your Finland Christmas Holiday will be made. 
Lapland Christmas Holiday Itinerary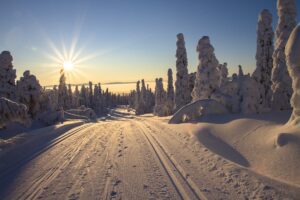 Rovaniemi, the capital of Lapland, is also known as the hometown of Santa Claus. The city is surrounded by arctic nature, full of Lappish culture and a wide range of activities. On your arrival at the airport a driver will wait for you in the arrivals hall holding a sign with your name on it and will drive you to your accommodation. The journey takes about 10 minutes.
If you arrive early and would like to do some additional activities or find information on where to eat and what to do and see, check out our destinations page. If you'd like to add any additional tours or activities to your Lapland Christmas Holiday package, please let us know.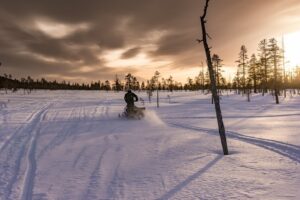 Your Finland Christmas Holiday will start with a snowmobile tour to Santa's Village. Your guide will pick you up from your accommodation and take you to a beautiful wilderness resort. After safety briefing and instructions you will start your snowmobile safari through stunning Arctic nature. Once you reach Santa's Village you will have a chance to meet Santa Claus in his office, send postcards to the loved ones, do some shopping and get a certificate for crossing the Arctic Circle. Tasty lunch in a cosy restaurant is included in the tour. The duration of the tour is about 6 hours. You can't leave Lapland without visiting Santa Claus!

Included Meals: Breakfast, lunch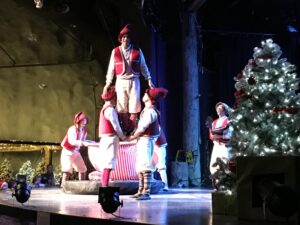 Today we suggest you visit an indoor Christmas theme park, deep beneath the ground. Join the merry Elves on an unforgettable journey to the heart of Christmas at SantaPark, where it's Christmas all year round! Ride the Magic Train and travel through enchanting worlds, get your very own diploma at the Elf School, feel the crispy winter in the Ice Gallery, enjoy the jolly Elf Show on the main stage and send home your Christmas greetings at the Post Office. This activity is not included in the trip plan but you can easily visit SantaPark on your own.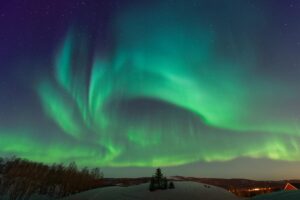 A lot of people travel to Finland to see northern lights and in the evening it's time for the best Rovaniemi northern lights tour. Remember that the northern lights are wily and unpredictable, but this tour will give you the best possible chance to see them. Your professional guide will determine where the highest possible chance for aurora sightings is. You will visit a few different locations unless your guide knows for sure that northern lights will appear on a certain location, then you'll go there. All you have to do is sit back and enjoy the show. Duration of the northern lights tour is about 4,5 hours. For an additional fee you can upgrade to a tour with a professional photographer. 

Included Meals: Breakfast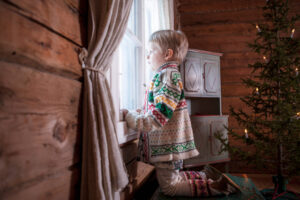 Today it's time to find out how Finnish people celebrate Christmas. You will be picked up from your accommodation and taken to a nearby cottage. Once there you will head inside the cottage where you can warm up around a fireplace and make traditional Finnish Christmas decorations or bake gingerbread cookies. You can also decorate the Christmas tree and send a letter to Santa, which will be delivered to the man himself by an old friend of Santa. After all these activities, it's time for a traditional Finnish Christmas porridge made of rice, with prune soup, fish with side dishes, beverages and coffee or tea. For an additional fee, Santa Claus can come for a visit. Duration of the program is 3 hours.
Photo: Jani Kärppä & Flatlight Films
Included Meals: Breakfast, lunch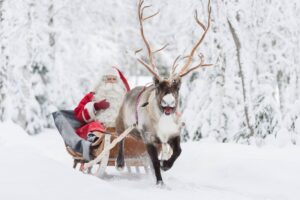 Experience the enchanting Christmas atmosphere with your whole family! Just a bus ride away, we find a hidden place in the woods outside of town, where a Reindeer Herder, the Forest Queen, and Santa Claus reside. Santa has his own secret little wooden house, and the Forest Queen warmly welcomes us upon arrival. She leads us down a candlelit path, inviting us on a fairy journey to a magical Christmas place. Throughout the day, we complete Christmassy tasks assigned by the Forest Queen. We find Santa's secret house, decorate gingerbread cookies, enjoy a reindeer sleigh ride, write our deepest wishes, and savor traditional Lappish Christmas porridge. In between the adventures, we engage in snow-filled fun with tobogganing, kick sledding, and mini-snowmobile rides. After creating cherished memories, we return to the city with hearts full of joy and wonderful experiences. The duration of the tour is about 4 hours.
Photo: Juho Kuva
Included Meals: Breakfast, lunch
Today it's time to say goodbye and end your trip to Lapland. Your driver will pick you up from your hotel and take you to the airport for your departing flight. 
Included Meals: Breakfast
Interested in a private Lapland Christmas Holiday package instead? Contact us for more information and a personalised offer.
Accommodation
Airport transfers
Breakfast each morning at your hotel, plus any meals indicated in the itinerary
English Speaking local guides
Northern Lights Tour (Small Group)
Reindeer Safari to Santa's Hut (Group)
Snowmobile tour to Santa's Village (Group)
Finnish Christmas Celebration (Private)
Highly personalised itinerary planning
24/7 support from local staff
International flights

Tips for services and experiences

Visas

Personal charges such as laundry, phone calls, SIM cards or room service

Additional sightseeing, activities and experiences outside of your itinerary

Meals (other than breakfast if included in room rate and other meals listed as included in the itinerary).

Travel Insurance

Winter overalls and boots (can be rented for an additional fee) 
* EUR per person, based on double occupancy. Prices are subject to change.
The final price will vary and is based on the exact dates and availability.
IMPORTANT: December is the peak season and hotels are selling out fast! 
Other Finland Holiday Packages You Might Be Interested In