What could be more christmassy than Christmas in Lapland? Snow-covered Lappish nature, all kinds of winter activities, magical northern lights and of course the man himself – Santa Claus. Luckily it's Christmas all year round in Lapland so read on and find out what to do and what not to do during your Christmas in Lapland. 
How to get to Rovaniemi, Lapland
Rovaniemi is the capital of Lapland and a good place to spend your Christmas in Lapland. The fastest and easiest way to get to Rovaniemi is by flight. There are direct flights to Rovaniemi from Helsinki, Dublin, Istanbul, London, Paris and a few other European cities.
Another great and more sustainable option is taking a train from Helsinki. Helsinki is a good base to start your Christmas in Finland and why not even spend a couple of days there and explore the city's Christmas markets. After some time in Helsinki, hop on Santa Claus Express Train to Lapland. The journey takes around 12 hours but there are also overnight sleeper trains. That way you can spend your day doing different activities, while saving money on accommodation. The train is not for everyone though so if you're a light sleeper and looking for luxury experience, this might not be the best option for you. There are bunk beds in the compartment and these usually come with either an en suite shower/toilet or a shared option.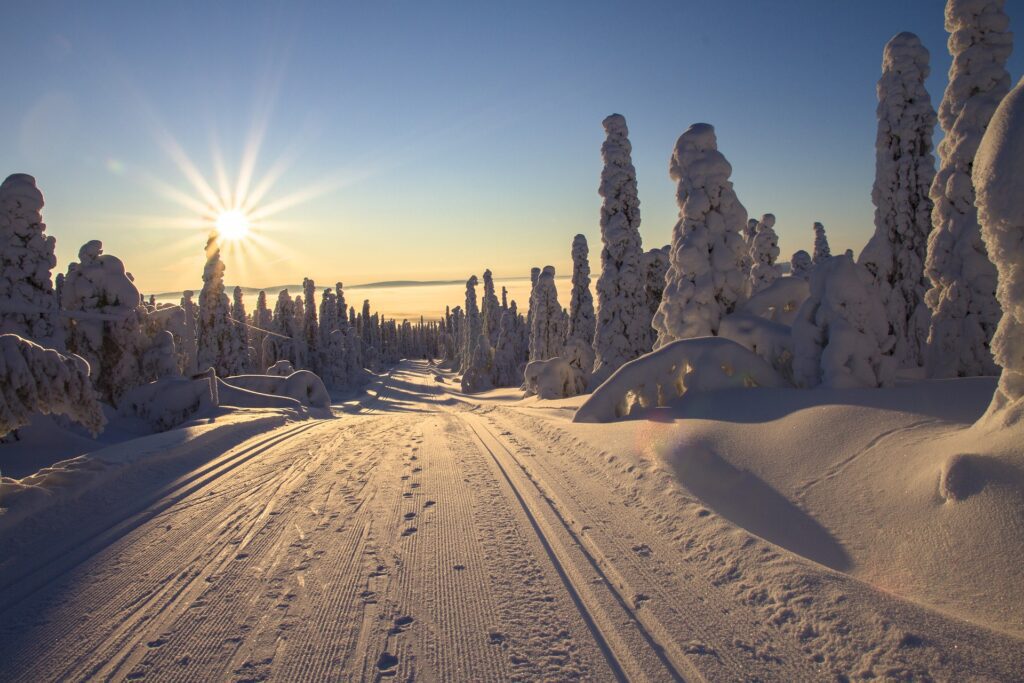 What's the best month for Christmas in Lapland?
I'm sure when you think about spending your Christmas in Lapland, you are thinking about going in December. December of course is a magical time but there are a few things to keep in mind. December is by far the busiest time of the year. You can find many tourists everywhere, a lot of the hotels and tours are sold out and prices are very high. If you're still planning to go in December, try aiming for the beginning of the month as prices are a bit lower then.
November is a good time as prices are also a bit lower and there are less visitors but there's a chance that there's no snow yet. This means you might not be able to do some of the winter activities, as these needs snow in order to go ahead.  Another options is to visit from mid January till the end of March. Everything is covered in snow, prices are a bit lower, there are less crowds and you can still feel the magic of Christmas and winter wonderland all around you.
Best Christmas in Lapland activities
There are plenty of things to do in Lapland and Rovaniemi is a good base to start your Christmas in Lapland vacation. Whether you'd like to have an active holiday doing different winter activities like snowshoeing, reindeer and husky safaris or just sitting in your cosy cabin sipping hot cocoa in front of a fireplace, you can do it all in Rovaniemi.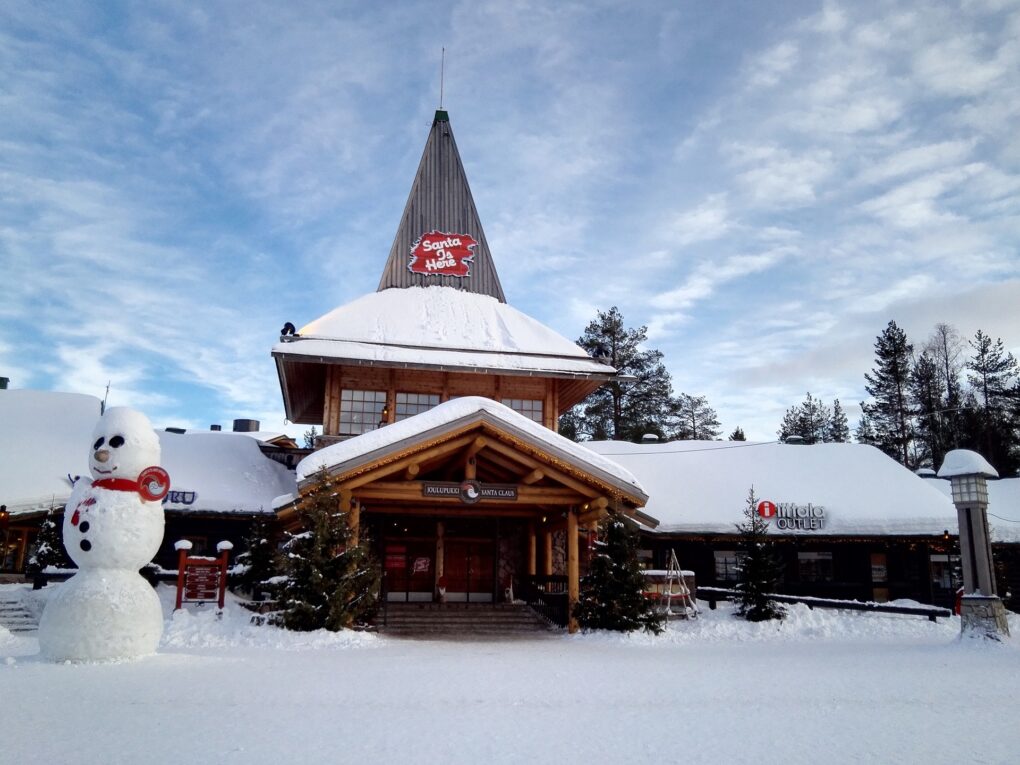 One of the highlights during your Christmas in Lapland is visiting Santa Claus and luckily his office is located just outside Rovaniemi city centre. During the high season you can expect long queues to meet Santa and even to send a postcard back home. November is the month when the official Christmas season opening ceremony takes place. That being said, Santa's Village is open every day and you can even feel the magic of Christmas during the summer months there. You can also receive your certificate of crossing the arctic circle there and of course you will have plenty of options for souvenir shopping, there are a lot of shops to choose from.
During the high season we suggest visiting Santa Village on your own and not booking a tour. That way you can spend as much time there as you wish and you don't need to waste your tour time queuing up to meet the big man himself. It's also free to visit Santa Village. 
If visiting Santa Village is not enough, we suggest also visiting SantaPark. This is an indoor Christmas theme park, located deep beneath the ground. There you can ride the Magic Train and travel through enchanting worlds, get your very own diploma at the Elf School, feel the crispy winter in the Ice Gallery, enjoy the jolly Elf Show on the main stage and send home your Christmas greetings at the Post Office. I believe visiting both of these places will make your Christmas in Lapland a magical experience, especially for the little ones.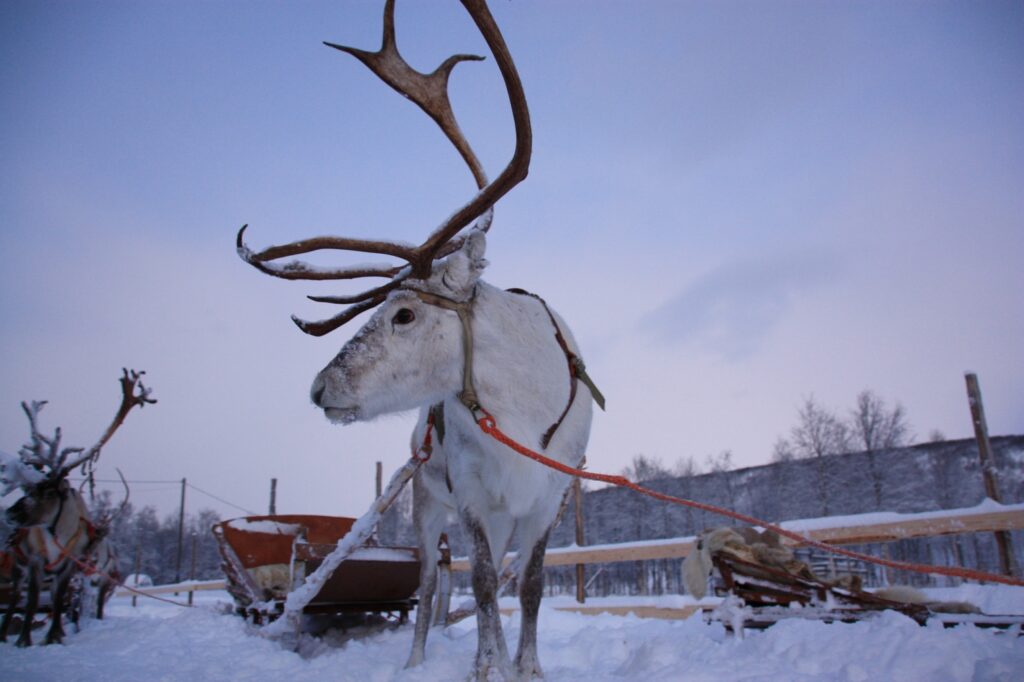 Not only is Rovaniemi home to Santa Claus, it's also home to countless reindeer. Actually there are more reindeer in Lapland than people. Although reindeer roam free, they are actually semi-domesticated and every animal you see in the wilderness is owned by a herder. Visiting a herder and their reindeer farm is another highlight of things to do during your Christmas in Lapland. It's just a magical feeling gliding through the snow covered Lappish nature while sitting in a reindeer-pulled sleigh. 
Herders are also happy to answer any questions you might have about the reindeer and everyday life in the farm. Please do keep in mind that reindeer are still semi wild and not every farm in Rovaniemi is sustainable and has animal welfare in mind. We suggest you do your research beforehand and try avoiding big touristy farms. All our Lapland tours go to traditional reindeer farms where you can be sure that your visit is sustainable and the animals are treated well.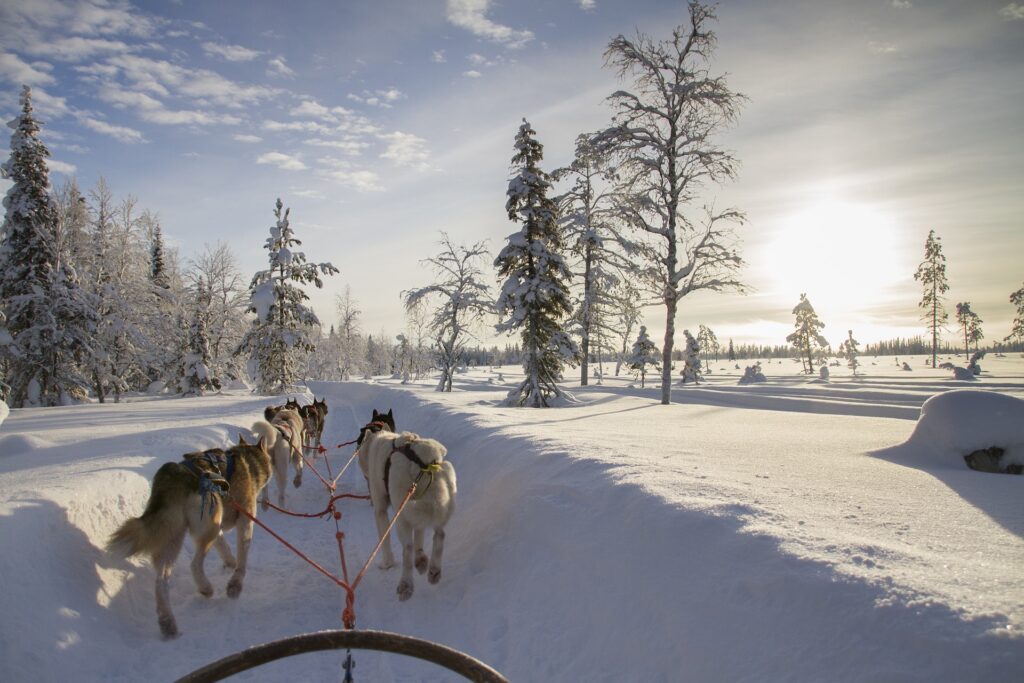 A must do when visiting Rovaniemi, Lapland is a husky safari. Huskies are born to run, and they are happy to take you on a little safari. These photogenic dogs are looking forward to meeting you and for you to cuddle them. One thing to keep in mind is that most of the sledding dogs are Alaskan huskies, not the fluffy Siberian huskies. The latter ones are not that good runners and are therefore not part of the sledding dog teams.
Like with reindeer we suggest doing your research before booking a husky safari. Not all the farms are sustainable and there are a lot of touristy farms where the living conditions might not be the best. If you'd like to combine both reindeer and husky safari, we have a great combo option included in our Lapland Winter Holiday where you can visit two authentic family-sized places, not crowded touristic places.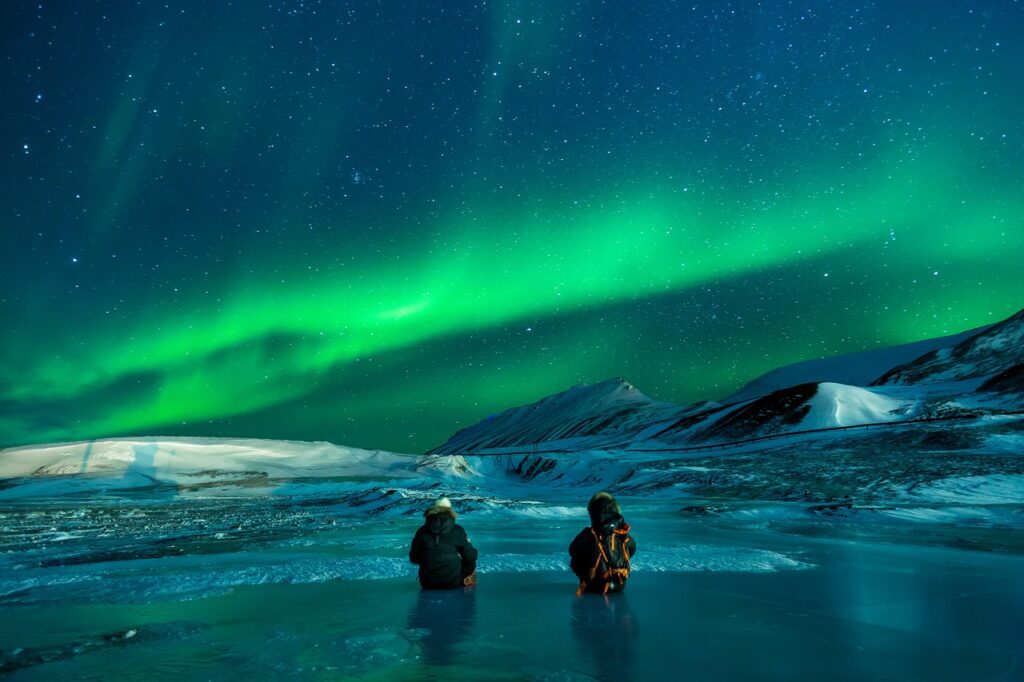 Of course we also have to mention northern lights. Seeing them during your Christmas in Lapland might just be the highlight of your trip. This unpredictable natural phenomenon can be seen from mid August till mid April and as December has the longest nights, your chances of seeing the aurora during your Christmas in Lapland is quite high. Get yourself a northern lights alert app or better yet, book a tour with a professional aurora hunter for better chances of seeing them. 
We suggest avoiding tours that only go to one specific place, such as Aurora picnics or barbeques. These usually only go to one place near Rovaniemi and the chances that the skies are clear there and you can see the northern lights are limited. We suggest booking a proper hunting tour where the guides are willing to drive long distances in order for you to have better chances of seeing the Aurora. All our Lapland packages include a proper hunting tour. 
Where to stay during your Christmas in Lapland?
There are many options to choose from, starting with different star level hotels to glass igloos and remote cabins. There are options for every budget and taste. You can even stay in Santa Village Lapland if you wish to spend a lot of time there. 
Rovaniemi centre has many good hotel options to choose from and it's also a good place to start your Christmas in Lapland activities. Another bonus with staying in the city is that there are many options for dining around. If you're staying in remote accommodation options, you're limited to their hotel restaurant, unless you're willing to travel every evening somewhere else for a meal. 
The benefit with staying in a remote area is that there's no light pollution so your chances of seeing the northern lights from your accommodation are higher. Staying in a glass igloo or a cabin with a glass roof, can be a wonderful experience. There can be some negative sides to this, as it's sometimes hard to get a perfect temperature in these glass igloos. They are often either too hot or too cold. Also if there are clouds you won't see the northern lights and as these places generally cost quite a bit, you might end up being a bit disappointed. So just something to keep in mind before booking one of these options.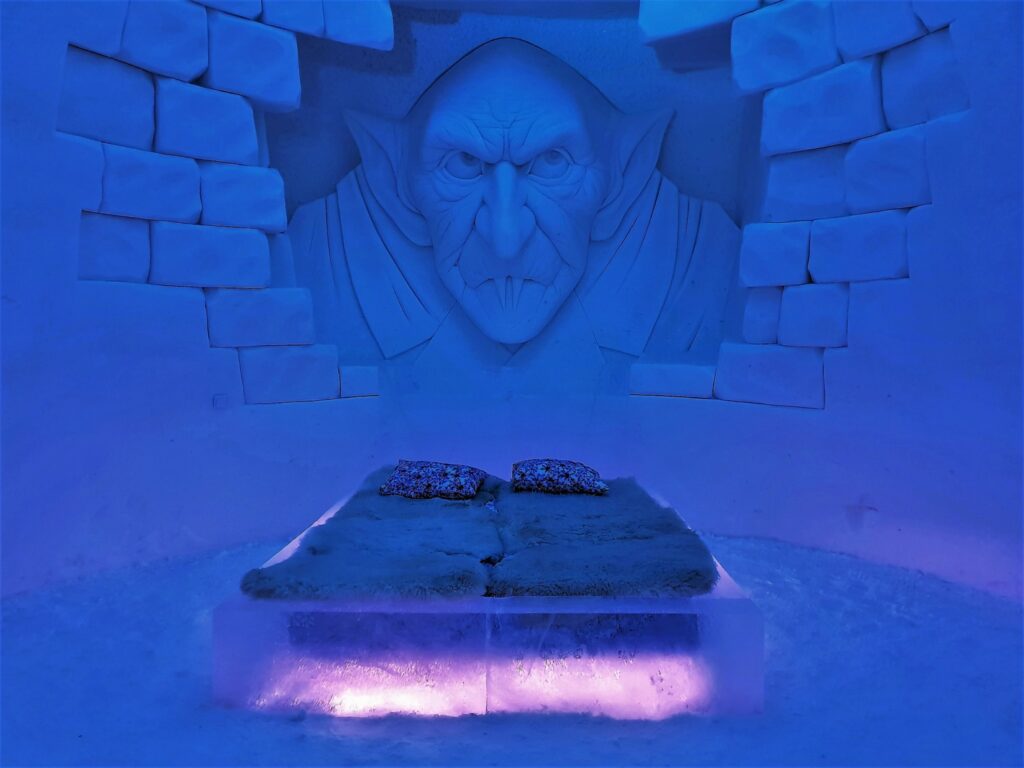 For the brave ones, staying in a hotel that is entirely made out of snow and ice, can be an experience of a lifetime. The ArcticSnow Hotel is a great option to try this out. Each room there is designed in a unique theme and decorated with ice art and illuminated artwork. The temperature in the rooms is 0–5C°, but you will be given special sleeping bags and reindeer furs, to keep you warm and comfortable. If you don't wish to stay there overnight, it's also possible to add this as a tour to your Christmas in Lapland vacation package.
To sum up, we suggest doing some research before booking your Christmas in Lapland holiday. There are many different tour providers who might not offer the most sustainable tours and your experience won't be the same. There's a big difference if you're going with a large bus tour or in a small group of maximum 8 people, which is the group size for all of our tour packages on offer. 
Book one of our Lapland tour packages to experience Christmas in Lapland. Alternatively, email us at info@monmontravel.com to discuss details of your personalised offer.