Visiting the Baltic States around Christmas time can be a magical experience. Vilnius, Riga and Tallinn welcome guests with their charming Christmas markets, twinkling lights, smell of mulled wine and cinnamon, romantic cobblestone streets, snow covered (if lucky) red roofs, local products & crafts and cosy cafes. Read below why Baltic Christmas Markets should be in your winter vacation bucket list. 
The first ever christmas tree feud
Riga and Tallinn can't come to an agreement on which city was the first to display the world's first Christmas tree. Latvians declared that the first tree was displayed in Riga in 1510 by the Brotherhood of the Blackheads. Estonians were not happy with that declaration and disputed the news and claimed that the honour belonged to its capital Tallinn. They claimed that in 1441 the first Christmas tree had been installed by their city's Brotherhood of the Blackheads. Regardless of who is right here, the tradition is still alive in both countries and each year a beautifully decorated Christmas tree is placed in its original spot, in the cobble stoned Town Hall Square in Tallinn and Riga.
Small, cosy and charming Baltic Christmas markets
Vilnius, Riga and Tallinn are small cities compared to metropolitan cities around the world so when you travel here you're greeted by small, cosy and charming cities and their Christmas markets. Wandering around the narrow alleyways and side streets lets you really feel like you're in a fairytale. The city centres are lit with hundreds of different light solutions and installations making the dark nights magical. Local artisans and designers are selling handmade local products, or if you wish you can even try a hand in making your own handicrafts or sweets in one of the many workshops.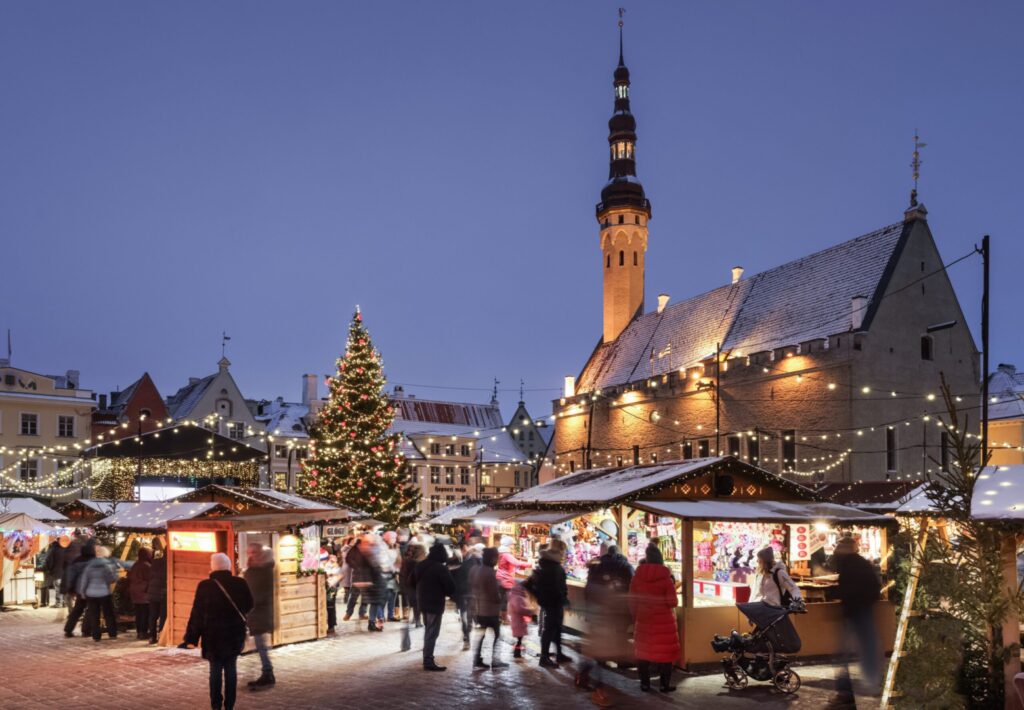 The Christmas Market in Tallinn runs every year from late November till early January. In 2019, Tallinn was chosen as the best Christmas Destination in Europe and in 2022 it still remains as the top 20 destinations to travel to during your Christmas vacation. Explore the beautiful medieval streets and passageways, enjoy the festive energy and sip a hot cup of mulled wine while admiring the beautiful Christmas tree, right in the town hall square.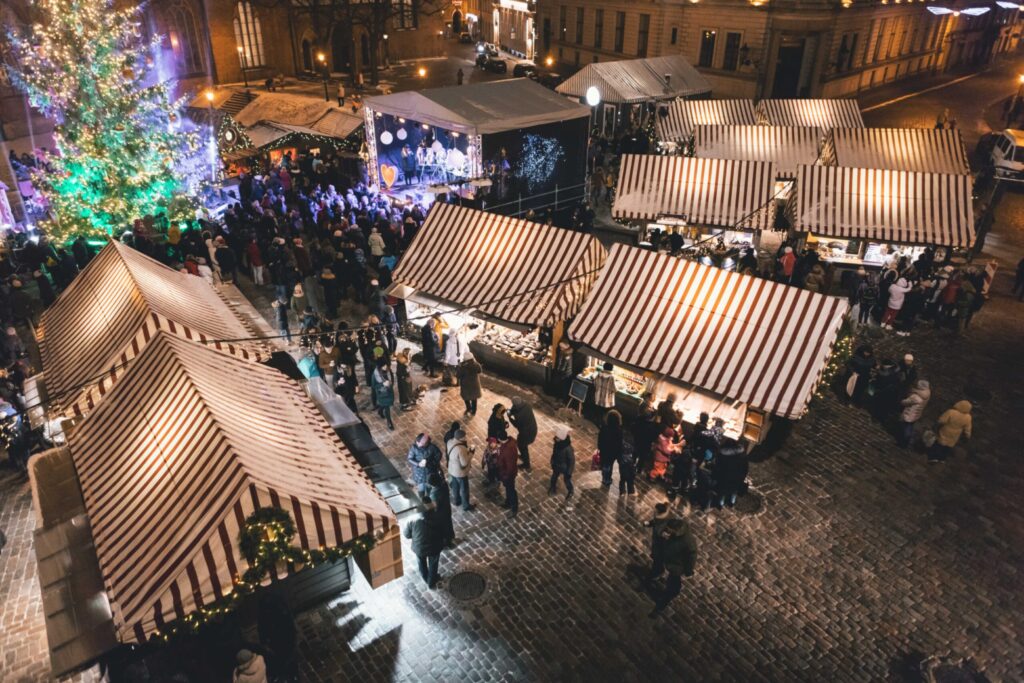 The Christmas Market in Riga typically runs from the end of November till early January. The best known Riga Christmas Market is located on Dome Square. You can find multiple wooden huts selling all sorts of goods, glittering lights, and a large Christmas tree there. Browse through the maze of stalls and sip some tasty mulled wine, buy handmade souvenirs or just enjoy the festive spirit. There are also a few other smaller Christmas markets scattered around the old town. For example at Līvu Square you can find cosy wooden stalls to explore, along with a unique Christmas tree made out of wooden planks. Esplanade park is another option worth checking out.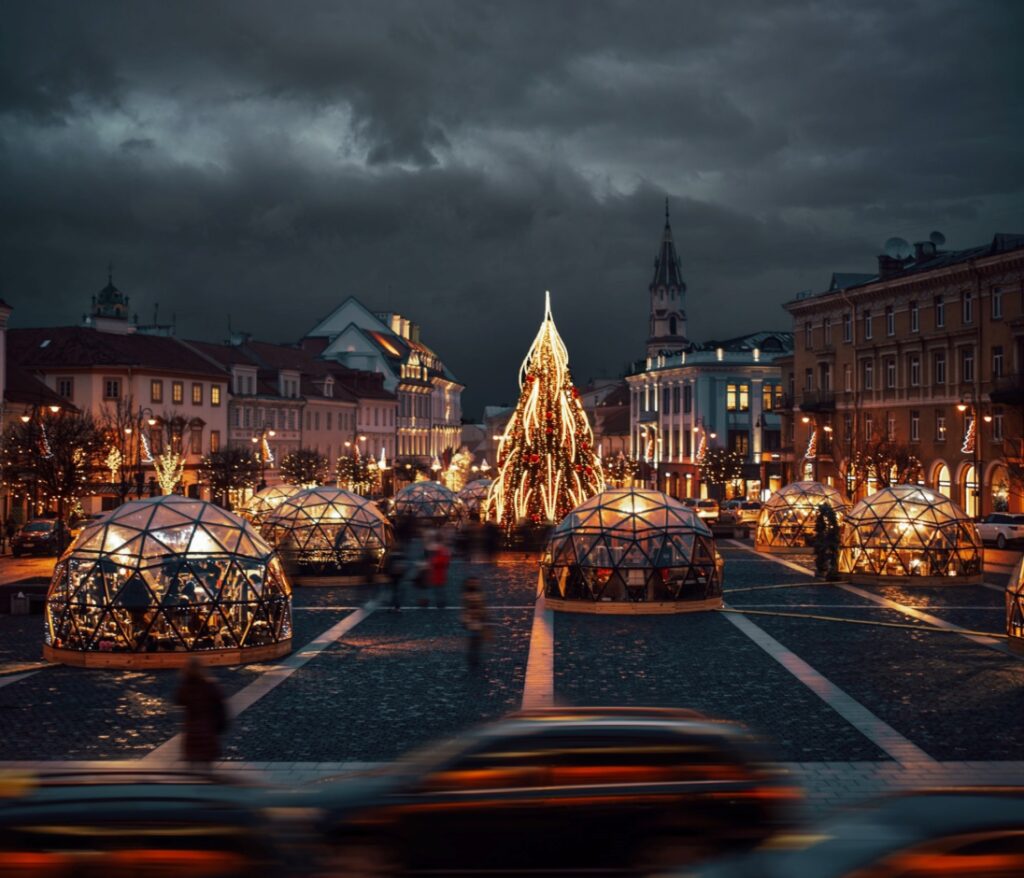 The Christmas Market in Vilnius is normally open from the last weekend of November until the first weekend of January. Although Latvia and Estonia are arguing which country had the first Christmas tree, Vilnius can say it wins the most beautiful Christmas tree award. In 2020, an unusual, high-tech Christmas tree in Vilnius was named the Most Beautiful Christmas Tree in Europe and the charming capital city is named as one of the top destinations to visit during Christmas by many publications. Vilnius Christmas Market is spread out over several smaller areas in the city centre. The one in the Cathedral Square and the Town Hall Square are arguably the best and most popular ones. Enjoy the festive concerts, ride everyone's favourite Christmas train and try the local delicacies at the Christmas market in Vilnius. 
All three Baltic Christmas markets in one trip
Baltic States of Lithuania, Latvia and Estonia are all relatively small countries, making it easy to visit all three in one go. The capital cities are excellent places to visit the charming Christmas markets, try traditional Christmas food, shop for handmade crafts and check out different cultural programs. They are also excellent starting points if you want to do any day trips to the surrounding areas. I suggest spending at least three nights in each capital city but if you have less time, it's also possible to stay just wo nights in each. Our Baltic Christmas Tour packages gives you a good feel of what these countries have to offer and let's you see the highlights. 
For a Christmas experience like never before, I suggest combining the Baltic Christmas Tour with our Lapland Winter Holiday. Pay a visit to the Santa Claus Village and meet the big man himself. Read our blog for more information about Christmas in Lapland.
Book your Christmas vacation Now!