Complete Finnish Lapland Holiday
Finnish Lapland Holiday from Rovaniemi to Ivalo
Make the most out of your trip to Lapland and book our 7-day trip from Rovaniemi to Ivalo. This itinerary is designed to let you experience the magical Lapland while doing some of the best arctic adventures.
This itinerary was created  by local experts to give you the best chance to see the highlights of Lapland.  It is ready to be customised to suit your budget, interests and tastes so you can make the most out of your trip on your own terms. 
IMPORTANT: The maximum capacity is 6 people, making the trip sustainable and letting you enjoy Finland in a more authentic and respectful way. There's a minimum amount of people required for this trip to take place. This tour is available from January – April, with March being the best month. 
Finnish Lapland Holiday Itinerary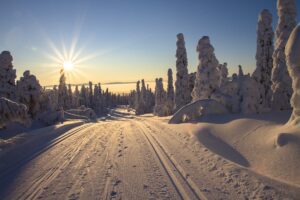 On your arrival at Rovaniemi airport a driver will wait for you in the arrivals hall holding a sign with your name on it and will drive you to your accommodation. The journey takes about 10 minutes. 
If you arrive early and would like to do some additional activities or find information on where to eat and what to do and see, check out our destinations page. If you'd like to add any additional tours or activities to your Finnish Lapland Holiday package, please let us know.


Included meals. Dinner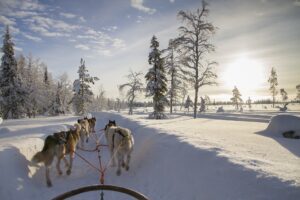 Your Finnish Lapland Holiday will start with a visit to the Husky park where you get to meet the photogenic dogs. Huskies are born to run, and they are happy to take you on a little safari. After a safety briefing, you can glide through the snowfields of Lapland on a husky-pulled sleigh! Just sit back and snap some excellent photos. After the safari, you can spend some time with the dogs: they love cuddles and photos! This is a premium experience with a visit to an authentic family-sized place.  



Included meals: Breakfast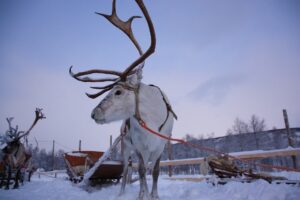 Your day will start with a visit to an authentic reindeer farm. We have carefully chosen one of the most traditional reindeer farms where you will meet the reindeer herder family. You will explore everyday life in the farm, get to feed the reindeer and hear some great stories and facts about reindeer herding in Lapland and how it is an integral part of the nature and culture in Northern Finland. You can also do a short reindeer sleigh ride (2 minutes). Herder will also be happy to answer your questions around a warming open fire.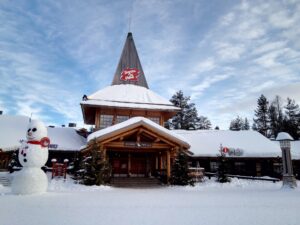 Afterwards you will continue your Finnish Lapland holiday to Santa Claus village. There you'll finally get to meet Santa Claus and visit the Official Santa's Post Office where you can write and send letters to friends and family. You can also receive your certificate of crossing the arctic circle there and of course you will have plenty of options for souvenir shopping, there are a lot of shops there. A buffet lunch with traditional Finnish food will be served, after which you have some free time. Your day will end in Pyha-Lousto National park with a good dinner and some relaxing free time at your accommodation.


Included meals: Breakfast, lunch snack, dinner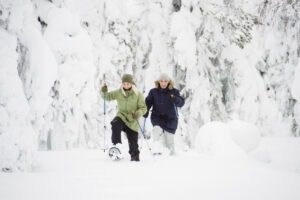 You will continue your Finnish Lapland Holiday with a snowshoeing trip to Lousto Amethyst Mine. This is a unique place in Lapland, hidden inside one of the hills that you can only reach by a snow-train called "pendolino". Learn about local geology, the formation of the precious amethyst and the story of the mine. At the end of the visit, you will dig the soil to find your own amethyst that you can keep! During the tour a typical Finnish snack with hot drinks will be cooked over an open fire.



Photo: Juho Kuva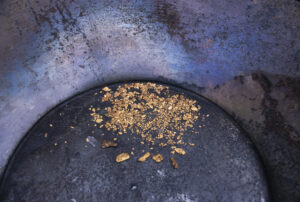 After this activity, it's time to head to Tankavaara village, which is known for its 150 years tradition of gold panning. During the experience you will learn all the secrets of gold panning and you might find another precious gem! You will spend your night in the Tankavaara where you will have more time to enjoy the peacefull place condidered as the gate of Lapland's gold fields. 




Included meals: Breakfast, lunch snack, dinner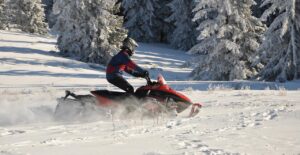 Your day will start with a journey heading to the north. Thanks to two largest national parks in Finnish Lapland, the Inari – Saariselkä area offers amazing views of unspoiled wilderness. You will explore those Arctic sceneries on a snowmobile. After the tour it's time to continue your Finnish Lapland Holiday to Inari where your hotel is located.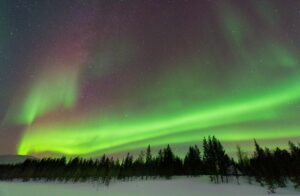 After some free time and rest, it's time for a northern light tour. You will be driven away from the towns and the light pollution, to find great locations with open views to the north. The aurora excursion will also give your guide the opportunity to explain in more details this fantastic polar phenomenon and tell you some mythology associated with the Northern Lights.




Included meals: Breakfast, lunch snack, dinner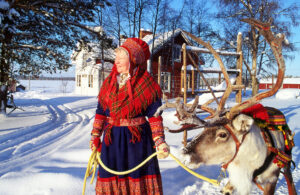 Today you will have a chance to visit the Sami Museum and Nature centre. Learn about the Sami culture, the indigenous people of the North. The exhibitions of the Museum display informative boards, artefacts, and traditional buildings to give you a great insight of Sami lifestyle, mythology, language, interaction with the nature and many other aspects of their culture. 




Photo: Arto Liiti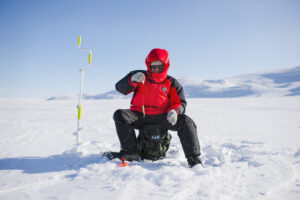 Afterwards your Finnish Lapland holiday will continue with a very local activity – Ice-Fishing. Ice fishing has been part of local culture in the Far North for centuries. Traditionnally it was one of the rare ways to get food in wintertime when the conditions are the roughest. Nowadays, many Finnish people still enjoy sitting on a frozen lake for hours to try to catch their lunch and relax. You will learn how to drill your own hole through ice and drop your fishing line in. A snack lunch around the fire and hot drinks will be prepared by your guide to warm you up. If you catch a fish of a decent size, your guide will gladly add it to the menu. After the tour you will head back to Ivalo. 
Photo: Juho Kuva
Included meals: Breakfast, lunch snack, dinner
Time to say goodbye and end your Finnish Lapland Holiday. Your driver will pick you up from your hotel and take you to the airport in Ivalo for your departing flight. 
Interested in a private Full Finnish Lapland Holiday instead? Contact us for more information and a personalised offer.
6 nights accommodation
Transport
Breakfast each morning at your hotel, plus any meals indicated in the itinerary
English speaking local guide
Northern Lights Tour
Husky Safari
Reindeer Farm Visit
Santa Claus Village Visit
Amethyst Mine with the Snowshoes Experience
Gold Panning Experience
Snowmobile Safari
Sami Museum and Nature centre Visit
Ice Fishing Tour

Highly personalised itinerary planning

24/7 support from local staff
International flights

Tips for services and experiences

Visas

Personal charges such as laundry, phone calls, SIM cards or room service

Additional sightseeing, activities and experiences outside of your itinerary

Meals (other than breakfast if included in room rate and other meals listed as included in the itinerary). 

Travel Insurance

COVID Vaccinations Pre Arrival

Departure COVID testing, if required, which we can help organise
Other Finland Holiday Packages You Might Be Interested In