Are you considering where to travel next? You don't need to look any further. Baltic States, located in the north-eastern Europe, on the shore of Baltic Sea, are perfect getaway destinations. These three small countries can be visited within a week but we'd suggest spending at least 10 days there. This will let you see the UNESCO listed capitals, do some day trips to the surrounding nature and learn about their interesting history and traditions. Baltic States are still considered as off the beaten path destinations so get there before they get too crowded and overpriced. Book your Baltic tour now and get ready for a magical adventure. 
Best Starting Point for Your Baltic Tour
Most people start their Baltic trip either in Vilnius or Tallinn. Both countries have relatively small airports but in terms of logistics, it would make the most sense. Riga has the biggest airport but that would make travelling through all three countries a bit more complicated. Alternatively Helsinki, in Finland, has great connections with the rest of the world and is only a 2h ferry ride from Tallinn. Helsinki also is worth a couple of nights stay so when checking flights, consider a stopover in Helsinki. 
Down south, Warsaw, in Poland, could be replaced with flying out of/to Vilnius. It's not that close to Vilnius but Warsaw is well connected and the city itself is worth a couple of nights stay. If you have more time and can't find good flights to the Baltic States, it would make sense to extend your trip to either Helsinki & Warsaw or both. If you're doing the Baltic States trip for 10 days, we'd suggest spending 3 nights in each capital.
Travel to Estonia - Welcome Tallinn!
Tallinn, the capital of Estonia, is a lively yet peaceful, photogenic and charming city full of wonderful sights and rich culture. A city that combines the modern world with ancient churches, medieval streetscapes and noble merchants' houses. The UNESCO listed Old Town is one of the best preserved Hansaetic town centres in the world. 
Once you arrive, head out to the old town and wander around the cobble stoned streets, narrow alleyways and charming courtyards. A stone's throw away you'll find the city's business centre with modern towers, trendy bohemian neighbourhoods, manicured 18th-century park, promenades and sandy beaches. 
In the evening check out some of the viewing platforms with beautiful views over Tallinn. If you have more energy we suggest climbing up St. Olaf's Church where you can get a birds-eye view of the Old Town and the surrounding neighbourhoods. Finish the evening with a nice meal and a drink in one of the cosy restaurants in the old town. Read from our blog what are the best bars in Tallinn worth visiting.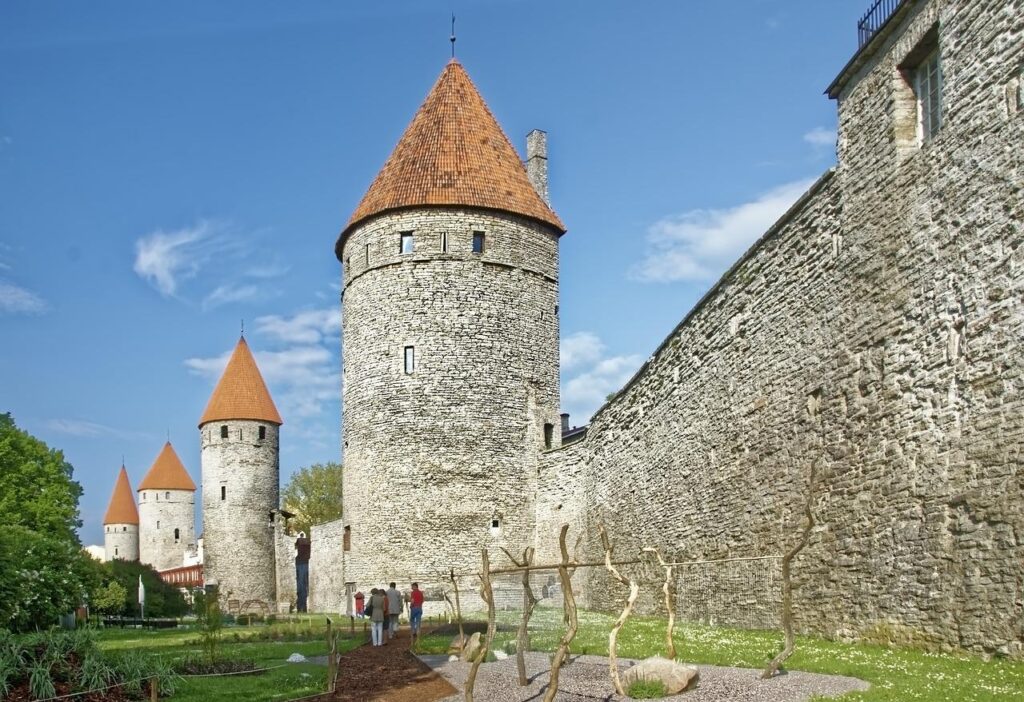 Discover Tallinn Old Town
On your first full day we suggest doing Tallinn city tour with a local guide. That's a great way to meet some local people, learn about the history, hear interesting stories and get a better understanding of the city you're visiting. 
In the afternoon we suggest you wander outside the old town and visit some surrounding areas. Kadriorg park and palace, built more than 300 years ago on the orders of Russian Tsar Peter the Great, is a must see. You can also find multiple museums in the park that are worth visiting.
Alternatively head to vibrant Telliskivi Creative City with numerous design shops, restaurants, and cultural institutions. Rotermann Quarter, a former industrial centre turned into one of the city's most prominent oases of modern architecture or the newest addition to the city – Noblessner seafront quarter. A former submarine factory, now a modern urban space filled with galleries, design shops, a marina, and restaurants perfect for admiring the sunset. 
All these places are great for an evening meal and drinks. Head to one of these places to put a nice end to your second day in Tallinn.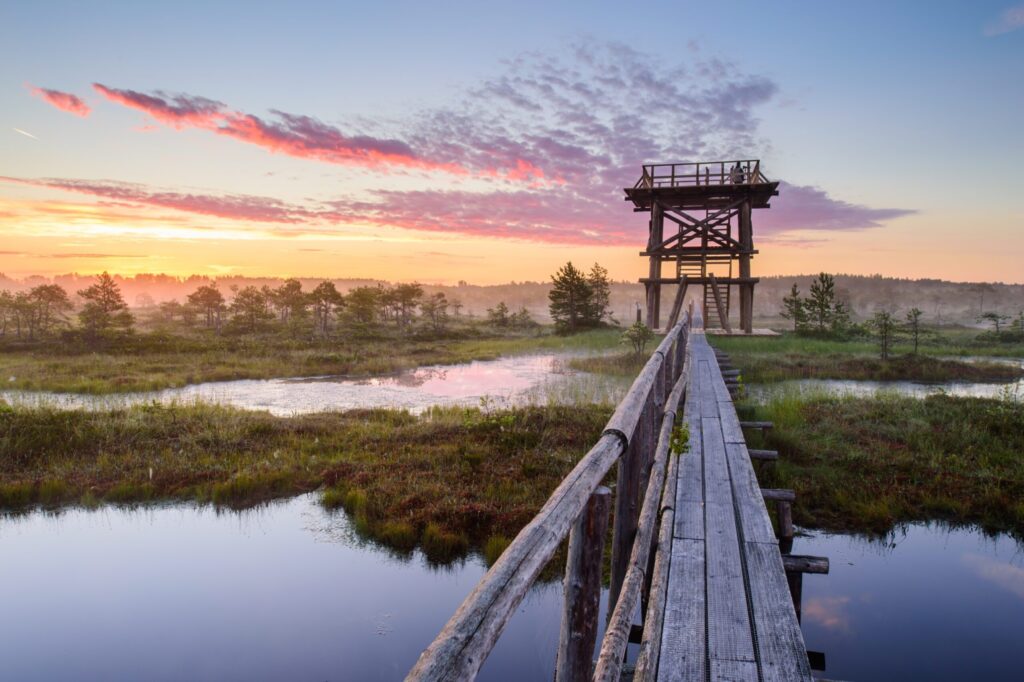 Best Day Trips From Tallinn
Tallinn is a relatively small city so on your third day we suggest leaving the city behind and doing a small (half)day trip to the surrounding areas. Estonia's pristine nature is waiting to be discovered. Head to Lahemaa National park for charming fishing villages, sandy beaches, picturesque bogs and historic manor houses. 
If you're a fan of Soviet history head to Paldiski and on the way there check out the Rummu Prison quarry. One of the most photographed places in Estonia, where half submerged buildings are visible in crystal clear light blue water. 
If you want to get active while admiring the beautiful Estonian nature we suggest doing a bogshoe hiking tour. The bogs are places very dear to all Estonians and have been part of the culture for centuries. Therefore one mustn't leave Estonia before visiting a bog. There's no better way to visit a bog than on bogshoes. That way you can get to otherwise inaccessible places.
Travel to Latvia - Welcome Riga!
It's time to change one country to another and travel to Latvia and its capital Riga. Riga is a true architectural jewel. You can find churches from the city's origins, medieval buildings, unique examples of Art Nouveau, as well as centuries old wooden architecture and modern architecture there. Riga's Old Town and its surrounding city centre is a UNESCO World Heritage Site. Although its old town helped the city achieve this status, it's the Art Nouveau architecture that really sets the city apart from other European capitals. 
Before arriving in Riga we suggest stopping at the Gauja National Park. This beautiful national park is great for nature lovers and anyone who's interested in cultural and historic sights. Plenty of activities can be done in the park from hiking to biking. A visit to Cesis and Turaida castles are a must if you're interested in medieval atmosphere and history. Visiting small producers and tasting their products are always an experience to remember. There are plenty of these around the national park. For amazing views take a cable car ride over Gauja River and for the adventurers, visiting the famous bob-sleigh track and trying out bob-sleighing (open on weekends) is a must.
In the afternoon, once you arrive in Riga, walk through the charming streets in the old town and get acquainted with this beautiful city. Finish the day with a nice dinner and drinks in the Old Town. Read from our blog what are some of the must try dishes of the Baltic States.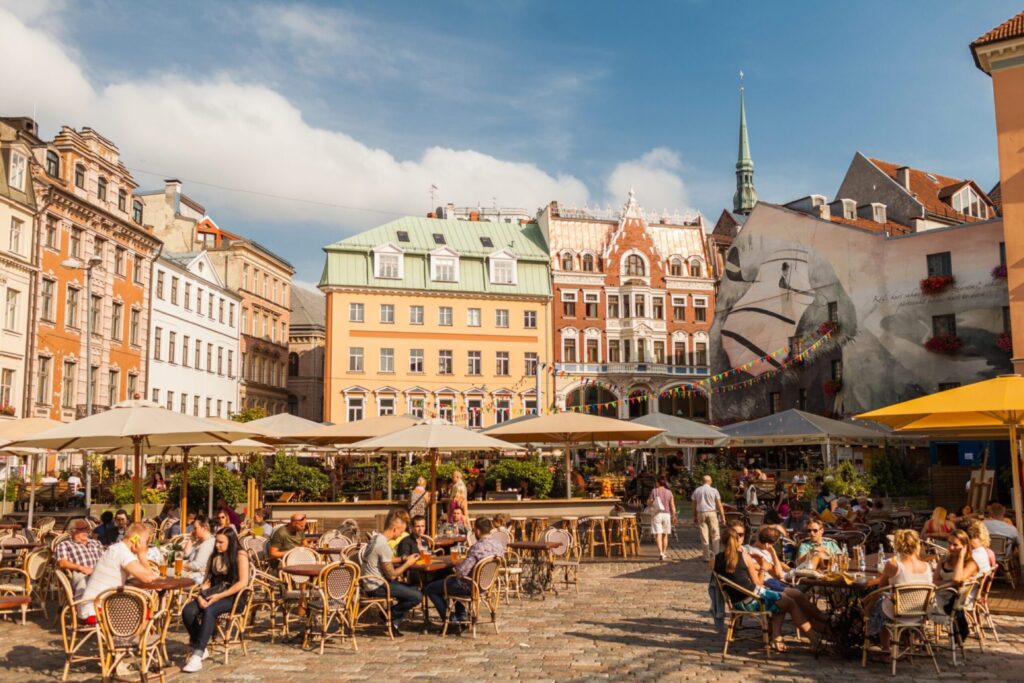 Next day we suggest you do a short city tour of Riga. Walk through the winding streets and cobbled alleys of Riga's Old Town and discover the hidden past from 1201 all the way to the present day. This will be the perfect introduction to Riga and its people. Continue the tour to the famous Riga Central Market which is one of Europe's largest markets covering 72 000m2, built from five zeppelin hangers left over from the First World War. After the tour you will have a chance to stay at the market to explore it more and to have lunch there. There's a small food court there where you can try some local food or why don't you buy some fresh fruit, bread, cheese and local delicacies and have a picnic near the river. 
In the afternoon head to the Art Nouveau district. Alberta Street is a good place to start and you can also find the Art Nouveau Museum there. If you'd like to see the popular tourism objects from a different angle, take a scenic boat ride around the canals. You may also wish to catch a show at the Latvian National Opera and Ballet or join an organ concert at the Dome Cathedral. 
In the evening head to Miera ielas Republic. This arts quarter has various cafes, bars, shops and other establishments. Occasionally the area hosts various arts and crafts fairs and festivals.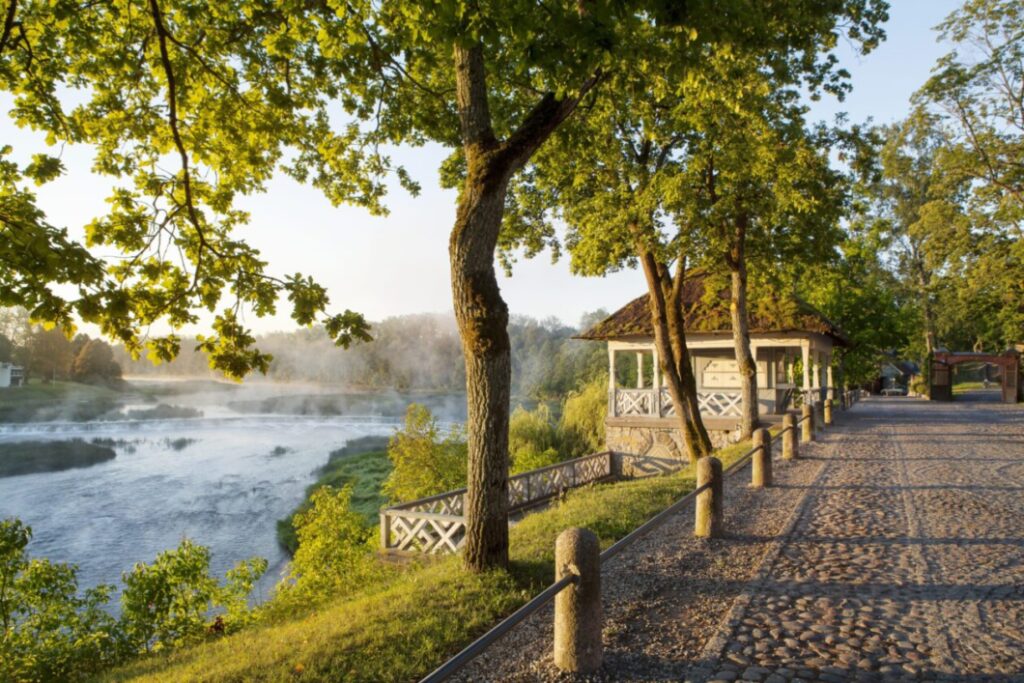 Your Baltic vacation and trip to Latvia wouldn't be complete if you didn't escape Riga to enjoy some of the small towns in the surrounding areas. We could suggest a day tour to picturesque countryside and a true hidden gem, Kuldīga! Small and unique villages of Kurzeme all have their little twists. Wander around the quaint streets of the gorgeous historic centre of Kuldīga, visit the widest-stretching waterfall in Europe and have some free time to have lunch and explore the city on your own.
If you are not afraid of a long day, combine the visit to Kuldiga with a stop in Jurmala beach resort town. Although Jurmala is mostly known for its beach, there are plenty of other things to do around Jurmala. Jurmala Open-Air Museum is worth a visit, to learn about the fishermen's work and life. Another must see is The Great Ķemeri Bog where you can walk along the boardwalks and admire this pristine nature. If you missed the bogs in Estonia, then this is your chance to visit one. Jurmala can also be done as a half day trip from Riga. It's easy to get there by train or bus and even by bike.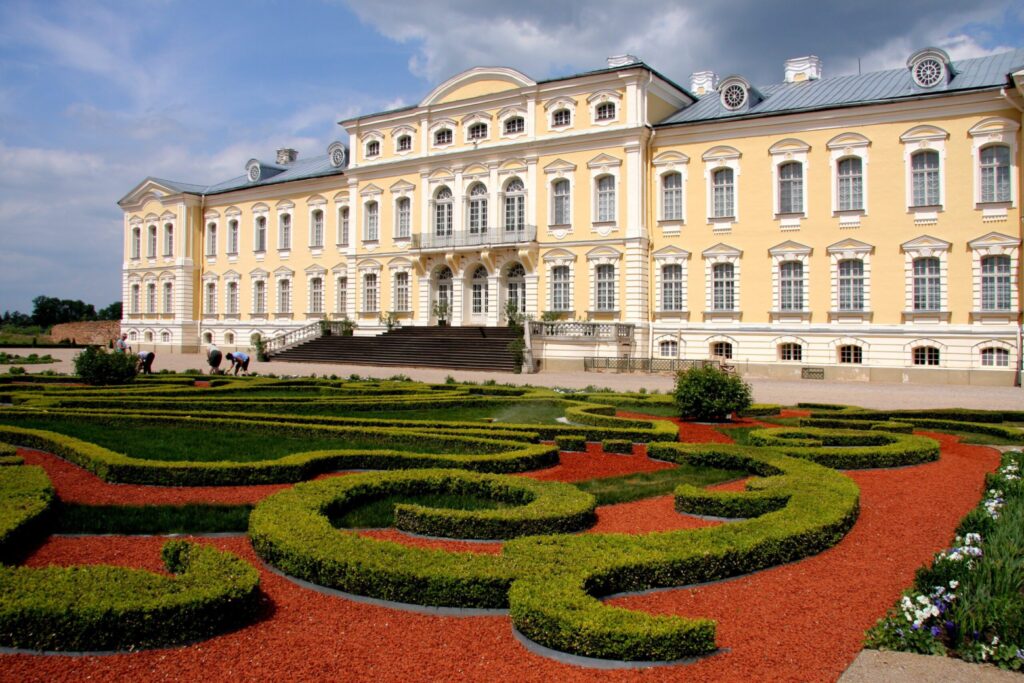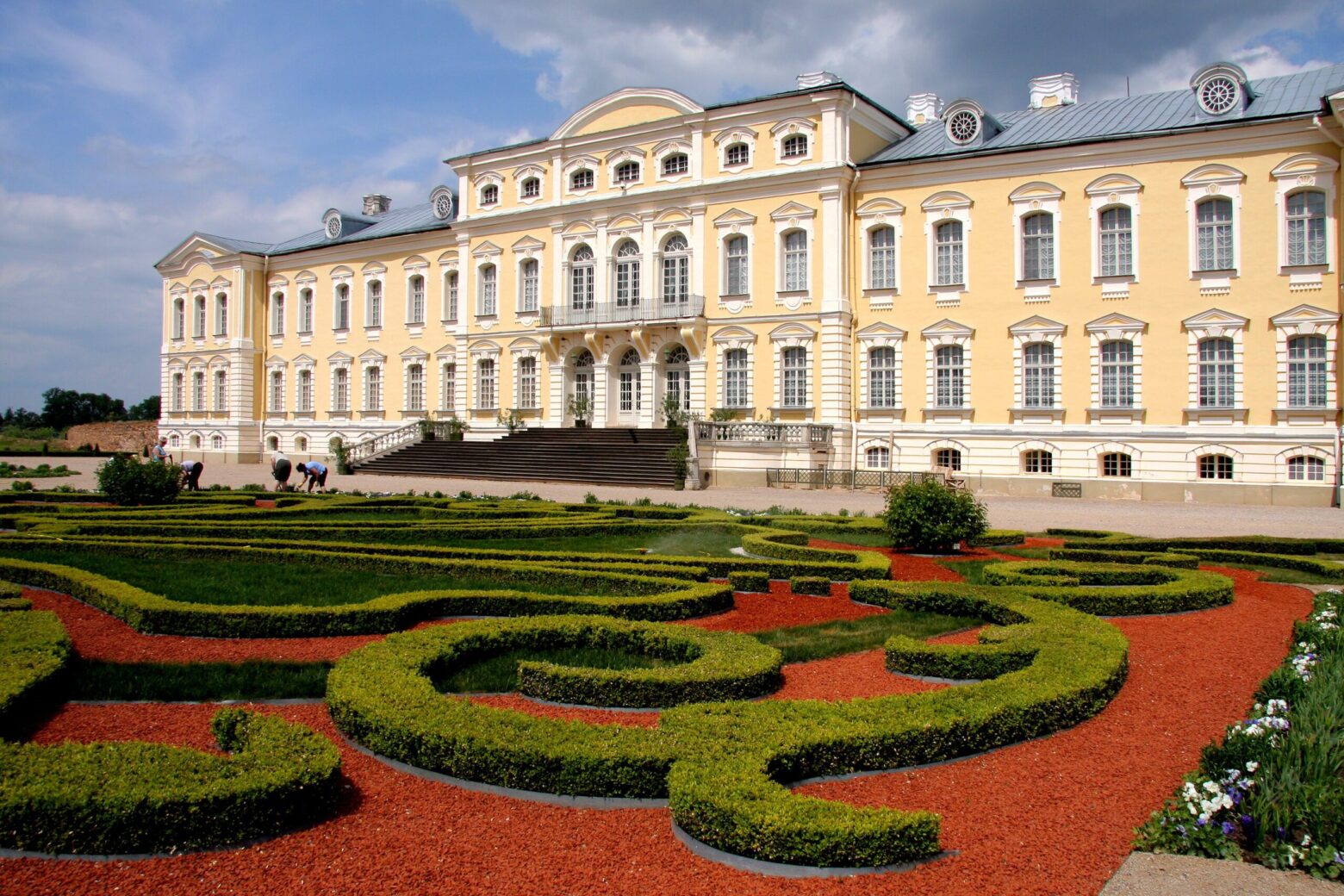 Travel to Lithuania - Welcome Vilnius!
It's time to travel to Lithuania and its capital Vilnius. This vibrant city is full of history, culture, art, quirky neighbourhoods and cool and happening bars and restaurants. The UNESCO listed Vilnius Old Town is one of the world's largest surviving medieval old towns, full of Baroque, Gothic, Neoclassical, and Renaissance architecture. 
Before arriving in Vilnius we suggest stopping at the baroque pearl, Rundale Palace where you can explore the palace and the gardens. The magnificent palace was built as a grand residence for the Duke of Courland and nowadays it's a beautiful museum and one of the major tourist destinations in Latvia. After your stop there we suggest heading to the UNESCO listed pilgrimage site, Hill of Crosses in Lithuania.
Once you arrive in Vilnius, head out to the old town and walk around the city's cobbled streets. For beautiful views of the city check out the Bell Tower of St. John's Church or Gediminas Castle Tower. In the evening dine in one of the many restaurants in the old town. Vilnius has a great mixture of Lithuanian, Jewish, Polish, and Russian cultures, evident in the delicious food that can all be found in this vibrant city. You can find some great suggestions on our destinations page.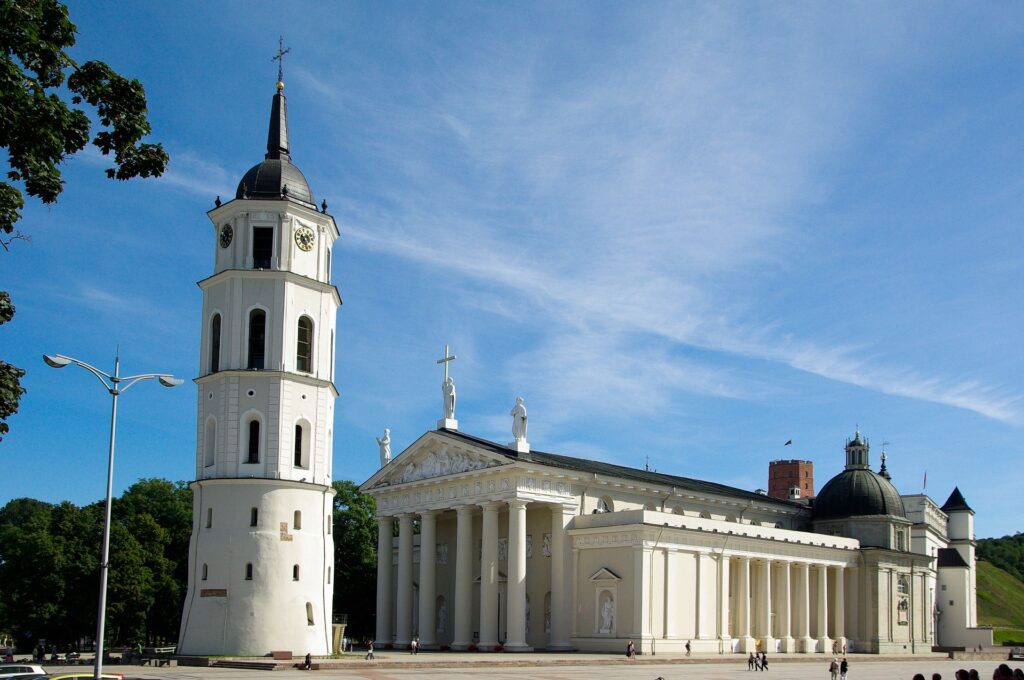 Discover Vilnius Old Town
Next day we suggest you do a short city tour of Vilnius with a local guide. Wander around the UNESCO recognised Old Town, filled with magnificent landmarks and have the chance to really get in touch with the vibrant culture of Vilnius. Have the local craft beer at our favourite cafe, try some Lithuanian specialities and fall in love with this fascinating city.
After your tour you will have some free time to explore Vilnius in more depth. Head out to Europe's most creative community – the Republic of Užupis which has its own constitution and president. Visit the Museum of Occupations and Freedom Fights which was originally the KGB headquarters and prison, it was also the site of torture and execution, so some people might find the prison a little overwhelming. You may also wish to take a walk to reach places such as the Hill of Three Crosses or St Peter & St Paul's Church – a white miracle of belief.
Best Day Trips from Vilnius
Your trip to Lithuania wouldn't be complete without exploring the beautiful Trakai. Located less than an hour's drive from Vilnius, this is an easy and fun day trip to take. It's your chance to leave the city's hustle and bustle behind and explore more of Lithuania. Upon arrival explore the historic town and well preserved ruins of Trakai Castle, set on its own island in Lake Galvė. The view of the historic structure is straight out of a fairy tale. You can either visit the museum inside the castle or enjoy a boat ride around the island and the castle and admire the surrounding nature. Alternatively it's possible to do a sunset or sunrise balloon flight over the castle and lakes. This is truly a memorable experience to do.
If you have more time and want to explore the Lithuanian countryside even further, head to Dargužiai community centre and learn about Lithuanian traditions by taking a hands-on workshop of old Lithuanian crafts. If you're interested in the domestic life, work and traditions of Lithuanian peasants and city dwellers, head to Rumšiškės Ethnographic Museum. 
Interested in a Baltic Tour? Contact us for more information and customised trip plan or check out some of the sample trip plans below: