Finland's national parks offer plenty of activities to do throughout the whole year. No matter if it's winter or summer or whether you want to relax and enjoy the beautiful and pristine Finnish nature or get active while skiing, hiking, biking or husky sledding, there's something for everyone. Below you can find our top 5 favourite national parks in Finland.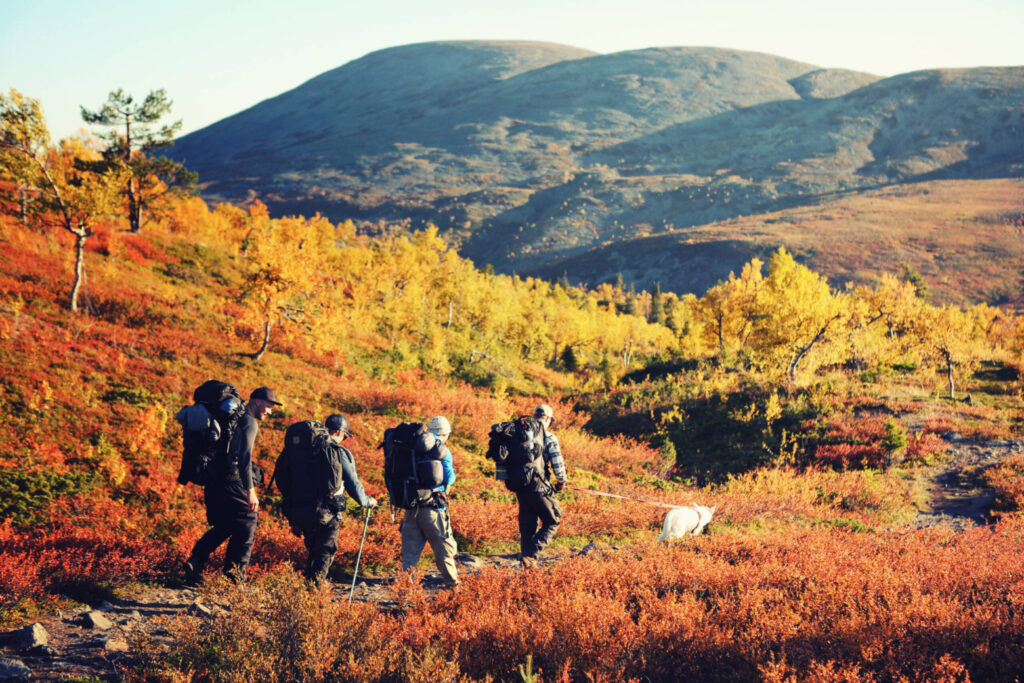 This third largest national park is located in Western Lapland. The Pallas-Yllästunturi National Park is dominated by a chain of fells and diverse and varied nature. No matter if you go there in summer or winter there are plenty of activities to do. 
If you visit in summer you can find an extensive network of hiking paths and trails there that are suitable for beginners and experienced hikers. It's also an excellent place for mountain biking, offering magnificent landscapes and meandering paths. If you'd like a more relaxed visit you can opt to go fishing, bird watching, swimming or berry and mushroom picking instead. Due to its location above the Arctic Circle the days in summer are long and let you admire the midnight sun.  
In winter it's great for cross-country skiing, snowshoeing or Northern Lights hunting. If you'd like to do a multi-day ski expedition around the Pallas-Yllästunturi National Park check out our Ultimate Arctic Adventure. This will let you hike around the national park either on snowshoes or skis and really get a feel for the Lappish wilderness.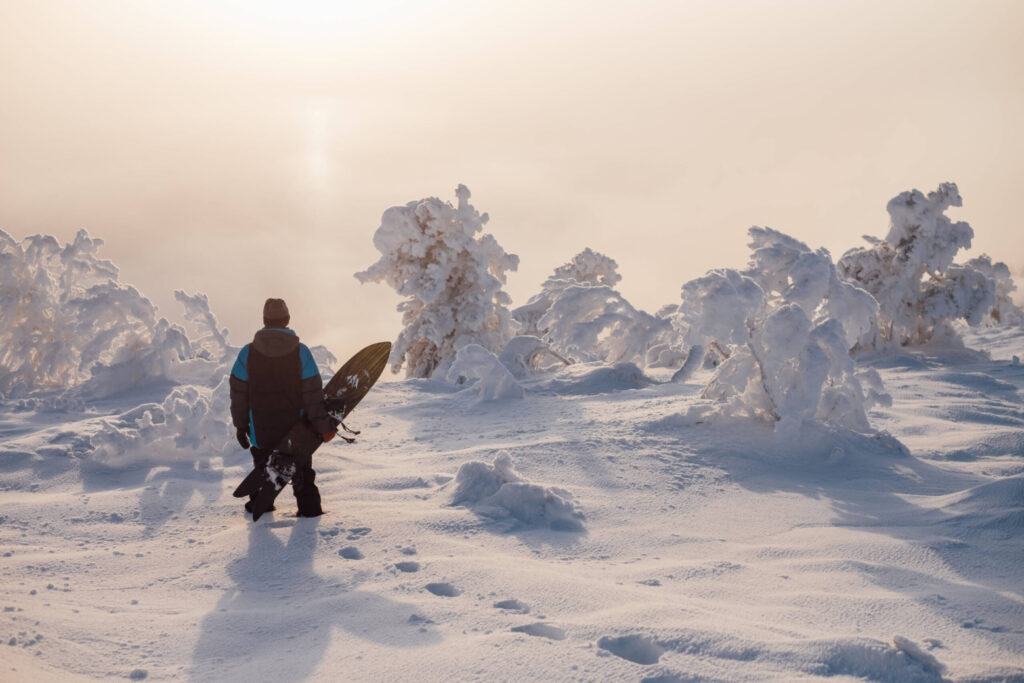 Olli Oilinki/Visit Finland
Pyhä-Luosto National Park is located in Lapland, not far from its capital and largest city Rovaniemi, making it easily accessible. The national park is a combination of the oldest national park in Finland, Pyhätunturi and one of the newest parks, Luosto.  
There is so much to do in the national park from cross country skiing to bird watching. You can find two ski resorts in the area that are suitable for both beginners and experienced skiers. If you're looking for more adventurous activities then it's also a great spot for off piste skiing and ice climbing. 
If an active holiday is not your thing then the park is also known for its Sami history and Amethyst mine, which is one of the only jewel mines in the world where visitors are allowed in. 
We love this national park so much that we have included it into a couple of our trips. If you'd like to see the Aurora Borealis then you could take a look at our Northern Lights Tour. If you want to see more of Lapland and do different activities then our Finnish Lapland Holiday might be the right fit for you.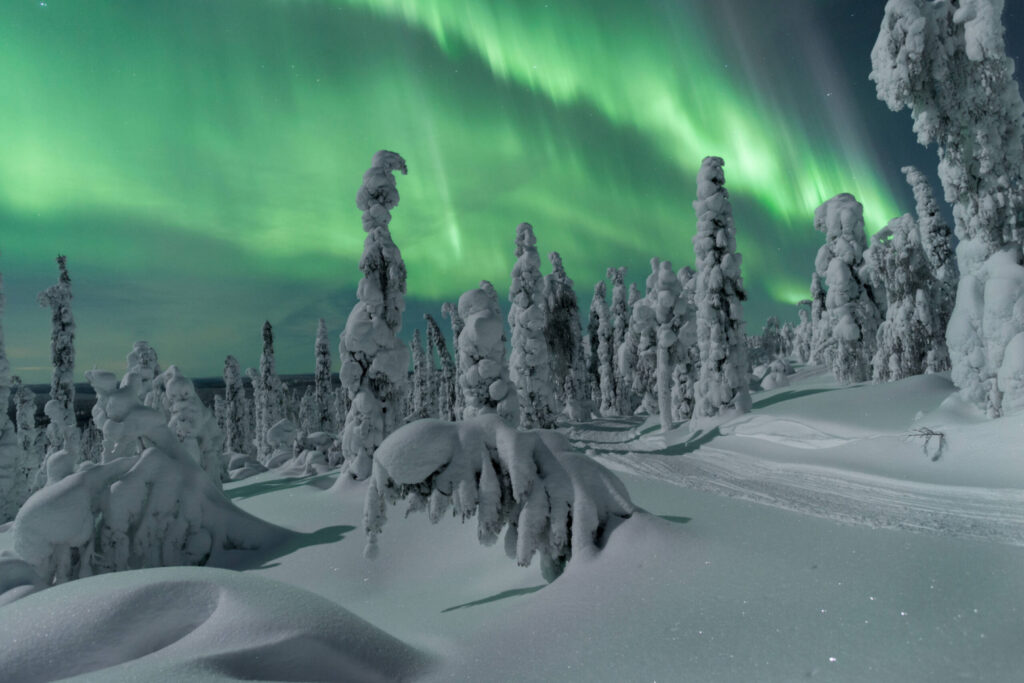 Thomas Kast/Visit Finland
Riisitunturi National Park, located in Lapland, has some of the finest sloping bogs and snow covered trees, which are known among nature photographers around the world. It's a perfect place for cross-country skiers, snowshoers, trekkers, bird watchers and photographers, offering day-trips or longer hikes both in summer and winter. Head there for some breathtaking scenes you can't even find in the prettiest postcards! 
It's also a great place for husky safaris and during our Ultimate Arctic Adventure, you can spend 2 days there mushing husky dogs. Spend the night in a wilderness cabin, enjoy a Finnish sauna and if lucky, admire the Northern Lights.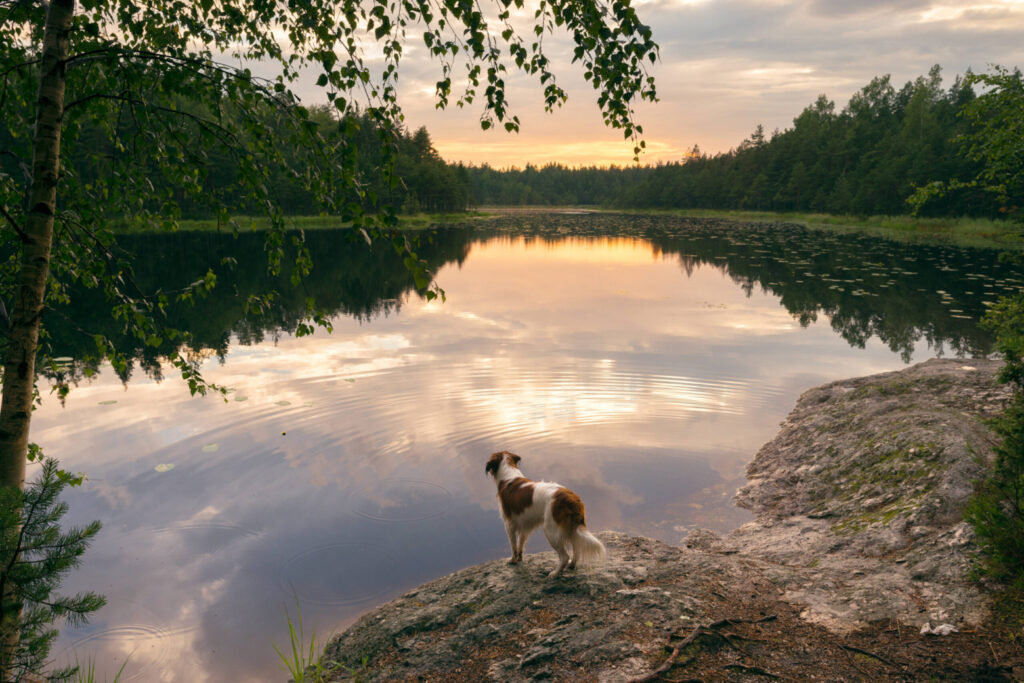 Close to the capital of Finland, Helsinki, Nuuksio National Park offers lovely lakes, green forests and rugged crags. It's perfect for a day trip or a longer campout. You can find multiple marked trails for hiking, biking and horse riding there. In winter, the best way to get around is by skiing. You can also find the two-kilometre-long Maahisenkierros Circle Trail there that offers a real nature experience for those in wheelchairs and families with children in pushchairs or prams.
The national park also offers opportunities for both ice and rock climbing, canoeing, swimming, fishing and much more. No matter what the season, you can always find something to do there or why not go there to just breathe fresh air and unwind from everyday life.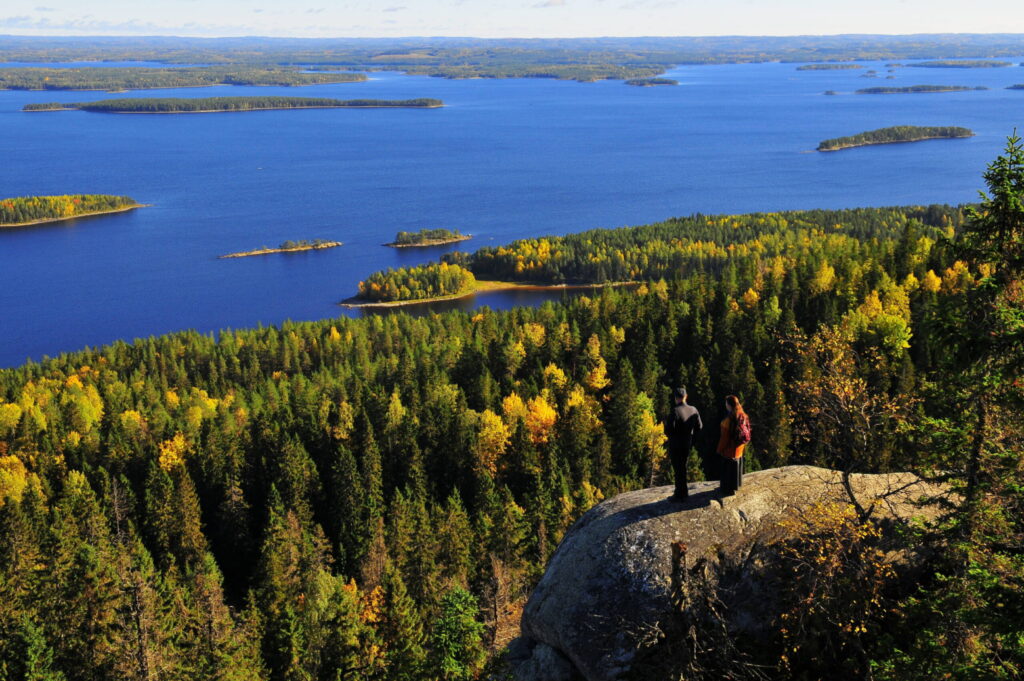 Located in the North Karelia region of Finland, Koli National Park is best known for magnificent vistas. The splendid scenery has attracted many Finnish artists, photographers and nature-lovers for centuries. Koli National Park's hills and lakes provide a fine setting for memorable outings and activities no matter what the season.   
You can find the longest valley in Finland, ten other famous caves, waterfalls, devils, boulders and a ridge running in the lake of Pielinen there. The absolute must-see is the iconic scenery from the top of Ukko-Koli. 
In summer you can find multiple hiking trails there both for beginners and experienced hikers. In winter head there for skiing, snowshoeing or snowmobiling. Ukko-Koli has six slopes and is also the most demanding ski resort in southern Finland. 
Book one of our sample tours to visit some of these best national parks in Finland. Alternatively, email us at info@monmontravel.com to discuss details of your personalised tour.