Finland Winter Holiday Package
Finland Winter Holiday lets you experience everything that makes Finland the perfect winter holiday destination. This itinerary is designed to let you experience the magical winter wonderland Lapland while doing some of the best arctic adventures. From northern lights hunting and visiting Sami Village to experiencing Finnish Sauna and riding husky dogs, we got you covered. 
This itinerary was created by local experts to give you the best chance to see the highlights of Finland in winter.  It is ready to be customised to suit your budget, interests and tastes so you can make the most out of your trip on your own terms. 
All our tours are sustainable and let you enjoy Finland in a more authentic and respectful way. If you're looking for a unique winter vacation, Finland Winter Holiday should be on your list. 
Finland Winter Holiday Itinerary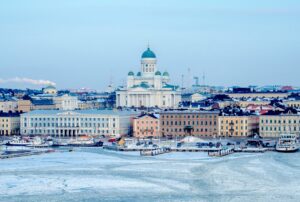 Your holiday in Finland will start in Helsinki, the capital of Finland. On your arrival at Helsinki airport a driver will wait for you in the arrivals hall holding a sign with your name on it and will drive you to your accommodation. The journey takes about 30 minutes. 
If you arrive early and would like to do some additional activities or find information on where to eat and what to do and see, check out our destinations page. If you'd like to add any additional tours or activities to your Finland Winter Holiday package, please let us know.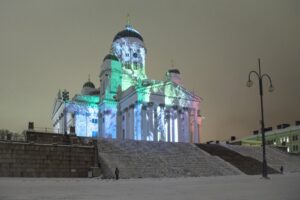 Your Finland winter holiday will start with a tour of Helsinki city centre. During the small group tour you will explore the major sights of Helsinki while hearing stories about Finnish culture and history and especially of the life of the locals. Helsinki is a compact city and best explored on foot. Walking tour is also by far the most sustainable and environmentally friendly way to conduct sightseeing. 
After the tour you have some free time to explore the city on your own. Head to Suomenlinna to discover the military architecture, museums, parks, churches, libraries, cafés, and restaurants. Alternatively visit some of the excellent museums dotted around the city or take a day trip outside of the city to an idyllic and historic city of Porvoo. If you'd like to add these to your Finland vacation package, please contact us for more information.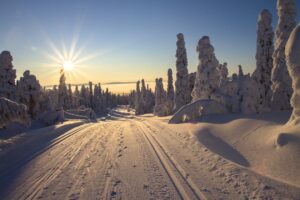 In the evening, it's time to travel to Lapland. Travelling by an overnight sleeper train is an experience on its own. Besides being the most sustainable way of travelling, overnight train also lets you spend the day touring around, while saving money on your accommodation. The journey takes about 12 hours. After your arrival, the next morning, in Rovaniemi, a driver will meet you at the train station and take you to your accommodation. Your holiday in Lapland is about to start!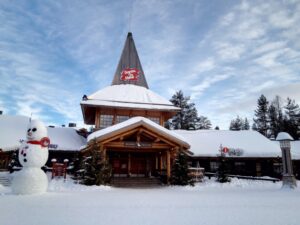 As you will arrive early in the morning, the check in won't be possible yet but you can leave your bags at the hotel and go out to explore Rovaniemi. Your holiday to Rovaniemi wouldn't be complete without a visit to Santa Claus Village. As it's free to go there, we don't suggest doing this as a tour but you can go there on your own and spend as much time there as you wish. Getting to Santa Claus Village from Rovaniemi is easy and you can either catch a bus, take a taxi or rent a bike and cycle. Once there, you have an option to go and see the man himself, send letters from the official Santa Claus post office, cross the Arctic Circle and do some shopping and eat. You can read more about it from our blog:  Santa Claus Village – All you need to know.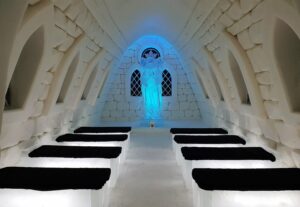 In the evening you will do a once-in-a-lifetime experience and visit Arctic SnowHotel and its Ice Restaurant. You will be picked up from the city and taken to the Arctic SnowHotel, about a 30 minute drive from Rovaniemi. The hotel is built entirely from snow and ice and designed in a unique theme and decorated with ice art. Once you arrive at the SnowHotel your guide will show you the beautiful rooms of the hotel, snow sauna, chapel and much more. After a short tour you will head to the Ice Restaurant, also made out of snow and ice, and enjoy a 3-course dinner, served on magnificent ice plates. This is a great addition to your holiday in Lapland.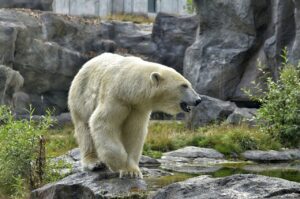 Today you will visit Ranua Wildlife Park, located an hour south of Rovaniemi. The Ranua Wildlife Park is the northernmost wildlife park in the world and a home to around 200 animals representing 50 arctic species. During this half-day guided tour, you'll walk around the park and learn about the animals there. You can see wild reindeer, wolves, wolverines, lynxes, owls, otters, wild boars, and many others. You can also see polar bears in the park, which will be the only ones you see during your Finland winter holiday. After the tour, you'll enjoy a nice buffet lunch before returning to Rovaniemi.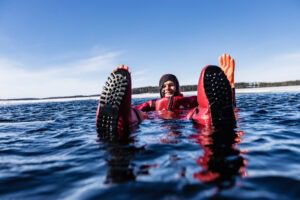 In the evening you have some free time. If you wish to add another activity to you Finland winter holiday package, we could suggest Aurora Ice Floating. This is a unique experience where you can float in a frozen Arctic lake. You will be provided with a high-quality rescue suite, that covers your whole body and keeps you dry. You have your own clothes underneath so you wouldn't feel cold and can fully enjoy the experience. There's something magical about lying down in the ice cold water, admiring the Nordic sky. If you're lucky you can see the Northern Lights dancing above your head.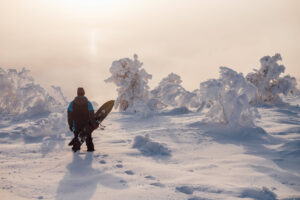 It's time to head further up north, to Pyhä-Luosto National Park. Your driver will pick you up from your accommodation and take you directly to Pyhä-Luosto National Park. This beautiful national park is only 1.5h drive from Rovaniemi and offers multiple activities to do from hiking to ice climbing. It also has slopes for skiing and snowboarding. There are 11.4 km of slopes available, suitable for beginners and experience skiers. The area is also known amongst freeriders with opportunities for every level of skier. This will probably be one of the lesser visited places during your trip to Finland.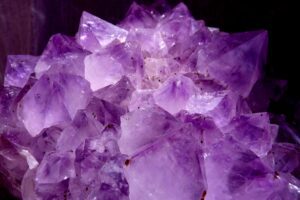 After you have arrived and settled in, it's time for your next adventure. Your guide will pick you up from your accommodation and drive you to Lampivaara Amethyst Mine. On arrival to the meeting point at the mine you will board a special snow train called Pendolino which will take you to the top of Lampivaara fell. The small mountain offers magnificent views of the surrounding area.  Once there, hear stories about the mine and this fascinating purple stone, while sipping warm drinks. The highlight of the tour is definitely digging up your own amethyst that you can keep as a souvenir from your holiday to Lapland.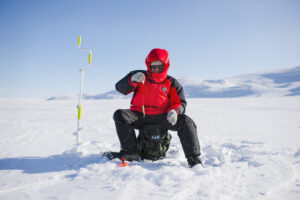 Today it's time for a fun activity – ice fishing. Ice fishing is a very popular pastime in Finland and enjoyed by people of all ages. Your guide will pick you up from your accommodation and take you to a beautiful and unforgettable riverside ice-fishing place. Ice fishing is usually done using a variety of equipment, including ice augers to drill a hole in the ice, fishing rods and baits. Your guide will teach you how to drill a hole in the ice and how to catch a fish. To keep you warm, hot drinks and light snacks will be served during the experience. This activity also helps restore the water bodies in the area by reducing the amount of fish.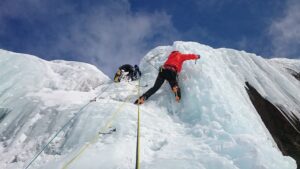 After the tour you have some free time and an opportunity to add another activity to your Finland winter holiday. For the adventurous ones we suggest ice climbing. Pyhä-Luosto is an excellent place to try some ice climbing. There are options for both beginners and experienced climbers. Your guide will teach you the proper ice climbing technique before you start. All climbing equipment will be provided for a safe ascent. While you're not climbing, you can warm up around a bonfire while sipping some hot drinks.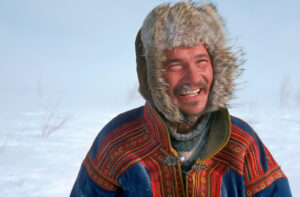 Today you will travel to the capital of Finnish Sámi culture, Inari. The whole Inari-Saariselkä area is a perfect getaway for exploring genuine Lappish culture and nature. Your driver will pick you up from your accommodation in Pyhä-Luosto and take you to Inari. The journey takes around 3,5 hours.
Once you arrive we suggest visiting SIIDA –  Sámi Museum and Nature Centre. The museum has been recently renovated and is a perfect place to get familiar with the rich and varied history of the Sámi people. This is definitely one of the must visit museum during your Finnish Lapland holiday! (Photo: Eero Kemilä)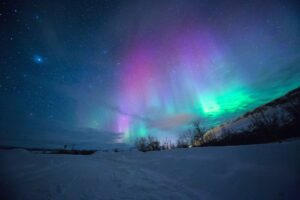 Your trip to Finland wouldn't be complete if you didn't try to see the Northern Lights and in the evening it's time for some Aurora hunting. Inari is one of the best places to see the Northern Lights and there's no better way to do it, than with a driving tour. That way you have the freedom to travel longer distances in search of clear skies. Your guide will check the weather beforehand to determine where the best place for seeing the Northern Lights is. All you have to do is sit back and enjoy the Aurora hunting.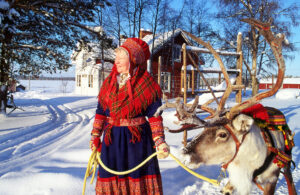 Today you will have a chance to be a guest in a home of a local. This is a perfect way to get a real sense of Lapland and the way of life there. You will visit a local family who live in a remote location with their reindeer. Once there your host will introduce you to her reindeer before you go inside to the house to hear some stories about Sámi handicraft. She will tell you how the traditional reindeer boots are made and so much more. This unique experience could be the highlight of your Finland winter holiday and a great way to contribute to the regenerative travel movement.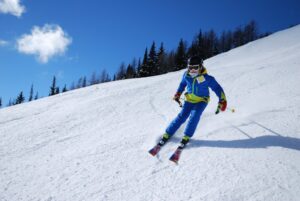 It's time to leave Inari – Saariselkä region behind and head to Levi. This beautiful fell is one of the largest ski centres and a very popular winter holiday destination in Finland. The ski resort offers slopes suitable for beginners, intermediate skiers and even experts. The area is also perfect for cross-country skiing, snowmobiling and other fun winter activities. The region has also produced some of Finland's finest artists so you can find a few art galleries and museums worth visiting there as well. The duration of the journey is about 2.5 hours.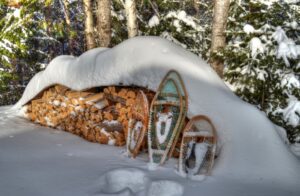 In the evening it's time for a fun Aurora tour on traditional wooden snowshoes. Walking on snowshoes is a great way to get around in the deep powdered snow and go off-trail. These special wooden snowshoes are less noisy and larger than the modern plastic snowshoes. After your guide picks you up from your accommodation you will travel to a remote area, far away from all the light pollution. Your guide will teach you how to wear and use these traditional snowshoes and together your journey through the beautiful winter landscape will start. Keep your eye out for any animal tracks and traces, and of course the Nordic sky. If you're lucky you will soon see northern lights dancing above your head.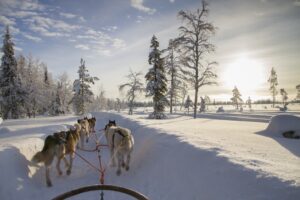 Today you will get to lead your own husky team. Huskies are born to run, and they are happy to take you on safari through Lappish nature. After a safety briefing, you can glide through the snowfields of Lapland on a husky-pulled sleigh! After the safari, you can spend some time with the dogs and hear stories about the life with the huskies. This experience is done in a small group so you have a more personal visit and can really enjoy the activity. A must do and definitely one of the highlights of your Finland holiday.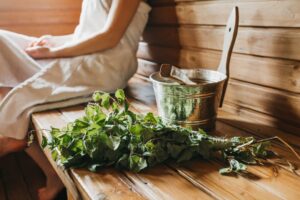 Your trip to Lapland should include a visit to a Finnish sauna! Sauna plays an important role in the everyday lives of Finnish people and this is your chance to experience a traditional sauna during this 5-hour private tour. Your guide will take you on a panoramic sled to a remote wilderness area where the sauna is located. Once there, your guide will show you how the sauna works and all its features, after which you have about 4 hours to enjoy the experience. You can dip in the ice cold river after using the sauna, taste the prepared delicacies, explore the surroundings and just enjoy each others company and the silence and beauty of the Arctic wilderness.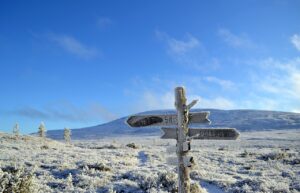 Your journey today is a short one, when your Lapland winter holiday takes you from Levi to Ylläs. Just about an hours drive away, a world-renowned destination for skiing and winter sports, Ylläs awaits. Ylläs ski resort has some of the longest runs in Finland and over 60 slopes for everyone's liking. Ylläs is located in the heart of the Lapland wilderness, and it offers stunning natural scenery and a chance to witness the Northern Lights. The Pallas-Yllästunturi National Park is located nearby, offering hiking trails, fishing opportunities, and breathtaking views.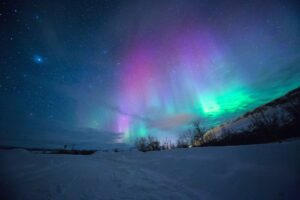 During your trip to Lapland you should experience Lappish dinner in a wilderness hut. Your guide will pick you up from your accommodation and take you far away from everything, to a total silence and absolute darkness. After a short walk in the beautiful national park, you will reach the most idyllic small cottage. You will build a fire to warm up and to cook your meals on. Your guide will tell you ancient stories about the region and Lapland in general and if lucky, you can watch the Northern Lights above your head.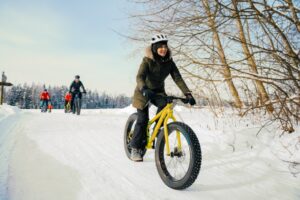 A fun and active day awaits you today as you try fatbiking during your holiday in Lapland. This activity will get your heart pumping and adrenaline rushing but it's rewarding and totally unforgettable. Ylläs is known for its vast network of biking trails and today you will bike through forest and wetlands, passing stunning winter views. The pure nature of Pallas-Yllästunturi National Park waits to be explored.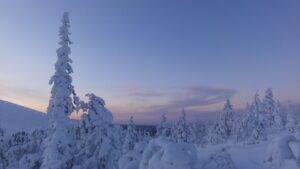 Your holiday in Lapland will end in Kilpisjärvi, where you will spend your last night. Kilpisjärvi is known for its stunning natural beauty and pristine wilderness. It's a popular destination for outdoors activities such as hiking, skiing, snowshoeing, fishing and snowmobiling. The small village is situated on the shores of Lake Kilpisjärvi which is surrounded by majestic mountains. The journey takes around 3.5 hours.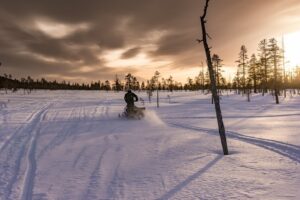 In the afternoon it's time for your last activity during your Finland Winter Holiday. You will get to visit Finland, Sweden and Norway in less than one minute. Your guide will pick you up and together you will start a snowmobile safari to the border of three Nordic countries. Following the trails running on a frozen lake and through beautiful snowy forests, you will eventually reach the yellow landmark, which marks the border. Don't worry if you have never driven a snowmobile before. This tour is ideal for beginners and first-timers.    
Time to say goodbye and end your holiday in Finland. Your driver will pick you up from your hotel and take you to the airport in either Tromsø or Kittilä. Just let us know where your flight is departing and we will arrange your transport.  
Interested in our Finland Winter Holiday but don't have that much time or have even more? Contact us for additional information and a personalised offer.
Accommodation
Transport
Train tickets
Breakfast each morning at your hotel, plus any meals indicated in the itinerary
English speaking local guide
Helsinki city tour
SnowHotel visit and dinner
Ranua Wildlife Park tour
Amethyst Mine tour
Ice fishing tour
Northern lights tour
Reindeer & Sami handicrafts tour
Aurora snowshoeing tour
Husky safari
Finnish sauna tour
Lappish dinner
Fatbike tour
Snowmobile safari
International flights

Tips for services and experiences

Visas

Personal charges such as laundry, phone calls, SIM cards or room service

Additional sightseeing, activities and experiences outside of your itinerary

Meals (other than breakfast if included in room rate and other meals listed as included in the itinerary). 

Travel Insurance

Winter overalls and boots (can be rented for an additional fee)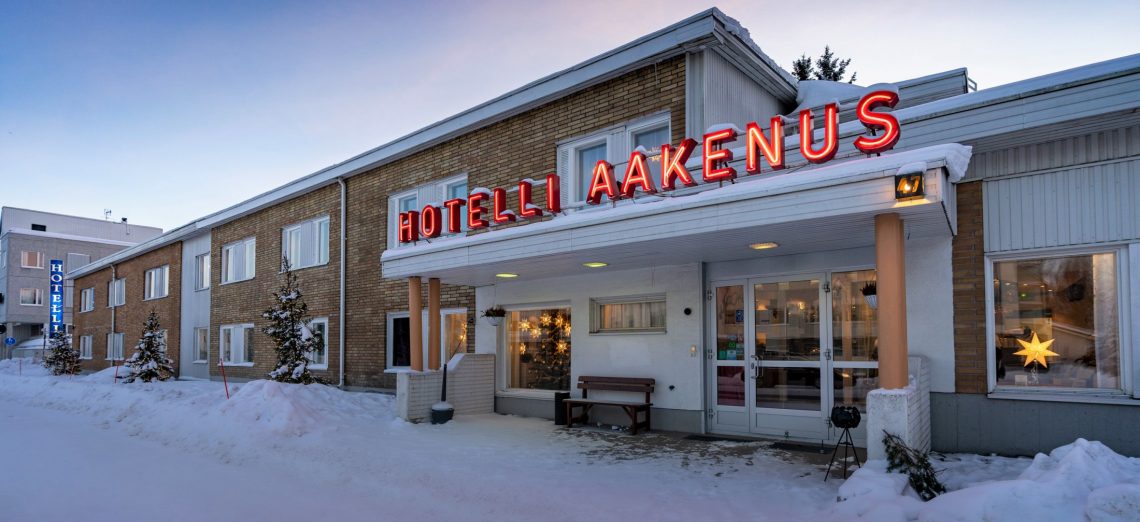 With Basic Accommodation
FROM €4525

With Classic Accommodation
FROM €5075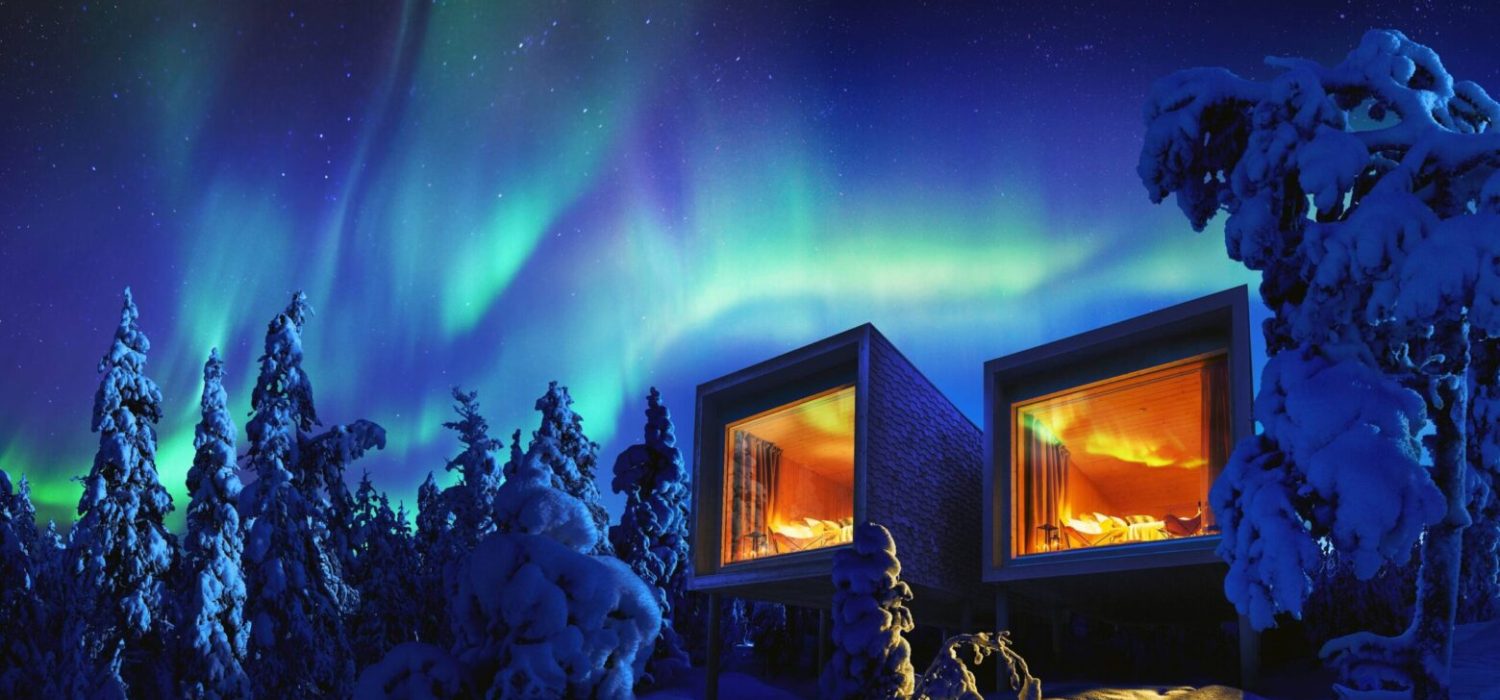 With Luxury Accommodation
FROM €7175
* EUR per person, based on double occupancy. Prices are subject to change.
The final price will vary and is based on the month of travel and amount of people. 
Other Finland Holiday Packages