Due to its location, Tallinn sees a significant amount of rainfall during the year but don't let this dampen your holiday. The beautiful Estonian capital Tallinn offers a wide range of museums, galleries, concert halls, spas and designer shops, so bring your umbrella and start exploring. Here are our top suggestions on what to do in Tallinn on a rainy day.
Best museums and galleries to visit on a rainy in Tallinn
Tallinn is full of excellent and diverse museums and galleries. From local history to international artists, whatever you're interested in, Tallinn has it all. Below are some of our favourite museums and galleries in Tallinn but of course the list is a lot longer. You can find some more options on our destinations page. If you're a museum fan, we'd suggest purchasing the Tallinn Card, which gives you access to over 50 museums and attractions, plus free public transport and more.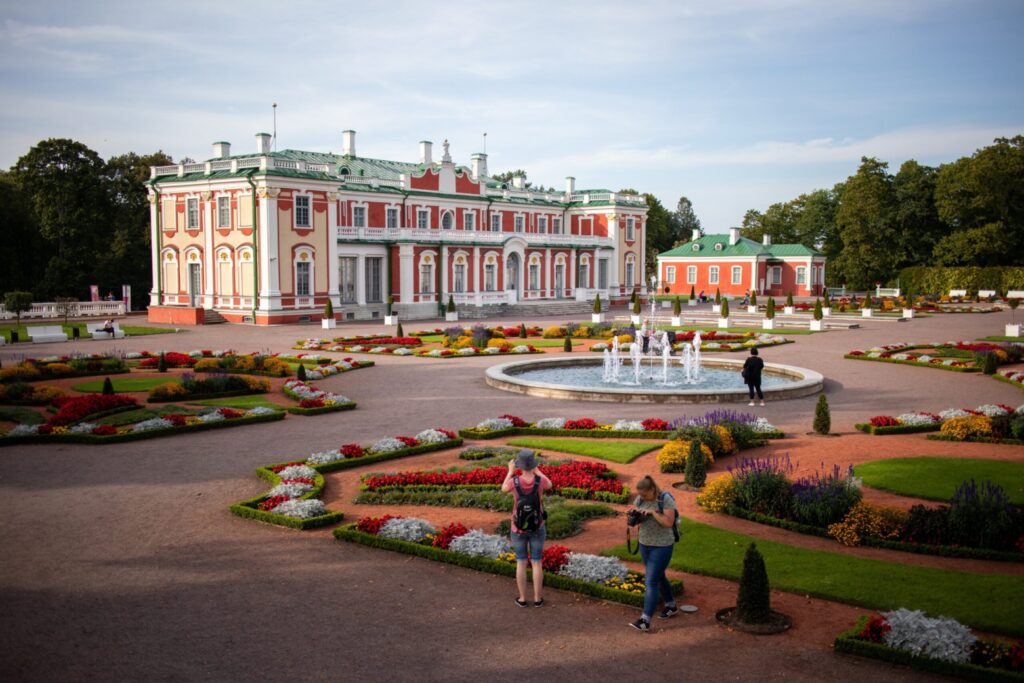 Seaplane Harbour: This maritime museum has about 200 authentic items on display at the historical seaplane hangars: a submarine called Lembit, a century-old icebreaker Suur Tõll, a seaplane called Short 184, remains of the oldest ship found in Estonia, and much more. Located in the up and coming harbour and former industrial area, Noblessner, there are plenty of other things to do around the neighbourhood.   
Kumu Art Museum: The aim of the Kumu Art Museum, opened in 2006, is to preserve and interpret Estonian art from the 18th century to the present day. Kumu's permanent exhibition introduces Estonian art from the beginning of the 18th century to 1991, and the temporary exhibitions also include international and contemporary art. Located in the beautiful Kadriorg park, this is a must visit area in Tallinn. There are also multiple other museums in the park so you can really make a full day out of your visit. 
Fotografiska: This fine art photography centre in an internationally recognised museum of photography. Located in the creative centre of Telliskivi, Fotografiska isn't just a gallery but an event area, a cafe, a zero-waste restaurant and photography shop all in one. Displaying works from local artists to world known names such as Andy Warhol, Fotografiska never disappoints. 
Best designer shops to visit on a rainy day in Tallinn
When shopping is your favourite way to spend a rainy day then Tallinn has plenty of shopping malls selling general designer brands but the city is also full of smaller designer shops where you can buy locally made products.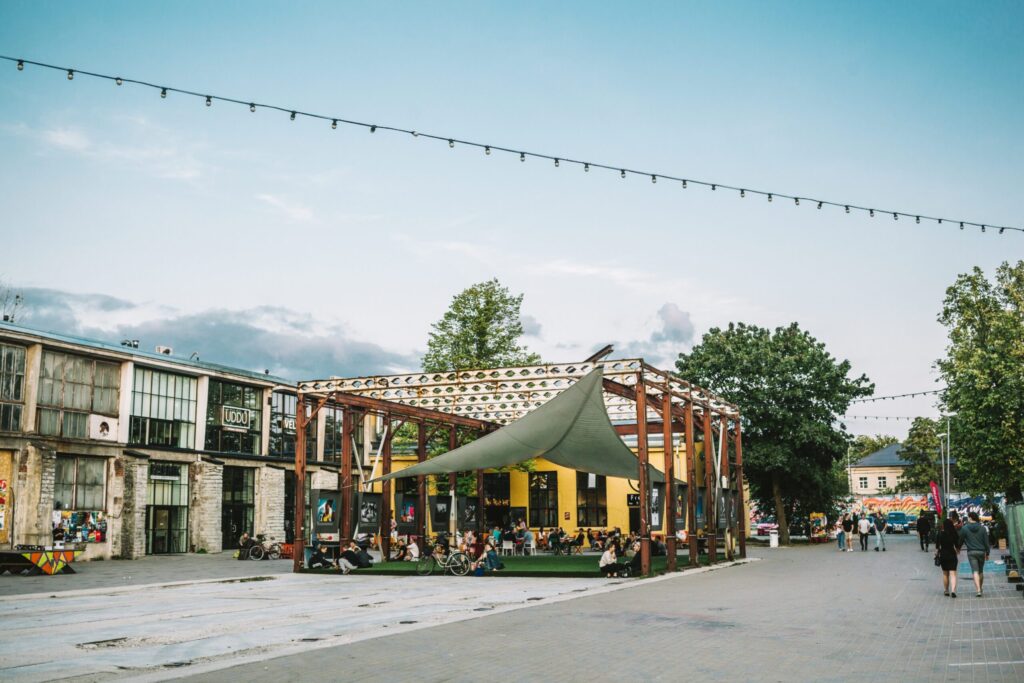 Telliskivi Creative Centre – This former factory area is now a popular cultural hub for locals and foreigners alike. You can find cafes, restaurants, performance venues, galleries and small shops there. The indoor shopping streets are lined with vintage and design stores, eco and beauty shops and much more. Almost every Saturday there's a flea market which during summer months, takes place in the yard of the creative city but from October till April, it's held in Roheline Saal.
Balti Jaam Turg – Not far from the Telliskivi Creative City, sits Balti Jaama Turg (Balti Station Market). You can find everything in this market hall from food to soviet memorabilia. You can buy all your groceries there from fresh vegetables and fruits to fish and meat. There's also a street food section if you just want to grab a quick bite to eat. You can also find a supermarket and a gym on the lower levels and a brewery and a few restaurants upstairs. Upstairs is also where you can find multiple little shops dedicated to Estonian design and handicrafts, vintage drift shop, second hand store and an antiques section that sells everything from soviet memorabilia to antique furniture. 
St. Catherine's Passage – This picturesque half-hidden medieval passage connects Vene and Müürivahe streets in the Old Town. The northern part of the passage is what's left of St Catherine's Church with ancient tombstones. On the other side you'll find a number of handicraft workshops, in which you can watch the artists at work creating ceramics, hats, glass, and more. Watching artists at work in these 15th – to 17th-century rooms, creates an ambience unlike anything you have experienced before. 
Best concert venues to visit on a rainy day in Tallinn
Tallinn is great for music lovers. You can visit different concerts and festivals during the whole year from classical music and jazz to electronic and pop music, and from big international names to local artists. Did you know that Estonia gained its independence in the Singing Revolution, is a home to the world's most performing living composer, Arvo Pärt, and every 5 years, the Song Festival, that started in 1869, takes place? Also, Tallinn has been awarded the title of UNESCO City of Music, starting from 2022. No wonder music plays such a big role in the whole country. Here you can find our suggestion of some venues that are great to visit on a rainy day.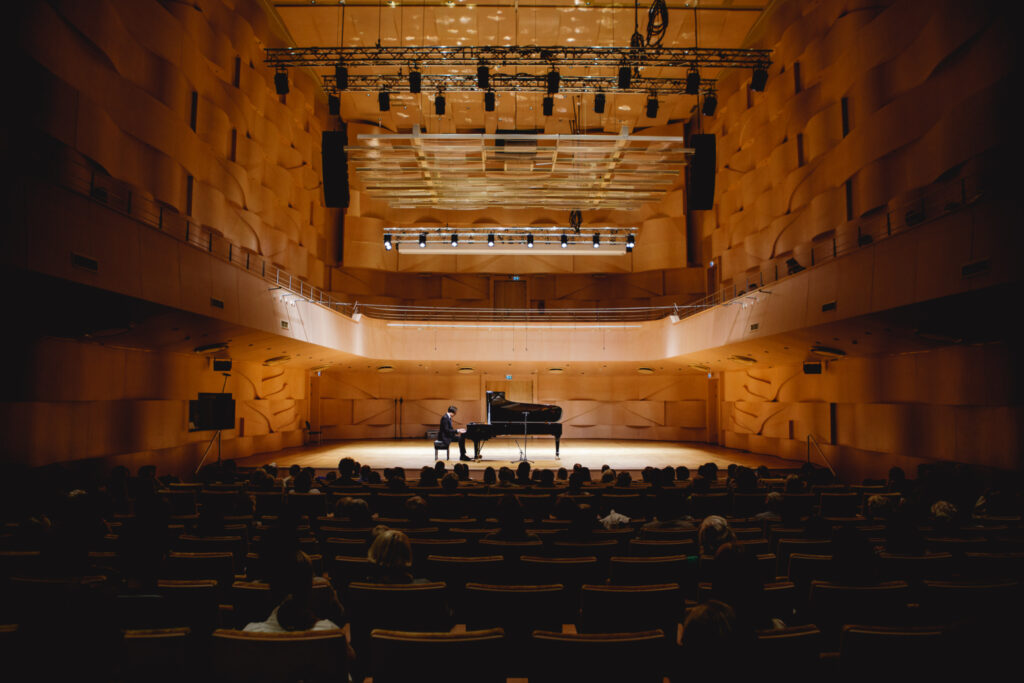 Photo credit: Rasmus Kooskora / Eesti Muusika- ja Teatriakadeemia
Estonian Concert Hall – This Jugend-classicist symphony house is great for all types of concerts and festive events. Even the annual reception of the Estonian President and New Years Eve celebrations are held here. The venue hosts prestigious visiting artists as well as locals, and is also the home to the Estonian National Symphony Orchestra. 
Philly Joe's Jazz Bar –  This jazz bar is a true incubator for Estonian jazz music bringing together local and foreign artists and jazz music listeners. They host a variety of music events, including concerts, master classes, workshops, seminars and so much more. 
Sveta – Located near Telliskivi Creative Hub, this is a great bohemian bar popular among locals and alternative crowds. Different events take place in this charismatic bar/club filled with colour, potted plants, eclectic furniture and even a small corner of vintage clothes you can buy. If the weather is warmer there's also a terrace where to sit and hang out. They have live concerts and club nights so check their calendar and head there if you're looking for a more unique and open minded experience.
Best spas to visit on a rainy day in Tallinn
The best way to spend rainy days in Tallinn is by visiting one of the many spas. They offer a perfect opportunity to warm up, relax and treat yourself. There are plenty of options in the city centre and also in the outskirts. Whether you'd like to visit a sauna, relax in a pool or get a massage, there is something for everyone.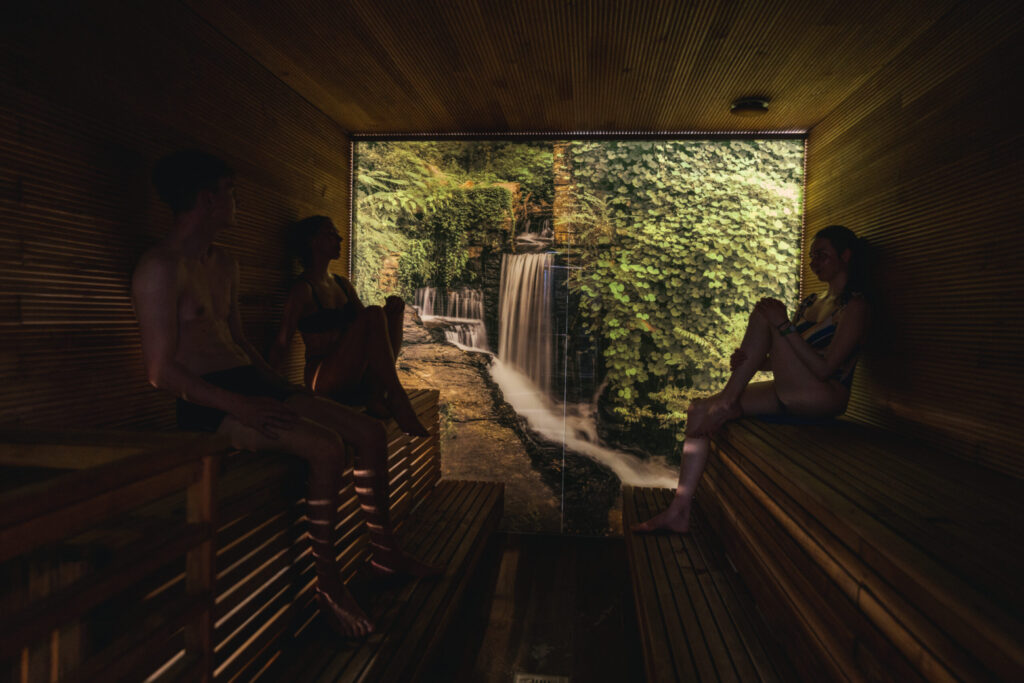 Photo Credit: Priidu Saart
Mustamäe Elamus Spa – This spa, located in one of the suburbs of Tallinn, is one of the best and biggest in the whole country. Sauna plays a big role in the everyday lives of Estonians and in this spa you have 20 to choose from, as well as a wide range of pools and relaxation areas. The spa also offers a variety of treatments from sauna yoga, different rituals, massages and water aerobics. There are two areas in the spa complex – one for everyone to use and one that's only meant for adults. In the SPA 21+  side you can find a more intimate atmosphere, a bar and quite often live music. 
Tallinn Viimsi Spa – A similar spa to the one in Mustamäe, Viimsi Spa offers a bit smaller but more intimate atmosphere for their visitors. The Spa and Sauna centre for families is housing 8 different saunas, spa pools and jacuzzis and of course a bar and treatment rooms. The newest part of the spa complex consists of an exclusive adult spa and sauna centre called SPA 18+. You can choose between 6 saunas there, water bar, private resting areas as well as the relaxation room with fruits and refreshing drinks. The complex also has a hotel, cinema, conference centre, gym and a big interactive water park  Atlantis H2O Aquapark. 
Kalev Spa Hotel & Water Park – If you don't feel like venturing out of the city centre, look no further, Kalev Spa and Water Park, located right in the old town is the place to be. The hotel has a large public pool, fitness centre, a small range of saunas and smaller pools for visitors of all ages and tastes. For adults, there's a private area with 5 different saunas and  pools where you can relax and unwind.
No matter if it's raining or the sun is shining, there's plenty to do during your holiday to Tallinn. We hope you found our list of things to do in Tallinn on a rainy day useful and don't hesitate to book your vacation to the Baltic States in any season.