Finland is one of those countries that it doesn't matter when you visit, there's plenty to do and see during the whole year. It's no surprise it's often named the happiest country in the world. From midnight sun in summer to polar nights in winter, from beautiful archipelago to Arctic wilderness, northern lights and even the one and only Santa Claus, Finland has it all.  
Visiting Finland in Spring
In spring, Finland starts to wake up after a long and cold winter. It's very different in the southern parts than it is up north. Southern part of the country has milder temperatures and that's where spring arrives the earliest. In April, you can already notice nature slowly starting to bloom and birds starting to migrate to Finland. Up north in Lapland, April can still have plenty of snow for some fun winter activities and it's also your chance to see the last of the northern lights.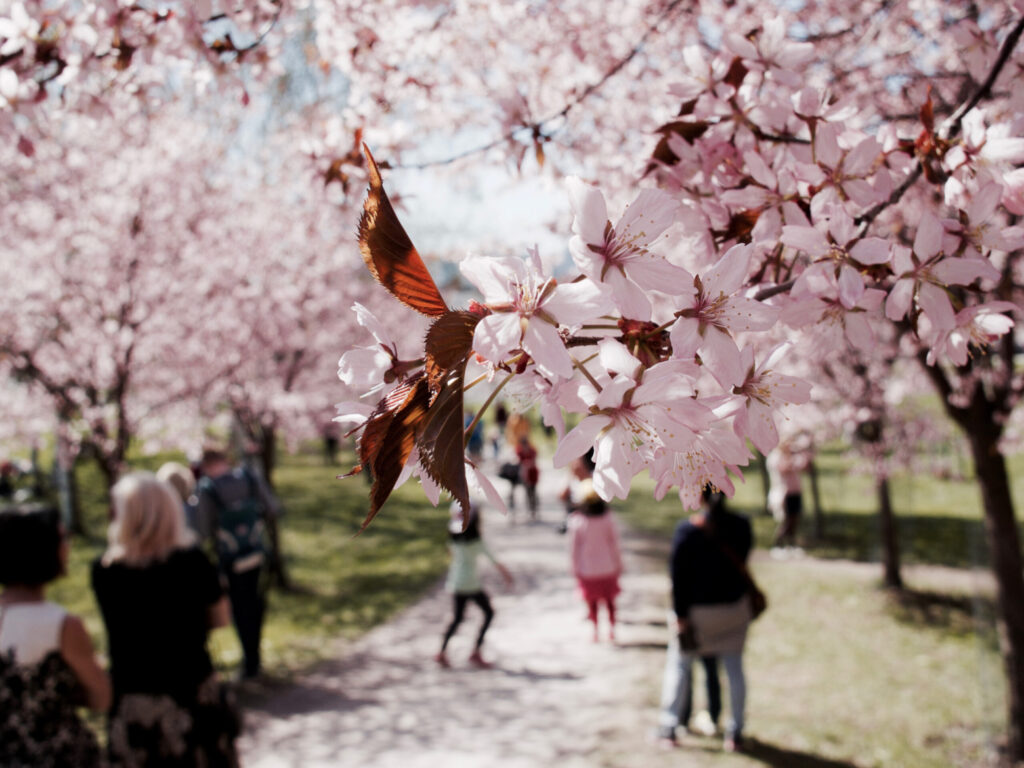 Photo credit: Visit Finland
When May hits, temperatures get warmer. South of Finland is starting to see more tourists and the cities and towns are buzzing. It's a perfect time to do some more active tours as well and explore the archipelago. In Lapland, that's the time when you can hardly see any tourists but nature is awakening. The days are getting longer and it's time for the midnight sun season.
Spring is also a great time to visit Finland if you're looking for a more budget friendly season. Hotels tend to be cheaper both in Lapland and down south, in the capital Helsinki. As the season up in Lapland is finishing up, the prices for the services are significantly lower but if you're going at the end of March/early April you can still enjoy all the winter fun but it won't be too heavy on the wallet. And down south, the high season hasn't started yet so again, the prices are lower and there are less people. A good time to escape the crowds in both regions.
Visiting Finland in Summer
Summer is definitely the high season down south. There are many tourists wandering around, the sun is shining (hopefully), days are longer and warmer and everyone is outside enjoying the short but sweet summer. It's the perfect time to enjoy the beautiful Finnish nature, small and charming towns and take part in different festivities. Exploring the Finnish archipelago is a must when in Helsinki and Turku. Best explored by island hopping with a boat, by bike or just walking around on one of the many islands in the archipelago.  
Visiting Lapland in summer  has its own pros and cons. As this is considered the low season there, prices are lower, there are less tourists and the temperatures are milder. Although you won't be able to do any winter activities, Lapland also offers plenty of things to do during summer months as well.
One of the highlights is of course the midnight sun. From early June until early July the sun stays above the horizon and paints the sky with magical colours. This is a perfect time to take advantage of the long days and do as many outdoor activities as possible. You can go hiking, biking, fishing or canoeing in the Lappish wilderness. It's also a great time to spot some arctic animals such as Siberian Jay, lynx, fox, elk and of course reindeer. For the adventurous ones, we could also suggest brown bear watching in the wilderness cabin. One thing to remember is that there are a lot of mosquitoes flying around in summer so bring repellent with you.     
Finland Summer Trip Ideas
Visiting Finland in Autumn
Autumn, as spring, is a shoulder season. Prices are lower, there are less tourists but the weather can still be pleasant and there are plenty of things to do and see. Autumn displays beautiful and colourful nature, with trees changing coulor and forests are full of different berries and mushrooms to be picked. Like in the Baltic States, foraging is a favourite pastime in Finland. It's a perfect time to roam around in the forests, take a deep breath and let the energy of nature do its magic. It is also the start of the northern lights season.
Autumn is the time when the days are getting shorter and the evenings are also perfect for some indoor activities. Finland is known for its vibrant, lively and engaging cities with world-known design and music scene, modern and stately architecture, stylish and quirky bars and world class dining options. Whether you wish to visit some of the museums, enjoy a classical music concert or warm up in a sauna the Finnish way, we got you covered. 
Best time to visit Finland to see northern lights
Seeing the northern lights is a dream come true for a lot of people and Finland is a great place to see this natural phenomenon. Due to its location in the Arctic Circle, Lapland offers great chances of seeing the Aurora. Northern Lights season in Finnish Lapland starts from August and lasts until April. They are the most active at the beginning and end of the season. You can read more about the northern lights from our Rovaniemi: hunting the northern lights blog.
Visiting Finland in Winter
Winters in Finland are cold, dark and long. Although the southern parts are milder, the temperatures still drop below freezing. There are also heavy snowfall throughout the whole country which makes visiting Finland in winter a magical experience. Christmas of course is the biggest festival during winter and what better place to celebrate it than in Lapland where Father Christmas lives.
Visiting Lapland in December has its pros and cons. Snow-covered Lappish nature, all kinds of winter activities, magical northern lights and of course the man himself – Santa Claus. On the other hand, as it's the peak season, Lapland is full of tourists, prices are super high and availability is limited. Luckily it's Christmas all year round in Lapland so even if you go from January till March you can expect the same experience but in a more budget friendly and personal way. Read more from our Christmas in Lapland, everything you need to know blog what to do and what not to do during your Christmas in Lapland. 
Finland Winter Trip Ideas
In conclusion, we can say that Finland truly is a whole year round destination and whenever you decide to travel to Finland, you won't be disappointed. Just contact us for more information and let us make your dream trip to Finland come true.